Hardware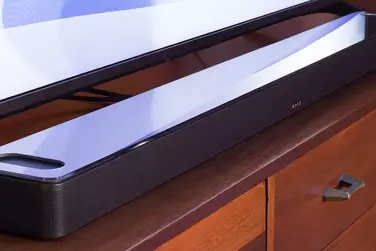 Published on October 31st, 2023 | by Andrew Paul
Bose introduces Smart Ultra Soundbar
Today, Bose announces the new Smart Ultra Soundbar — a Dolby Atmos speaker that provides unmatched immersion for music and movies, now with A.I. Dialogue Mode to balance voice and surround sound for ultra-crisp vocal clarity. Replacing the Smart Soundbar 900, the Bose Smart Ultra Soundbar will offer the most premium home theater experience. The Bose Smart Ultra Soundbar is available starting today in Black and Arctic White for $899 at Bose.com.
New A.I. Dialogue Mode
A.I. Dialogue Mode debuts in the Bose Smart Ultra Soundbar. Using machine learning to listen to millions of content clips, the soundbar automatically adjusts tonal balance, making spoken words easier to hear without losing any impact of immersive sound effects.
Dolby Atmos & Bose Spatial Technologies
The Bose Smart Ultra Soundbar put you in the center of your music or movies in an entirely new way. By combining custom arrays, dipole transducers, and low-profile transducers with Bose spatial technologies, it produces a layer of realism no other speaker can duplicate.
While conventional Dolby Atmos soundbars create sound "overhead," the Smart Ultra Soundbar does more. Bose PhaseGuide technology adds other dimensions just as precisely, placing and "pinning" distinct sound to the right and left where there are no speakers. So the helicopter hovers above you — while the actors run past you, not across your screen. Or the singer is standing center-left when performing — and you hear them performing center-left in your room. When there's no Dolby Atmos content, the horizontal spatial effects are just as effective, and Bose TrueSpace™ technology takes over for the vertical experience, remixing signals to add "height" without adding a ceiling speaker.
For programming or playlists, Bose QuietPort™ technology delivers exceptional bass performance and virtually no distortion at any volume. And if furnishings or system placement interfere with audio quality, proprietary ADAPTiQ® technology automatically fixes it, optimizing performance for every space, every time.
Size & Design
The Bose Smart Ultra Soundbar is a mere 2.3″ high, just over 4″ deep, and 41″ long. It features an oval-shaped design, wraparound metal grille, tight seams, clean lines, and a polished, impact-resistant tempered glass top. It fits beautifully under televisions 50″ or larger.
Simplicity, Compatibility, Controls
The Bose Smart Ultra Soundbar delivers instant gratification across the board. Setup is straightforward with HDMI eARC and one cable that plugs into the TV. With Wi-Fi, accessing Spotify Connect and AirPlay 2 is easy; with Bluetooth®, pairing to a phone or tablet takes seconds. For voice control, the Smart Ultra Soundbar has Works with Google Assistant functionality and Amazon Alexa built-in — and the Bose Voice4Video feature used with Alexa turns a TV on to the channel or input asked for — with just one command.
For true flexibility, the Smart Ultra Soundbar works seamlessly and wirelessly with Bose bass modules and rear speakers for a more complete home theater experience; Bose smart speakers for a multi-room or whole-home system. You can also pair select Bose headphones using SimpleSync in the Bose Music app for a personal listening experience. Independent volume controls allow you to lower or mute the soundbar while keeping the headphones as loud as necessary. The Bose Music app also helps with pairing, personalization, and updates.
About Bose Corporation
Bose is world renowned for its premium audio solutions for the home, on the go, and in the car. Since its founding in 1964 by Dr. Amar Bose, the company has been dedicated to delivering amazing sound experiences through innovation. And its passionate employees — engineers, researchers, music fanatics, and dreamers — have remained committed to the belief that sound is the most powerful force on earth; its ability to transform, transport, and make us feel alive. For nearly 60 years, this belief has driven us to create products that have become iconic, changing the way people listen to music.