Games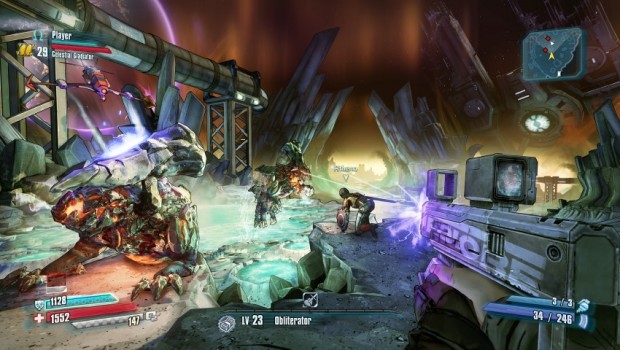 Published on June 6th, 2014 | by admin
Borderlands: The Pre-Sequel! The Moon Dance Trailer!!
Sydney, Australia – 5th June, 2014 – 2K and Gearbox Software announced today that Borderlands®: The Pre-Sequel™,the next standalone game in the wildly popular Borderlands franchise, will be available in Australia and New Zealand on 16th October, 2014, for the Xbox 360 games and entertainment system from Microsoft, PlayStation®3 computer entertainment system and Windows PC. Currently in co-development with Gearbox Software and 2K Australia, Borderlands: The Pre-Sequel is set in-between the award-winning Borderlands and Borderlands 2,andbrings low-gravity shoot 'n' loot mayhem to Pandora's moon for the first time. Additionally, those who pre-order the game through participating retailers will receive the Shock Drop Slaughter Pit bonus content, which features intense zero-atmosphere combat against the fiercest enemies Pandora's moon has to offer, and rewards players with unique in-game loot.
Borderlands: The Pre-Sequel offers gravity-bending gameplay with oxygen-propelled jetpacks, as well as new weapons, enemies, vehicles, and moon environments. Playing as four all-new character classes with unique skill trees, gamers will contribute to the rise of Handsome Jack and experience his origin story as he transforms into the megalomaniacal tyrant fans loved to hate in Borderlands 2.
"The teams at Gearbox and 2K Australia have combined the best talent from both studios to create a Borderlands experience that we know fans are going to love," said Christoph Hartmann, president of 2K. "For those that haven't played the critically acclaimed franchise, there's never been a better time to jump in than with Borderlands: The Pre-Sequel."
Borderlands: The Pre-Sequel continues the franchise's tradition of industry-leading co-op allowing friends to play together locally via split-screen as well as online with drop-in-drop-out capabilities. With co-op being as seamless as ever, Borderlands: The Pre-Sequel remains accessible for gamers and their friends to play alone or together in a variety of configurations.
"It's incredibly exciting that an all-new Borderlands experience is as close as this October," added Randy Pitchford, president of Gearbox Software. "If you've played any of the Borderlands games or if you have a friend who hasn't yet, the opportunity to blast off as a new set of playable characters in a whole new campaign experience, including shooting and looting on the moon, is just around the corner."
"We are huge fans of the Borderlands franchise and are thrilled to have this opportunity to show what we can bring to the Borderlands universe," concluded Tony Lawrence, general manager of 2K Australia. "We can't wait for fans to play as Athena, Wilhelm, Nisha and Claptrap and experience the new low-gravity gunplay with awesome new guns to freeze and smash enemies, all in the name of Handsome Jack."
Gamers who pre-order Borderlands: The Pre-Sequel will gain access to the Shock Drop Slaughter Pit bonus content. Taking place in an old Dahl facility on Pandora's moon, players will meet TR4-NU, who once was one of Dahl's military recruiters until he went crazy. TR4-NU is now hosting the Shock Drop Slaughter Pit and giving awesome loot to those who succeed against the moon's toughest enemies. To pre-order Borderlands: The Pre-Sequel, please visit http://borderlandsthegame.com/index.php/retail/borderlands-the-presequel.
Borderlands: The Pre-Sequel will be available on October 14, 2014 in North America and on October 16, 2014 in Australia and New Zealand, for Xbox 360, PS3™, and Windows PC. Borderlands: The Pre-Sequel is not yet rated in Australia and New Zealand. Watch the first trailer for Borderlands: The Pre-Sequel at http://youtu.be/Vk6l_y4zoHY. For more information, please visitthe official Borderlands web site, follow @borderlands and @2K_ANZ on twitter, become a fan of Borderlands on Facebook, and subscribe to the new Borderlands channel on YouTube.