Games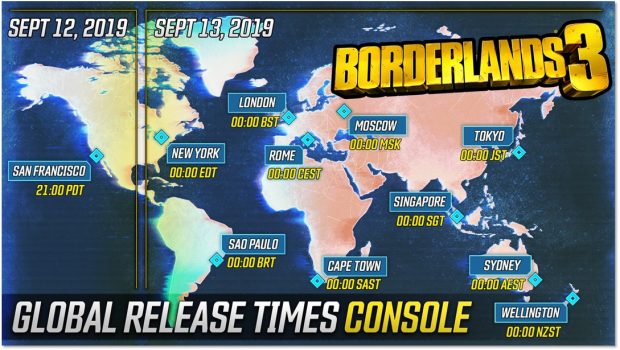 Published on September 4th, 2019 | by Admin
Borderlands 3 – When Can You Play? Learn the Launch Times for All Regions and Platforms Right Here
We're just over a week away from the worldwide launch of Borderlands 3 on PlayStation 4, Xbox One, and PC, so it's time to talk global launch times.
No matter which platform you're playing on, we're happy to announce that Borderlands 3 will be available for pre-load roughly 48 hours ahead of the launch date and time listed for your region – yes, that includes PC!
If you're eager to begin your interplanetary journey through the Borderlands 3 galaxy as soon as possible on consoles, just know that outside of North America, the game will launch at midnight local time in every time zone (we call this a "rolling midnight" release). If you happen to be in North America, however, the game will launch at midnight Eastern Time across the whole region – that means 9 p.m. on September 12 if you're on the west coast.
Need a little more clarity? Then check this map to find out exactly when Borderlands 3 will be available to play on PlayStation 4 and Xbox One in various time zones across the globe:
September 13, 2019 – 00:00 AEST
September 13, 2019 – 00:00 NZST
Meanwhile, if you're planning to play Borderlands 3 on PC, the game will be available via the Epic Games Store starting at 12:01 a.m. British Summer Time on September 13. So just ask yourself: is it midnight in London? If yes, then the game is available on the Epic Games Store! See the map below to find out what that means for your time zone. Also, be sure to check out the Borderlands 3 PC specs so you can verify that your machine is ready for the mayhem.
September 13, 2019 – 09:00 AEST
September 13, 2019 – 11:00 NZST