Games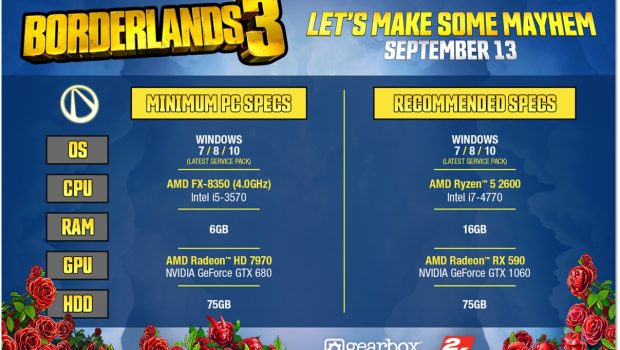 Published on August 29th, 2019 | by Admin
Borderlands 3 – PC Specs Revealed
No matter which platform you use to play Borderlands 3, all the on-screen mayhem is going to look fantastic. But all you PC players out there will be able to fine-tune those excellent visuals via Borderlands 3's extensive graphics settings, letting you perfectly match the visual fidelity to your personal preferences and the power of your rig.
If you want to get the most out of your machine and maintain smooth framerates with tons of graphics settings turned up, here's a handy list of recommended specs, featuring AMD Ryzen and AMD Radeon hardware:
Once you've got your spec sorted, it's time to tinker with the many graphics settings available in Borderlands 3. Check out this blog for a complete list of the in-game visuals options on PC, which allow you to adjust everything from Vertical Sync and Field of View to Ambient Occlusion and Screen Space Reflections.
Borderlands 3 launches on PlayStation 4, Xbox One, and PC on September 13.