Games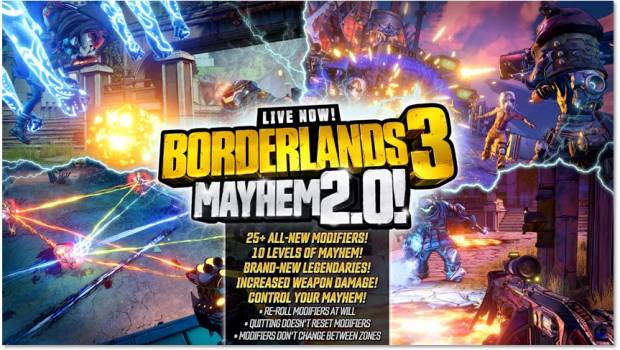 Published on April 24th, 2020 | by Adrian Gunning
Borderlands 3 End-Game Overhaul and New Seasonal Event Available Now
Starting today, Mayhem Mode 2.0 evolves Borderlands 3's post-campaign gameplay with layers of additional challenge, while Revenge of the Cartels offers players new time-limited activities and loot
We're approaching maximum mayhem, Vault Hunters, because we've launched two exciting free additions to Borderlands 3: Mayhem Mode 2.0 and the Revenge of the Cartels seasonal event. The former completely revamps the game's existing Mayhem Mode system with fresh and inventive new challenges, while the latter gives you an ambitious set of time-limited activities packed with new areas, enemies, and gear.
If you don't already know, Mayhem Mode unlocks when you finish the main Borderlands 3 campaign and allows you to crank up the game's difficulty in exchange for better loot. With the Mayhem 2.0 update, that experience becomes significantly more varied, lasting, and rewarding.
It's worth noting that the stats of the weapons dropped by enemies improve as you work your way up through the Mayhem levels and that, starting at Mayhem level 6, there's a chance certain bosses will drop any of eight brand new Legendary weapons. Also, you can now adjust Mayhem Mode options at any time via a new tab in your ECHO device menu! Mayhem 2.0 is as deep as it is rewarding, so for a full explanation of how it all works, please check out our detailed blog.
Then there's the other half of this massive update: Revenge of the Cartels! This free in-game event runs from today through June 4 and features an all-new area, fresh enemy types, limited-time Challenges, and of course, tons of gear to collect, including new Legendaries and Anointments.
In his continued studies of human customs, your Saurian crewmate Maurice has gotten himself mixed up with the wrong crowd, and now finds himself indebted to Joey Ultraviolet, the kingpin of the Eridium Cartel. To save Maurice's scaly hide, you'll need to take the fight to Joey and his gangs of underlings at Villa Ultraviolet, an opulent hideout overlooking a tropical paradise.
During the event, neon-glowing Cartel Operative enemies can be found lurking all around the galaxy. Take out these Operatives and their backup – which could include unique Badass-level enemies – and you'll eventually unlock the coordinates of that tropical hideout. Once there, you'll have to battle your way through hordes of Eridium Cartel members belonging to one of three distinct gangs. Each gang has its own Underbosses and its own Legendary loot pool, so multiple visits to Villa Ultraviolet are highly encouraged. Don't worry, you'll never face the same gang twice in a row!
In addition to each gang's new loot, Revenge of the Cartels also introduces 18 new limited-time Challenges you can complete to earn themed cosmetic rewards. You can track your progress via the event tab in your ECHO Device menu. To learn more about these challenges, their rewards, and the event in general, be sure to check out this blog.
And don't forget, we're still running a variety of Borderlands 3 mini-events like the ongoing Co-op Loot Drop event, which runs through April 30 and encourages Vault Hunters to play together online. To learn more about this and other in-game events, be sure to follow Borderlands on Twitter and visit borderlands.com every week for updates! You can also contribute to actual scientific research at any time by solving puzzles in Borderlands Science.
2K is a publishing label of Take-Two Interactive Software, Inc. (NASDAQ: TTWO). All trademarks and copyrights contained herein are the property of their respective holders.
For starters, there are now more than 25 all-new game-changing modifiers. These range from fun and even helpful modifiers like a big head mode called Galaxy Brain to more challenging modifiers like Drone Ranger, which spawns Healing Drones to assist enemies. Each modifier is rated as Easy, Medium, Hard, or Very Hard, and each of the 10 difficulty levels in Mayhem 2.0 uses a specific mix of these ratings, though the modifiers themselves are selected at random from within those ratings pools.