Games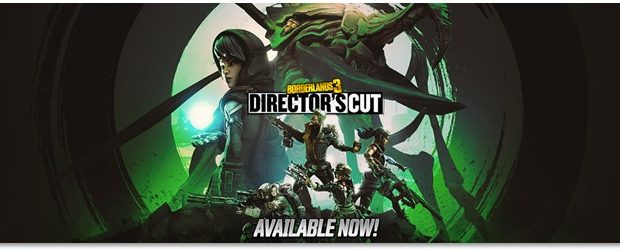 Published on April 9th, 2021 | by Adrian Gunning
Borderlands 3 Director's Cut Add-on Available Now
Attention Vault Hunters! New challenges await you in the Borderlands® 3 Director's Cut add-on, which is now available for purchase separately and available to download for owners of Borderlands 3 Ultimate Edition or Season Pass 2.* In addition, the brand new Disciples of the Vault cosmetic packs just debuted alongside Director's Cut; two new loot machines have been added to the base game for use by all players; and Borderlands 3 has joined the PlayStation Now library.
As the add-on's launch trailer shows, Director's Cut includes a colossal Varkid raid boss named Hemovorous the Invincible, as well as an interplanetary murder mystery. You'll also find the first of three planned Vault Cards. By completing Vault Card challenges, you gain progress toward unlocking themed rewards, including unique Legendary gear, tons of new cosmetic items, and a brand new in-game resource: Diamond Keys.
For those interested in learning more about how games like Borderlands 3 get made, Director's Cut also includes a wealth of behind-the-scenes content. Explore a gallery full of concept art, view deleted scenes, see some of the team's favorite pre-release bugs, and maybe find answers to some questions you didn't even know you had.
Coinciding with the release of Director's Cut, the Disciples of the Vault cosmetic packs have been granted to players who own Season Pass 2 or Borderlands 3 Ultimate Edition and are now available for purchase separately. These cosmetic packs show who Borderlands 3's Vault Hunters would have become if they'd joined the Children of the Vault. Each character-specific pack includes a one-of-a-kind Vault Hunter body and matching head, which you can mix and match with any other customization options you have in your collection.
In addition, two new machines have now been added to the base game: Crazy Earl's Reroll and Maurice's Black Market Vending Machine, both of which are available to all players at no additional cost. Crazy Earl's Reroll replaces the existing Anointment on a specified item in exchange for some Eridium. Maurice's Black Market Vending Machine offers top-tier Legendary loot and will be hidden in a new location within the base game each week. It'll be up to the Borderlands community to track it down and see what he's got.
Borderlands 3 is available now on Xbox One, Xbox Series X|S, PlayStation 4, PlayStation 5, Mac, and PC via Steam and the Epic Games Store. F
*Requires a copy of the Borderlands 3 base game to play.