Interviews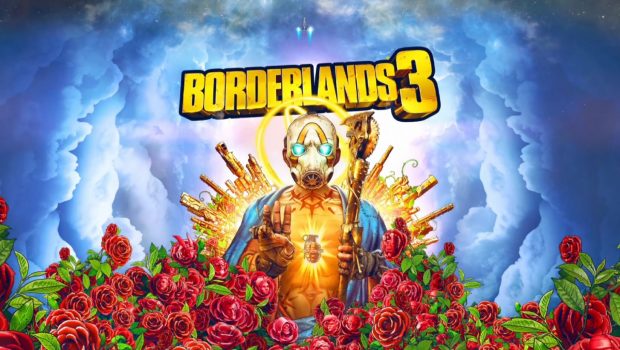 Published on August 15th, 2019 | by John Werner
Borderlands 3 Developer Interview
We catch-up with some of the developers behind the original shooter-looter, Borderlands 3 that once again packs gazillions of guns and an all-new mayhem-fueled adventure!
Impulse Gamer
Just quickly, can you give us your background and what you have done with the Borderlands 3?
Lorien
I'm Lorien Meggersee. I'm the Associate Animations and Cinematics Producer.
Matthew
I'm Matthew Higgins, a Level and Mission Designer
Impulse Gamer
Is this your Borderlands project?
Lorien
for me? Yes.
Matthew
No. I worked on the Prequal Sequel at 2k Australia
Impulse Gamer
Since working on previous projects, what's the biggest change I've noticed between the two games so far?
Matthew
This one is much bigger!  We also swapped to the newer Unreal four engine, so it's looking way better!
Impulse Gamer
How long has Borderlands 3 been in development for and how long have you been working on the game?
Matthew
I've been working on it for about three years. Those in preproduction for a couple years before that
Lorien
I joined about three years in.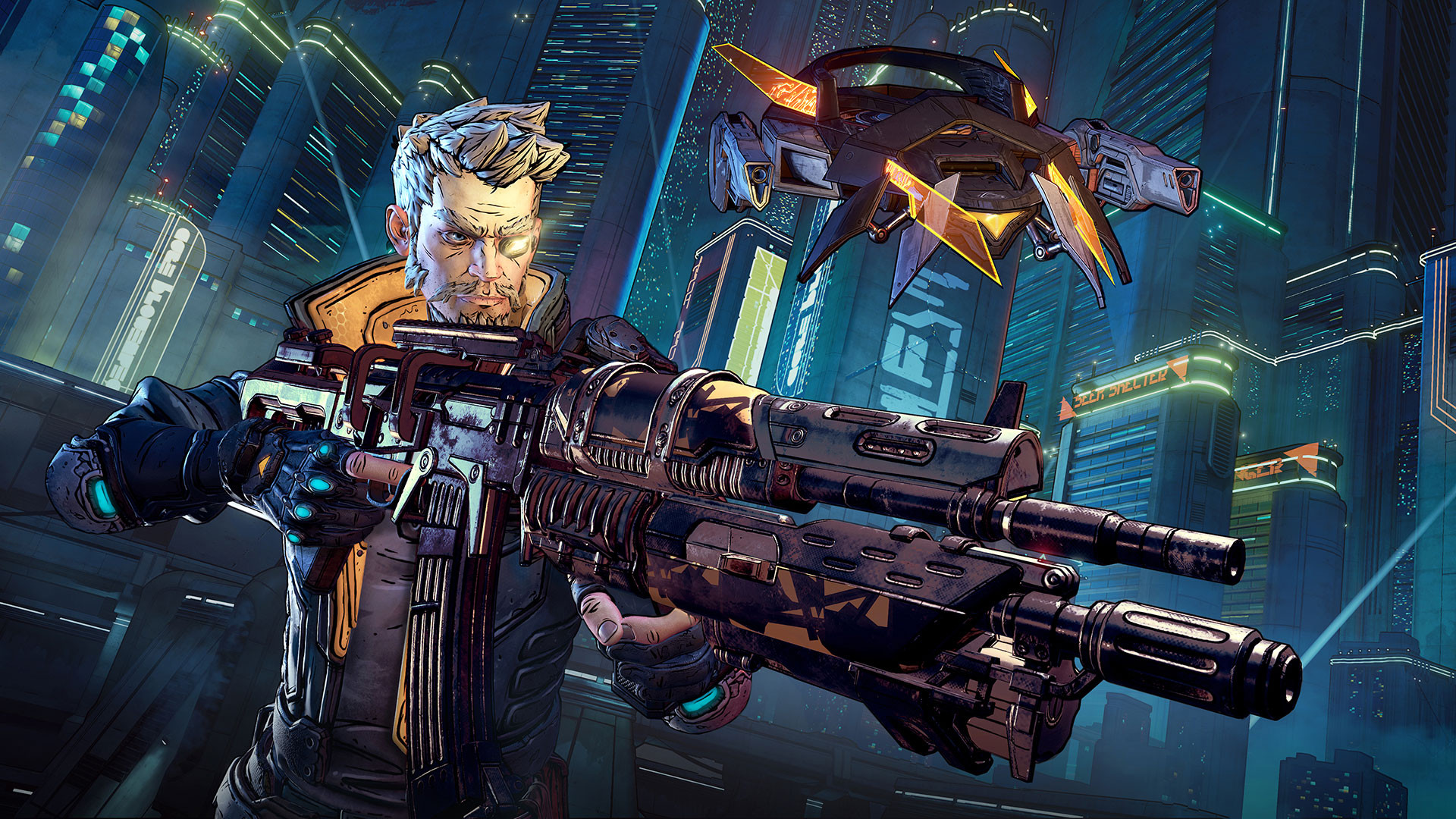 Impulse Gamer
The borderlands series has been going for ten years now, obviously you have the main series, but how does the Tell Tale Series fit into Borderlands 3? We've seen characters from the series in the gameplay and the trailers, but how much of the series is considered cannon, given the nature of the game and it's multiple endings?
Matthew
Tails is definitely canon and there's returning characters and events from tails are mentioned in Borderlands 3. The last DLC that was just released for Borderlands 2, the Commander Lilith and the fight for Sanctuary, that takes place after Tails and that also references events and characters from that game. So it's definitely, part of the canon.
Impulse Gamer
What's been the biggest challenge in making Borderlands 3?
Matthew
Well, I think keeping true to the previous games for the fans, making some of this familiar to them. But fresh enough that they would want to dive back in. So we're not just remaking the same game again. We just want to make it feel good for players that where this might be their first game in the franchiset.
Impulse Gamer
Compared to previous titles, this game has got a lot more in it. You've got a lot more guns, new elements, the vehicles, obviously. Is there anything else you think that should be talked about or that you might want to point out?
Matthew
I think the multiple action skills, per character. There's a lot more variety and play options. They can experiment around a lot more with each character to find what best suits that a style. Also on just the minute to minute movement through the game on foot, we've tightened up the controls a lot and added mantling and sliding and both can be used around the environment in different ways just to the player's advantage. So you can mantle up and around, flanking enemies. Or, you can slide into enemies or cover, or even into explosive barrels and send the balance flying into enemies.
Lorien
The quality of life means that we have done, like the level sinking and the loot instant seeing so if [you're] both playing, you know, that Matt won't steal all my loot. Now I have my own loot. Yes, we have the classic mode if people want to go back to that.
We have emotes and pinging available. So that if you're not playing with a mic, so you now have that.
The last loop machines, if you accidentally don't pick up that sweet gun, you can find it later in Sanctuary 3.
And then accessibility issues like colorblindness…
Matthew
… Yeah, yeah. A lot of features that can help players with disabilities. Any accessibility issues, we try to make it easy for everyone to play and enjoy.
Impulse Gamer
Has there been much of a big push in the gaming community for these features or is this something that the developers have been wanting to put in themselves?
Matthew
A bit of both, really. Yeah, like we'd hear the feedback and the people at the office really push that like "Hey! This is important for people out there. Let's focus on some of those features."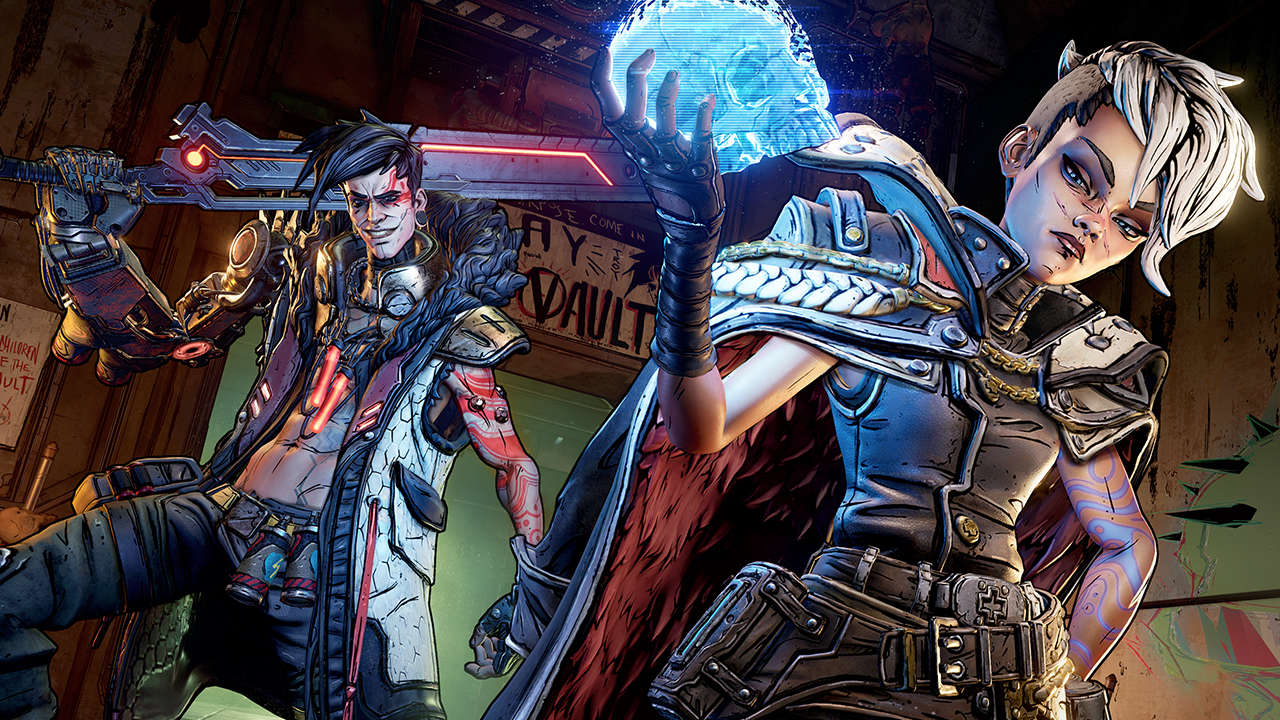 Impulse Gamer
Awesome! Going back to the actual gameplay, I've noticed that from the beginning, the game, everything I've seen, heck, I've already got a gun with legs and [it's] going nuts, The animation for that, has it been a challenge in its own right? Trying to come up with these ideas or just bring them to life. How's it balanced in with little design?
Lorien
Yeah. So we have an amazing gun team and they come up with these sort of crazy ideas of what these guns will do and they can talk just in animations like this "I want a gun that does this!" and we're like, "okay, how does this work?" And we have a brilliant animator. He's been with the company 20 years now. He's very senior and he just knocks them out and he's like, "you want a gun that that runs? BOOM! You've got it. You want a gun that overheats and you spray a water bottle at it and you've got that, too."
Matthew
So, yeah, we've added a lot of character to the weapons.
Lorien
These guns are a character unto themselves. So, yeah, it's pretty fun from animation standpoint.
Impulse Gamer
What's the Craziest gun so far in the game?
Lorien
The cheeseburger gun is pretty crazy.
Matthew
I did a hand grenade that sticks to enemies or the environment and grows into a little mushroom fungus thing and then grows and then pops, dealing corrosive damage. That was pretty funny. Yeah.
Impulse Gamer
You've now added in destructible elements into the game such as breaking the walls, a lot more environmental effects. But I notice that you no longer have iridium damage. You've got rid of slag. What was the reason for the change in that?
Lorien
Well, we have radiation now.
Matthew
Oh yeah. We replaced it with radiation, which does, I think a more interesting effect to enemies. If players deal enough radiation damage to one character, they end up popping when they die, spreading radiation to neighbouring enemies around them. And that could cause some fun chain actions through the combat space.
Impulse Gamer
This time we're no longer just on Pandora, we're going intergalactic. Where do you draw your inspiration for that?
Matthew
I guess we wanted to try things that we haven't tried before. So Prometheus of the city planet. We've never really done a city in Borderlands before. There's Opportunity in Borderlands 2, but that was kind of small scale and no vehicles. This time we just really wanted to try to the open city feel and then we haven't really done jungles before either. So there's even six. We wanted to see how those environments would fit into the Borderlands universe. And we did i!
Impulse Gamer
Borderlands is really renowned for the storyline and tying off lose ends, do the players come out of this game with a sense of satisfaction or do they want to know more about the characters from DLC?
Matthew
Hopefully a bit of both.
Lorien
We don't want to spoil too much but there's this really great character with a dark scene.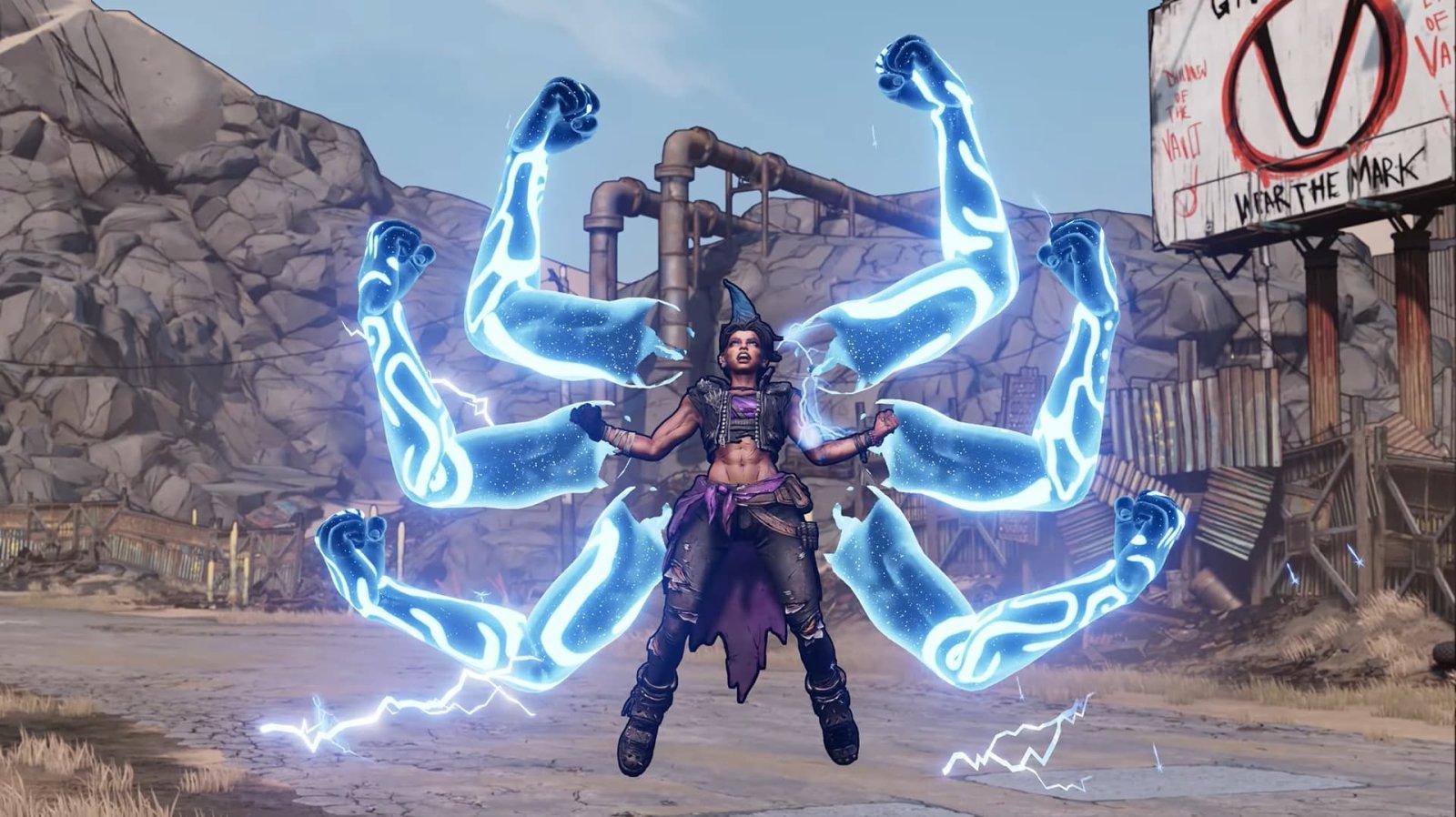 Impulse Gamer
Where did the inspiration come for these four characters?
Lorien
There's a whole team that is just for these characters and they've come up with some really brilliant ones. It's so funny. Like when the first character came online I was like, "Oh man, this character is brilliant. I don't know if these guys are going to top it". And then the second character comes online and I'm saying, "oh, wow. And we have these two amazing characters…
Matthew
… Which one do I play? haha…
Lorien
…Which one do I play. And then it's like, well, we got two great ones. And then like the third one comes on and so on. So I don't know the inspiration behind it, but they're all so much fun to play in the fact they multiple branches, it's a lot of fun.
Matthew
We really aim to make each one feel unique this time around and more varied than what previous Vault Hunters have been. Each character feels very different to play through…
Lorien
…and they have like the great personalities.
Matthew
We brought dialogue back like what was in pre-sequal. So you hear their thoughts on what the situation is that they found themselves in this time.
Lorien
You'll have very different opinions about threats to get them as he can go back to your place, different characters as well.
Impulse Gamer
So there's definitely a lot of free play for each character?
Lorien
Oh yes, definitely.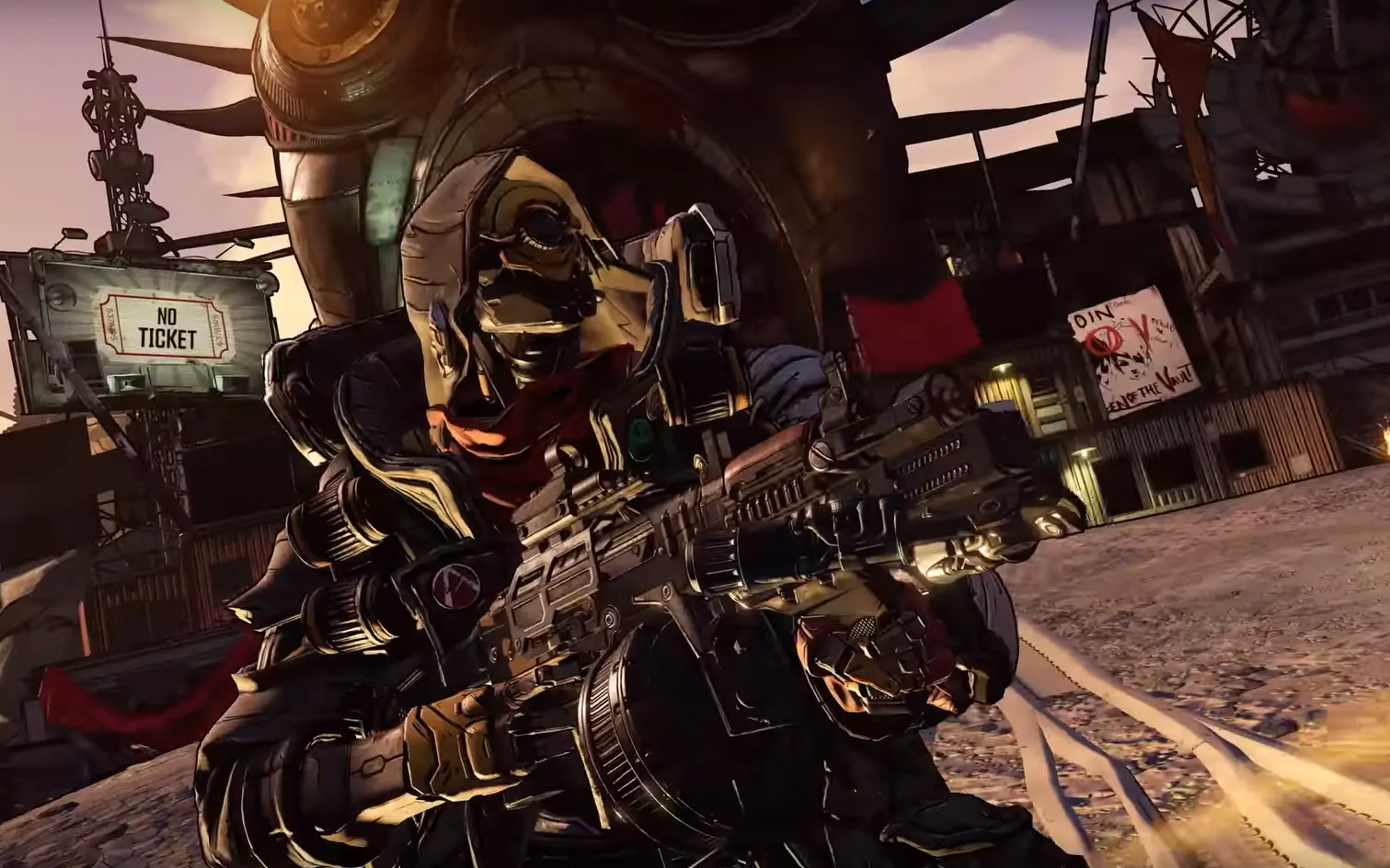 Impulse Gamer
Could you give us a bit more breakdown of the new characters?
Matthew
We have Moze, the Gunmen. She can summon an Iron Bear Mech, which players have two hard points on, one on each arms and they can attach different weapons to each arm. So you've got mini guns, flamethrowers, rocket launchers, a rail gun, a fist. Each of these weapons will be upgraded a couple of times to deal different effects.
Lorien
Players can also jump on the back of the meck.
Matthew
Yeah, there's turrets at the back of the meck so a co-op buddy can jump on.
Lorien
There's Amara. She's our Siren this time around. And she has these six arms that can come out with all her abilities. She's really good at melee range attacks.
Matthew
She can send her astral projection out to do a big slam of writer Millie to do crazy fist punching.
Lorien
We have our operative character, Zane, and he has all these crazy gadgets and he has a shield that he could draw down or he has drones. And he has his Digistruct Clone.
Matthew
So with the shield, you can throw it down to have a big shield that everyone can kind of huddle behind. He can also pick up the shield and sort of acts as a riot shields that protects him. With the Digistruct Clone, you can throw that out and send out a copy of the player and you can teleport between your location and the digital code and you'll swap places. And you can do that multiple times until the action skill runs out.
Lorien
And then finally, there's the new one we talked about more earlier today is Fl4k with this with three pets, the skag, spider ant, and the jabber.
Matthew
He can cloak, he can send out a rakk from his sleeve.
Impulse Gamer
What's your favourite part of the game. What do you enjoy personally and what do you think people going to enjoy the most?
Matthew
So I can't talk about my favourite, favorite bit because no one's seen it yet. There's lots to look forward to. I really like Sanctuary being able to fly between the planets and the galaxy. We've done a lot to make the spaceship feel really nice.
Lorien
Yeah, I really love it's Sanctuary 3. I think it is just a beautiful map and the personality that it has on their characters, it's sort of inhabiting its own fun. I think for a kickass home base and a nice home escape, and a lot of good puns in there.
Matthew
The play characters, up on Sanctuary, each have their own crew quarters, more space that is their own and players can decorate it or store their weapons. There in co-op you can visit. There's four rooms in there, so four player co-op can visit each other's rooms within the game together and you just show off what loot you found along the way.
Impulse Gamer
What are your plans, if any for the future of Borderlands? Do you have DLC planned already?
Matthew
We do have the fourth DLC campaigns, which I think has already been announced for the season pass and whatnot. Yeah.
BORDERLANDS 3 IS AVAILABLE FROM 13 SEPTEMBER 2019 ON PC, PS4 AND XBOX! CHECK OUT THE TASTY BORDERLANDS 3 SAMPLE PACK BELOW!

A MAYHEM-FUELED THRILL RIDE 
Stop the fanatical Calypso Twins from uniting the bandit clans and claiming the galaxy's ultimate power. Only you, a thrill-seeking Vault Hunter, have the arsenal.
YOUR VAULT HUNTER, YOUR PLAYSTYLE
Become one of four extraordinary Vault Hunters, each with unique abilities, playstyles, deep skill trees, and tons of personalisation options. All Vault Hunters are capable of awesome mayhem alone, but together they are unstoppable.
LOCK, LOAD, AND LOOT 
With gazillions of guns and gadgets, every fight is an opportunity to score new gear. Firearms with self-propelling bullet shields? Check. Rifles that spawn fire-spewing volcanoes? Obviously. Guns that grow legs and chase down enemies while hurling verbal insults? Yeah, got that too.
NEW BORDERLANDS 
Discover new worlds beyond Pandora, each featuring unique environments to explore and enemies to destroy. Tear through hostile deserts, battle your way across war-torn cityscapes, navigate deadly bayous, and more!