Games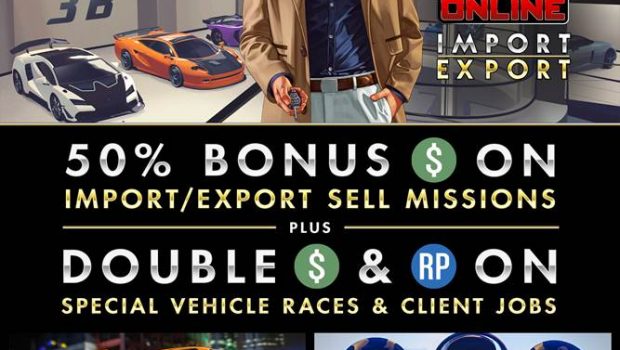 Published on November 14th, 2018 | by Admin
Boosts on Import/Export Sell Missions in GTA Online
Plus Double GTA$ & RP on Special Vehicle Races and Client Jobs, Supercar Discounts and More
It's good to be on top. CEOs benefit this week from 50% Bonus GTA$ on Import/Export Sell Missions in GTA Online, and also score a 50% discount on Special Cargo Crates.
And everyone from the C-Suite to the hoi polloi can glide through psychedelic tunnels in the Deluxo or storm Fort Zancudo in the Ruiner 2000 by firing up any Rockstar Special Vehicle Race or Special Vehicle Work mission to earn Double GTA$ & RP all week long.
Terrorbyte owners can put their special talents to use with double rewards on Client Jobs while Gunrunners can load up any Weaponized Vehicle Mission from their MOC to reap bonus cash and RP through November 19th.
Warstock Cache & Carry is offering up to 40% off select Special Vehicles to give your operations the flexability to overcome any obstacle, from the subaquatic Ocelot Stromberg to the majestic Imponte Deluxo hovercar.
Imponte Deluxo – 25% off
Mammoth Thruster – 40% off
Ocelot Stromberg – 40% off
Imponte Ruiner 2000 – 40% off
Coil Rocket Voltic – 40% off
Nagasaki Blazer Aqua – 40% off
With 30% off a range of high-end vehicles, upgrades and modifications, no collector should miss the chance to add cutting-edge supercars like the Overflod Tyrant or the iconic Pfister Comet SR sports car to their Garage.
Overflod Tyrant – 30% off
Ocelot XA-21 – 30% off
Coil Cyclone – 30% off
Coil Raiden – 30% off
Pfister Comet SR – 30% off
Liveries (Vehicles & Aircraft) – 30% off
Resprays (Vehicles & Aircraft) – 30% off
Engine Upgrades (Vehicles & Aircraft) – 30% off
Wheel Rims – 30% off
Turbo – 30% off
Bulletproof Tires – 30% off
Invest in a little extra firepower this week with hefty discounts on the following damage-dealing essentials:
Mk II Weapon Upgrades & Customization – 35% off
Ammo (including Mk II) – 35% off
Body Armor – 35% off
For more information on all the latest GTA Online bonuses and events, head to the Social Club Events page.
https://www.rockstargames.com/newswire/article/60693/Boosts-on-Import-Export-Sell-Missions-in-GTA-Online