Films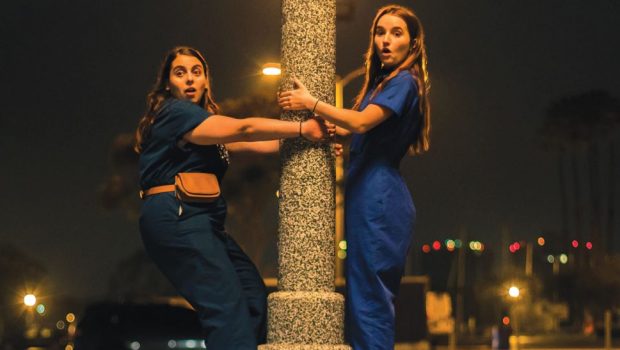 Published on July 17th, 2019 | by Damien Straker
Booksmart – Film Review
Reviewed by Damien Straker on the 17th of July 2019
Universal presents a film by Olivia Wilde
Produced by Megan Ellison, Chelsea Barnard, David Distenfield, Jessica Elbaum, and Katie Silberman
Written by Emily Halpern, Sarah Haskins, Susanna Fogel, and Katie Silberman
Starring Kaitlyn Dever, Beanie Feldstein, Skyler Gisondo, Molly Gordon, Victoria Ruesga, Jessica Williams, Lisa Kudrow, Will Forte, and Jason Sudeikis
Music by Dan the Automator
Cinematography Jason McCormick
Edited by Brent White and Jamie Gross
Rating: MA15+
Running Time: 105 minutes
Release Date: the 11th of July 2019
Booksmart is an energetic high school feature that meets some expectations but falls below others. Actress Olivia Wilde, who has featured in various comedies, dramas, and action movies, makes her directorial debut. Her one achievement here is drawing strong chemistry from the film's co-stars, Kaitlyn Dever (Short Term 12, 2013) and Beanie Feldstein (Lady Bird, 2017).
They work well together playing two best friends facing their last day of high school. The film brims with style and crazed energy, but the laughs are inconsistent, and the story's coda is problematic. Despite being one of the most hyped and praised films this year, it does not meet the high standard that more impressive high school movies have set for this genre.
The film is a coming of age story that explores devotion through a longstanding female friendship. Molly (Feldstein) is proud of her academic results and confident that she will be leaving for college. She shares a strong teacher-student relationship with Miss Fine (Jessica Williams). However, Molly is shocked that many of her slacker peers with whom she feels at odds are also leaving for college too. The revelation makes her academic achievements feel indistinguishable and also that she has not partied enough at school. Consequently, she urges her reluctant best friend, Amy (Dever), to attend a raging house party with her on the night before graduation.
Travelling there proves difficult and strains their friendship since Molly is determined while Amy is hesitant and cautious. Amy is also gay but has the support of her religious parents (Lisa Kudrow and Will Forte). Molly encourages her to talk to a girl named Ryan (Victoria Ruesga) who is attending the party. The girls are aided by Jared (Skyler Gisondo), an exuberant but unreliable fellow student who might be able to help them find the party.
The likeable chemistry of the actors provides the first half of Booksmart with humour and gusto. The girls' devotion to one another is cleverly articulated by a dance they perform together one morning. Their synchronised moves are funny but underline an early dramatic question about the duration of their loyalty. With an 'Elizabeth Warren 2020' bumper sticker on their car, they embody new age liberals and feminists who support each other to hell and back. At one point they comically exchange the key word 'Malala' in reference to activist Malala Yousafzai. Here the keyword stresses the absolute bond between the girls in any difficult situation.
Their devotion and trust are tested through increasingly difficult and sometimes incredibly embarrassing incidents, including being on a near-empty boat and stalked by a drugged-out girl named Gigi (Billie Lourd). She bizarrely pops up in all the same places as them. Another embarrassing scene is when the girls discover that their principal (Jason Sudeikis, Wilde's husband) has undertaken an unexpected second line of work. Consequently, the early parts are buoyed by the manic feel and the various ways that female friendship is strengthened and tested.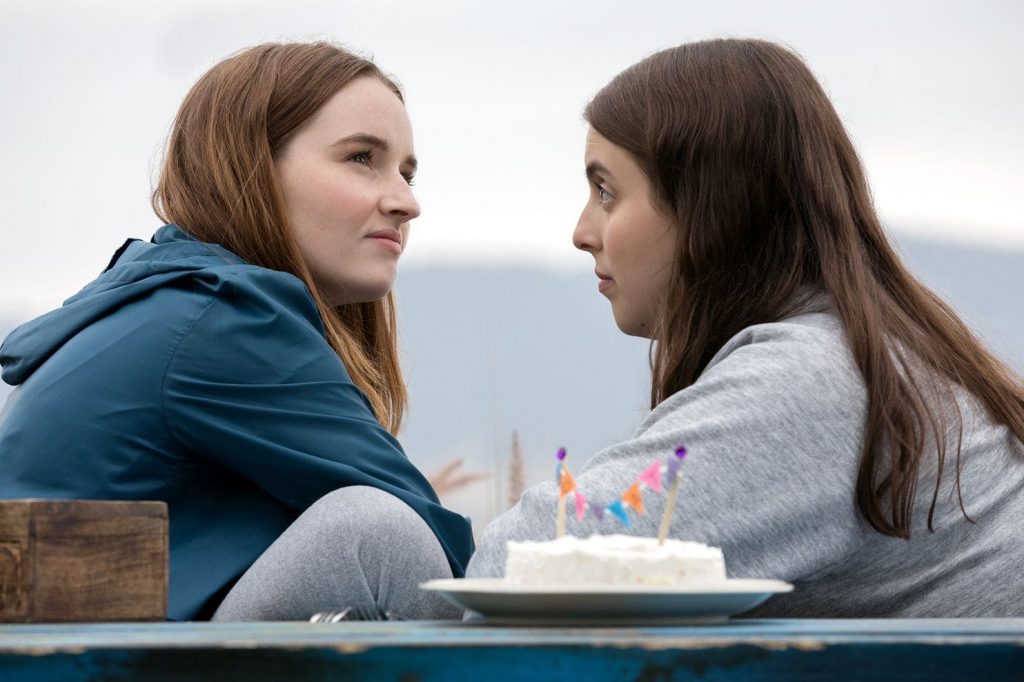 Unfortunately, Olivia Wilde's direction sacrifices verisimilitude for high energy and style. The high school scenes where the students are practically rioting in the corridors do not ring true under a pop aesthetic that resembles an explosive music video. The music score booms noisily over slow-motion shots to create an over-pumped atmosphere.
Meanwhile, the film is also loaded with characters whose delivery is too shrill, including an eccentric drama student, a rich kid with a deeper side, and a popular girl nicknamed Triple A (Molly Gordon). Sometimes the characters surprise us by showing unexpected sides to their personalities, which is nice. It is ironic though that the girls tell Jared, 'don't try so hard'. It is solid advice that the filmmakers themselves could have applied to the filmic style and some of the broader characterisations.
Through its hyperkinetic mood Booksmart tries unifying relatable high school situations with deliberately absurdist comedy. The plot is unevenly stitched together by wild coincidences, deus ex machina devices, and even an animated sketch. The first half is funnier than the second, which forgoes the absolute realism of Lady Bird where every moment rang true.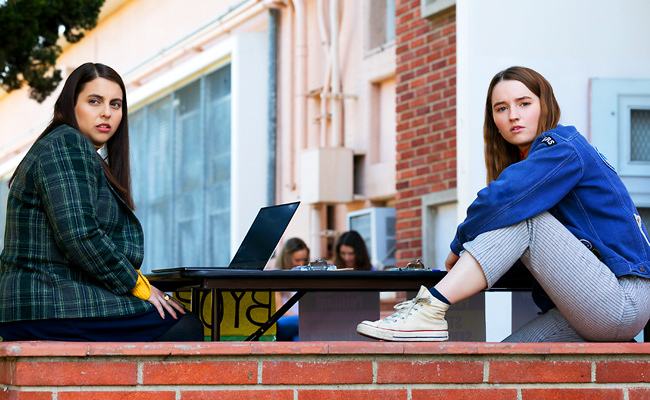 For example, Lisa Kudrow's part as Amy's mum is little more than a passing cameo. It pales compared to Laurie Metcalf's incredible performance as the mother in Lady Bird. Bo Burnham's high school film Eighth Grade (2018) also integrated its stylistic choices more purposefully. Instead of dialling up the sound to create an overly loud party mood, its score strategically underlined the main character's feelings, and silences were used effectively too.
There are also bumps in Booksmart's exploration of loyalty and acceptance. The main relationship between Molly and Amy is a solid dramatisation of two conflicting personality types and smartly articulated by the charisma of both actresses. However, a subplot that climaxes with a cringing incident between Amy and another girl in a bathroom is improbably resolved.
Similarly, the incredulous finale, involving a graduation ceremony, is designed to evoke a message about broader admiration but falters. The filmmakers will argue that it intends to further strengthen the girls' unbreakable bond, but the story also stresses the need for validation by peers with whom one may share little in common.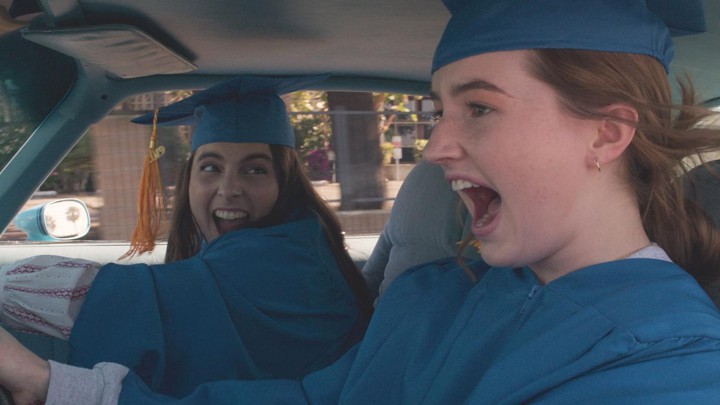 It dispels the reality that there are people in your early life that will remain a mystery. Not everyone is secretly multifaceted and willing to be your friend after a single evening. Perhaps the lesson should have been that two intelligent, independent females can realise that they are content with each other's company rather than striving for wider acceptance.
Recently, the YA film The Hate U Give (2018) explored the idea of conformity through race in a more substantial way. A repressed black student was forced to conceal her voice before realising her independence from people who did not share her progressive values. Maybe Booksmart's inconsistencies result from the script dating as far back as 2009. Since its conception, it has undergone multiple rewrites from different authors who changed key plot elements.
Half of Booksmart offers big laughs and the lead actresses share such easy, natural chemistry that they could comfortably feature in another comedy vehicle together. It is also fortunate that despite some crass scatological humour, the film does not lean too heavily on these types of jokes either.
However, the comedy lacks consistency and the occasionally overzealous style undermines the realism and plausibility of the situations. There has been such an unusually high bar for films about school recently that it is important to highlight how this one comes up short. Booksmart is sometimes fun and enjoyable but it could have been much sharper.
Summary: Booksmart is sometimes fun and enjoyable but it could have been much sharper.