Events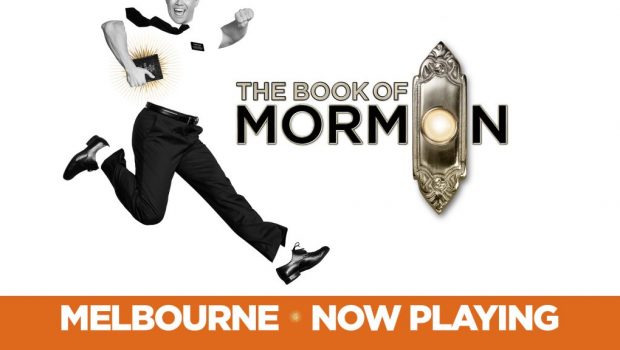 Published on February 5th, 2017 | by Admin
The Book of Mormon Review (Melbourne Princess Theatre 2017)
The controversial and more importantly 'humour' of The Book of Mormon arrives in Melbourne Australia as the creators of South Park (Trey Park, Matt Stone) and Ropert Lopez unleash one of the most unusual and dare I say, most entertaining and comedic musicals at the Princess Theatre. Given the accolades and milestones that The Book of Mormon have broken, it's easy to see why as we follow Elder Price (Ryan Bondy), fresh out of the Mormon Missionary School as he encounters the very 'Unchristian' Uganda which questions his religious beliefs to the core.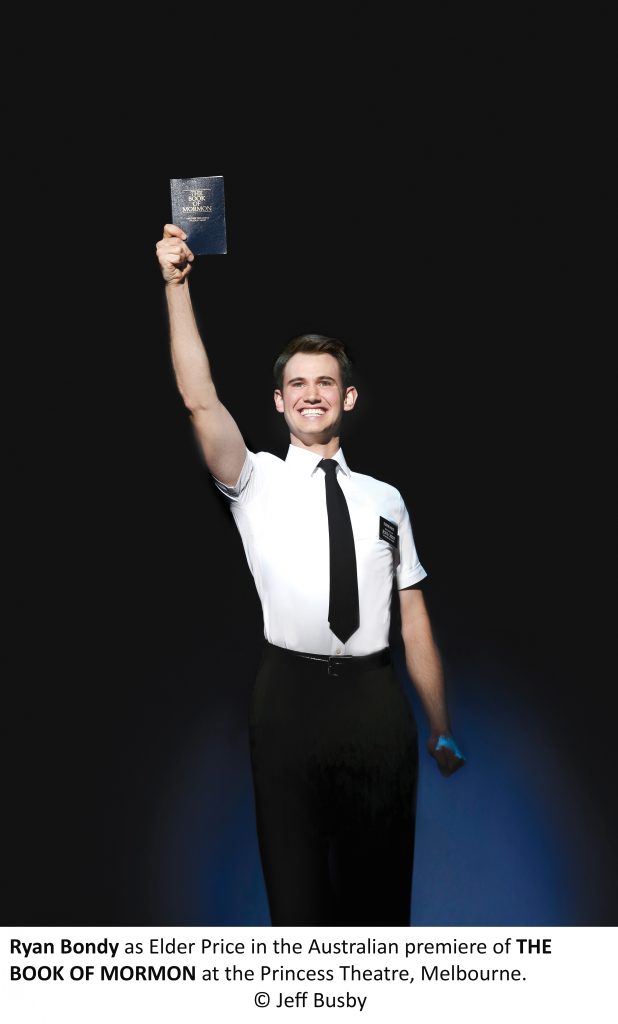 Also joining Elder Price is his 'forced best friend' and highly amusing Elder Cunningham (A.J. Holmes), village leader Mafala (Bert LaBonté) and his daughter Nabalungi (Zahra Newman) plus the nefarious General (Augustin Aziz Tchantcho) and a gaggle of Mormons and other villagers who really make this musical quite a spectacular. Add in some great sets, costumes, lighting, hilarious choreography and songs that will make the very conservative either rush to Church for forgiveness or walk out of the performance and The Book of Mormon highlights the blind faith of this religion, particularly from its crazy flashbacks on how this Church was founded.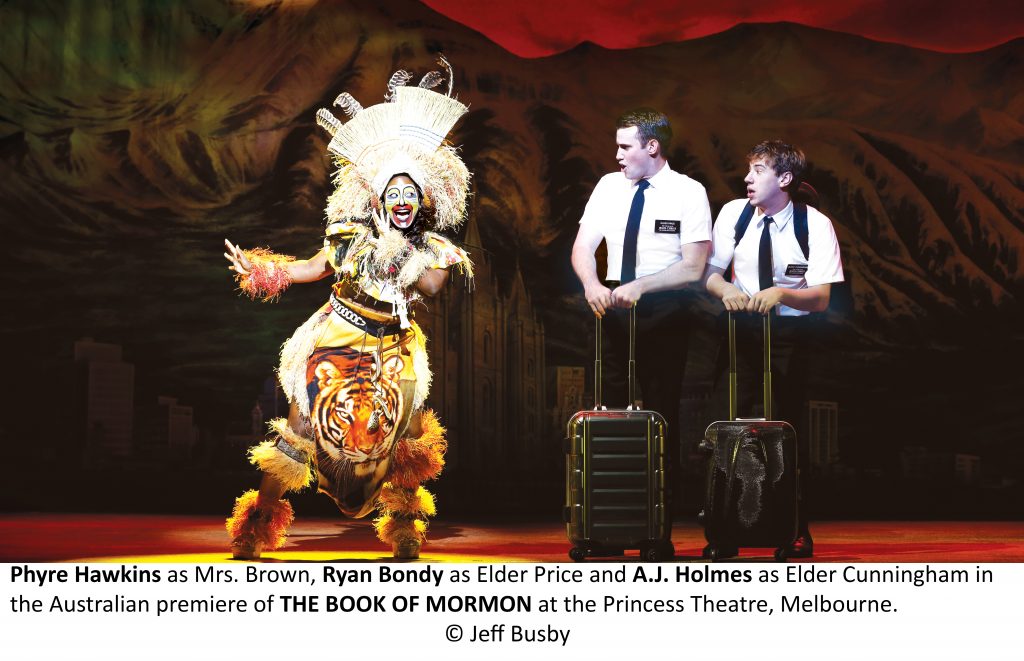 Now, The Book of Mormon is not for everyone… it's actually far from it for some, however if you enjoy the humour of Trey Park and Matt Stone, then you this musical is definitely right up your alley. Furthermore and understandably, this performance really channels the South Park vibe and just like the humour in this adult cartoon, The Book of Mormon throws in shocks for its laughs, including voices (such as Jesus) that you have heard in episodes starring Stan, Kylie and Cartman. So if you're Mormon (that's a given), Ugandan, your humour is conservative and you believe that South Park is the coming of the Anti-Christ, this musical is definitely not for you. However the Mormon nightmare number in hell was almost worth the admission price alone.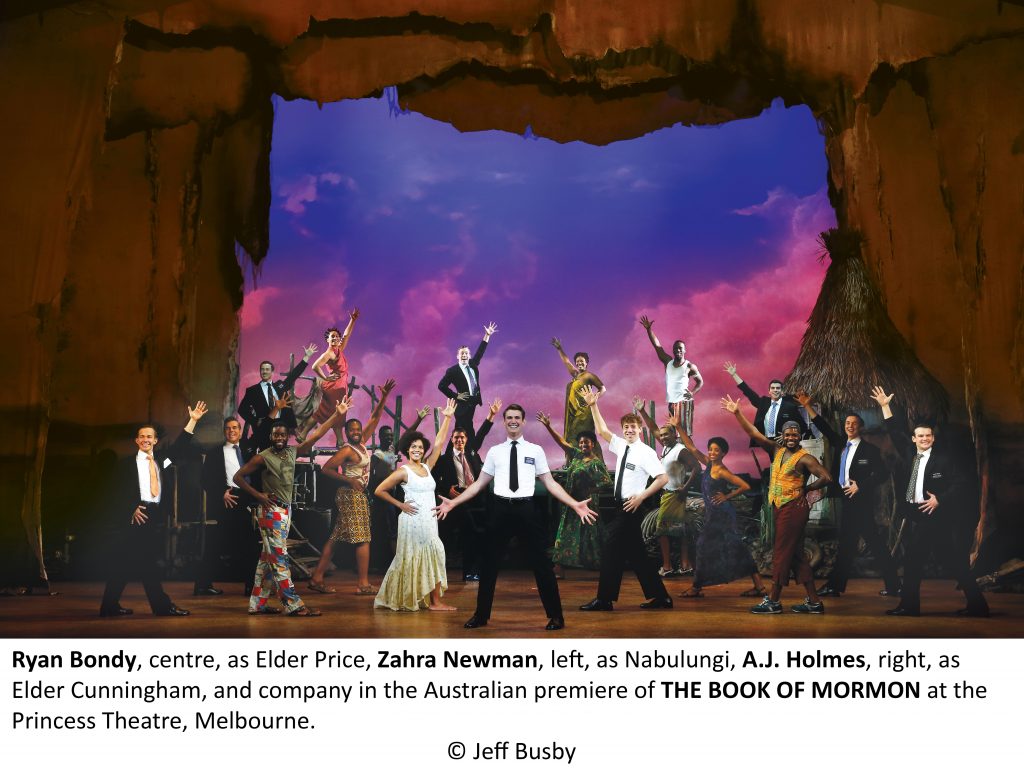 Given that, the humour in The Book of Mormon may appear a little juvenile at times (which it is), however there are quite a few underlining messages which is where these songs almost become masterpieces, particularly when matched with the hilarious choreography. I'll never look at dysentery the same way again and come to think of it, The Lion King either. Although Ryan Bondy is the star of this performance as he searches for his paradise of Orlando, his wingman in comedy is A.J. Holmes as the slightly off Mormon Elder Cunningham who had the entire Princess Theatre in hysterics. His performance, especially his voice reminded me of Cartman from South Park, whose wild imagination helped this village of Uganda understand what it means to being a Mormon which included (loosely) guest stars from other franchises such as Star Wars, Star Trek and Lord of the Ring. The only slight let down of this performance is that for a 2-hour show, it does become a comedy overload and if you're sitting in the Grand Circle, it is a little too far from the stage.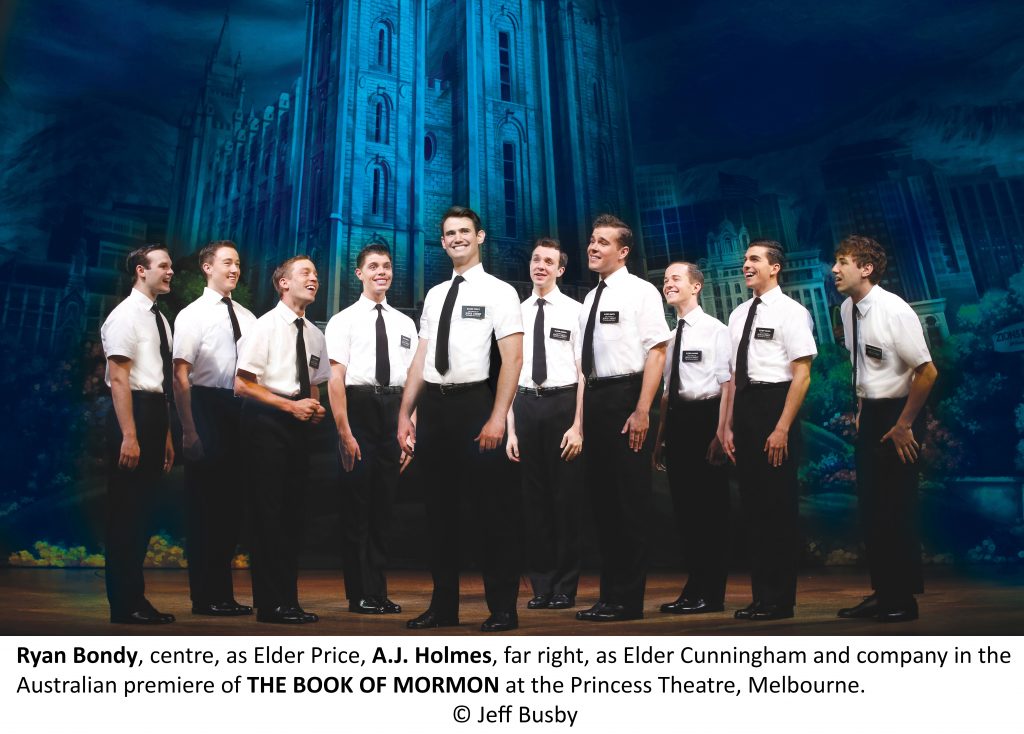 Final Thoughts?
The Book of Mormon is a strange beast and Trey Park, Matt Stone and Ropert Lopez should be commended in making a real-life South Park Musical. Sure, it's not South Park but it definitely channels this comedic beast and when matched with highly amusing songs, choreography and special effects of frogs and dysentery, The Book of Mormon is easily the most original musical in all existence.
The Book of Mormon is now playing at the Princes Theatre in Melbourne