Films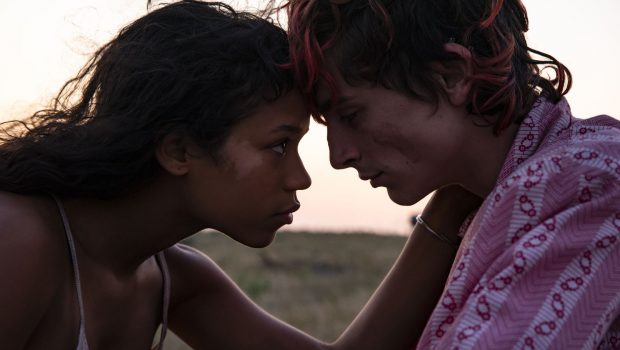 Published on November 30th, 2022 | by Harris Dang
Bones and All – Film Review
Reviewed by Harris Dang on the 29th of November 2022
Universal Pictures presents a film by Luca Guadagnino
Produced by Luca Guadagnino, Theresa Park, Marco Morabito, David Kajganich, Francesco Melzi d'Eril, Lorenzo Mieli, Gabriele Moratti, Peter Spears, and Timothée Chalamet
Starring Taylor Russell, Timothée Chalamet, Mark Rylance, Andre Holland, Anna Cobb, Michael Stuhlbarg, David Gordon Green, Jake Horowitz, Jessica Harper, and Chloe Sevigny
Cinematography Arseni Khachaturan
Edited by Marco Costa
Music by Trent Reznor and Atticus Ross
Running Time: 130 minutes
Rating: MA15+
Release Date: the 24th of November 2022
Set in 1980s America, Bones and All tells the story of Maren (Taylor Russell), a socially withdrawn teenager who bears a deep, dark secret that becomes exposed when she goes to a sleepover and unintentionally homes one of the girls. Her father, Leonard (Andre Holland), is no stranger to her secret and the two are constantly on the run because of it. But Leonard abandons her to fend for herself, leaving her money, her birth certificate, and a tape recording that recounts her past.
Maren takes it upon herself to go and find her mother in Minnesota and she meets up with Lee (Timothée Chalamet) Chalamet), a rebellious, impulsive, and unruly boy. She becomes attracted to his sudden sense of good nature when he confronts a rude customer at a supermarket and by his positive relationship with his sister Kayla (Anna Cobb). Maren and Lee gradually fall in love, and he decides to help her find her mother. The two become kindred spirits due to the fact the two share the exact same secret: they are both cannibals.
Bones and All is the latest film from Luca Guadagnino, who is best known for films including A Bigger Splash (2015), Call Me by Your Name (2017), and Suspiria (2018). These are films that explore beauty within landscapes from the eyes of an outsider and the allure and danger of human pleasures. In the case of Bones and All, the film is surprisingly his most commercial and assuredly crafted project to date. With deep performances, an effectively ethereal atmosphere, strikingly confident genre shifts, a thematically dense script and a poignant romance at its centre, Bones and All is one of the best films of 2022.
The script by Guadagnino's regular writer, David Kajganich (who adapts the titular book by Camille DeAngelis), is concise in its plotting and thematically rich in its drama as it explores existentialism, love, survivalism, upbringing, and humanity through the genre means of cannibalism remarkably well. However, one of the most striking things about Bones and All is the cinematography by Arseni Khatchaturan.
Best known for his work in the 2020 film Beginning, his lensing of Americana here makes the landscapes and town feel otherworldly and painterly and the mindsets of the cannibals (which the film names them "eaters") feel lost and antiquated in the world, just being outside the notion of normality and falling in love. With additional support from the off kilter editing by Marco Costa that keeps things lucid and exacting and the moody score from Trent Reznor and Atticus Ross, the production values and visual storytelling are top-notch and help Guadagnino shift genres from horror to drama to romance smoothly.
But seeing this is a film that features young leads as it is "a young adult" film, Guadagnino and crew are not afraid to dive into the commercial aspects in terms of visual iconography. The look of Chalamet in his fluorescent pink shirt, blazing, orange-streaked hair and dried blood over his mouth and neck does call to horror films set in the 1980s. The actor plays up that allure for all that it is worth. For the horror fans, there is plenty of blood and gore that is slathered all over the screen. And yet the surprising thing about the execution is that Guadagnino relies more on the sound design, which is startlingly effective in how gruelling it is. The piercing and mastication of human flesh cannot be denied easily.
However, alongside the genre expectations and flourishes lies a strong, beating heart. A huge credit goes to Russell and her remarkable lead performance. Having the responsibility to convey a strong sense of yearning as well as a sense of wonder and apprehension in discovering things within her self-worth like falling in love or knowing her parent's intentions with her upbringing, Russell handles the role with dignity, gravity, and sympathy. The chemistry between Russell and Chalamet feels dangerous, magnetic, and, most importantly, genuine.
Seeing as this is a road trip movie as well, the eclectic cast of supporting characters are all distinct, bizarre, and believable in the film's worldview. Some of the supporting cast (which includes the likes of actors David Gordon Green and Michael Stuhlbarg) are unrecognisable while some are given great opportunities to make the most out their roles. Mark Rylance manages to be both menacing, depressive, and empathetic all at once as the nominal antagonist, Sully. Jessica Harper is shockingly poignant in her limited screentime as Maren's estranged grandmother and Anna Cobb engenders sympathy as Kayla, which swiftly establishes a convincing familial bond with Chalamet.
Overall, Bones and All is a fantastic piece of work that manages to be a heartfelt romance, a compelling road trip, a grisly horror flick, and an elegiac piece of longing all at once.
Summary: With deep performances, an effectively ethereal atmosphere, strikingly confident genre shifts, a thematically dense script and a poignant romance at its centre, Bones and All is one of the best films of 2022.