Comics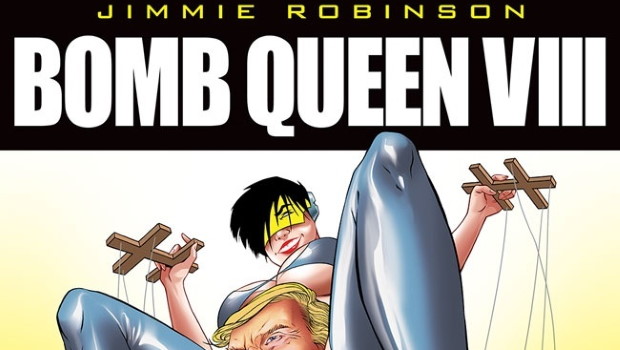 Published on January 15th, 2021 | by Chris O'Connor
Bomb Queen 8 TP Review
Summary: Bomb Queen goes after the latest resident of the Whitehouse... or should I say runs against?
It's been an "interesting" 4 or so years. American politics has nose dived into a cesspool of hatred and division. Whilst we have had some political satire in comics along the way, Bomb Queen adds to the list of those taking on the current state of affairs in traditional Bomb Queen fashion.
Writing
The very start of this comic explains the context for how it came to be, Jimmie explains that this isn't just a cash in on the current political climate… Bomb Queen has taken on previous presidents on both sides of the political divide. He then goes on to remind us how hard it is for anyone trying to do some form of up to date political commentary when the last four or so years have been newer, bigger scandals basically every time there's a news report. But then he goes into trying to define Bomb Queen, ultimately saying you can't… it's "up to the reader". I state all of that, despite it not being part of the story, because it seems quite relevant to how a reader might perceive this story.
I didn't strictly find anything wrong with it, I mean you can certainly use some of Jimmie's own terms "exploitative", "anti-hero", "political-satire"… but ultimately I just felt it was flat. There's a chance I'm just a bit burnt out with real world U.S. politics which seems to have rendered "made up" stories redundant. It could be that a lot of the commentary in the comic seemed to be almost a paint by numbers, check box of terms and stereotypes, or maybe it is just catering to a different market than me (well obviously it is really).
Artwork
The artwork is perfectly fine. It has that digital drawing/colouring style which I'm not personally a fan of, but I've certainly seen worse examples of. The "exploitative" aspect is a somewhat tricky one. On the one hand the character certainly is created to show off skin and is very provocative, so you could say it's exploitation… but the character is aware of their appearance and flaunts it by choice and indeed at times as a tool… so you could argue there's empowerment there… but then you can easily come back to the fact that it's a male creating the character and you can be back at square one. So for those considering whether they want to buy this comic perhaps it's easier to think in the simplest terms of "do you like to see scantily clad/nude women (and to some extent men) in comics? Are you fine with depictions of extreme violence in comics? If you answered yes to both of those questions then, visually… this may well be up your alley.
Final Thoughts
Honestly, I'm not fussed about this comic in any sense of "is it offensive" or not… to some extent I agree with Jimmie there, it is up to the reader. I'm not a fan of shock for shock's sake… the comics who claim that it's their job to "shake the status quo". Ultimately my issue with this comic is that it just felt unimaginative. The satirical elements have kind of all been done before… the characters named/behaving as stereotypes were so hammered home as to just be cringe worthy and the ending uses what is oft called a cardinal sin in writing (though I don't strictly have an issue with it if it's used well).
If you want "sexy images" and over the top violence and depictions of bad behaviour… this is probably exactly what you are looking for. If you are looking for some biting political satire… keep scanning the shelves because there are better examples out there.
Comic Details
Publisher: Image
Writer: Jimmie Robinson
Artist: Jimmie Robinson
Cover Artist: Jimmie Robinson
Genre: Political Satire, Action
Format: 132pgs, FC, TP
Release Date: 13th Jan, 2021