Films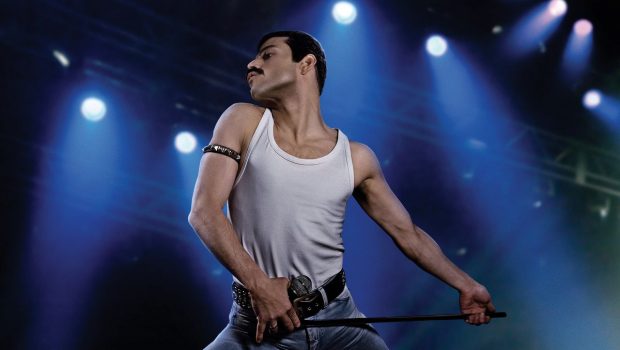 Published on November 7th, 2018 | by Damien Straker
Bohemian Rhapsody – Film Review
Reviewed by Damien Straker on the 7th of November 2018
Fox presents a film by Bryan Singer
Produced by Graham King and Jim Beach
Screenplay by Anthony McCarten
Starring Rami Malek, Lucy Boynton, Gwilym Lee, Ben Hardy, Joseph Mazzello, Aidan Gillen, Tom Hollander and Mike Myers
Cinematography Newton Thomas Sigel
Edited by John Ottman
Running Time: 134 minutes
Rating: M
Release Date: the 1st of November 2018
The best way to appreciate Bohemian Rhapsody is to remember that it is all about the headbanging music. Otherwise, this is a generic, by-the-numbers biopic dramatising the rise of Freddie Mercury and his epic rock band, Queen. It is not racy or scandalous enough to be hugely insightful nor does it penetrate the brilliance of Freddie's unique creative mind.
Instead, it lumbers through Freddie's life events, one after the other. It is only at the end of the journey, where we partake in the fantastic 1985 Live Aid concert, that the film ignites. The fact that Queen's songs are some of the greatest ever made is almost enough to rescue an otherwise mediocre film that underwent its own creative dramas during its extensive production.
For a long while, Sasha Baron Cohen was attached to play Freddie. He wanted the film to be a gritty dramatisation of the musician's life, but some of the standing members of the band argued it should take a softer approach. Cohen attempted to have experienced screenwriter Peter Morgan (The Queen; Rush) script the film and fought for Tom Hooper and David Fincher to direct.
They would have undoubtedly taken a far more exciting approach to the material. Instead, someone hired Bryan Singer (the mediocre X-Men filmmaker accused of sexual misconduct) to direct, which was a mistake. He was fired from the project weeks before it was finished. An article by The Hollywood Reporter outlines the extent of his onset misdemeanours. He was replaced by Dexter Fletcher who shot the final concert scene—ironically the best part of the film.
It is a huge life to explore. During the opening concert, the camera follows Freddie (Mr. Robot's Rami Malik) from behind through an unbroken tracking shot. The continuity shows that he is in his own personal headspace backstage as he prepares to dissolve into his stage personality. In comically generic fashion, the story structure copies films such as Walk the Line (2005) and Walk Hard: The Dewey Cox Story (2007) by flashing back to the events of his life leading to here.
Bohemian then thinly reveals how the band met, Freddie's fluid sexuality, his relationship with his girlfriend Mary Austin (Lucy Boynton) and how he walked away from Queen to pursue a solo career before re-joining the band for the major concert. It rarely ventures into who Freddie was as a person, which limits the depths of Rami Malik's performance. He perfectly imitates the flamboyant physicality of the man, particularly his eccentric mannerisms and his command of the stage.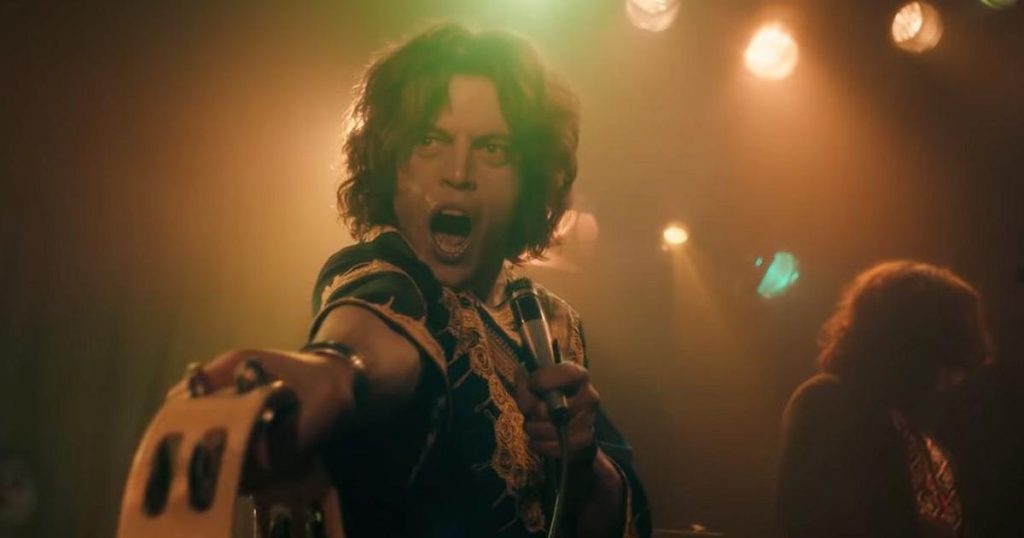 However, how he conceptualised the music itself is ignored and sometimes his words are confusing. When he puts on a classical record to preview the song Bohemian Rhapsody there's no context as to why he chose the piece. In typical biopic style, the genius of a masterwork is conceived like flicking a switch, which is disappointing. There is only one clever bit where one of the band members creates the stamping sound for 'We Will Rock You' from the need to increase the audiences' participation in their performances.
When Freddie talks to his girlfriend his dialogue is sometimes in riddles. This is one exchange between himself and Mary. 'I want you in my life', he says to her. She replies, 'why?' He says, 'because we believe in each other!' The line does not resonate because there is little insight into her character besides coming to terms with Freddie's sexuality. Sometimes Freddie is surprisingly mean. He mistreats his band and when Mary reveals something after they've broken up, he yells 'how could you!' Otherwise, the band members do not have their inner lives explored aside from being frustrated by Freddie's bad behaviour, such as being late to rehearsals.
While many of the film's events are true to life, it would have been more satisfying if they were not as heavily signposted with biopic clichés. For example, Freddie's parents are painted as conservative and unappreciative of their son's love of music. The characterisation leaves no tension about whether they will inevitably become more supportive of him and his sexual orientation.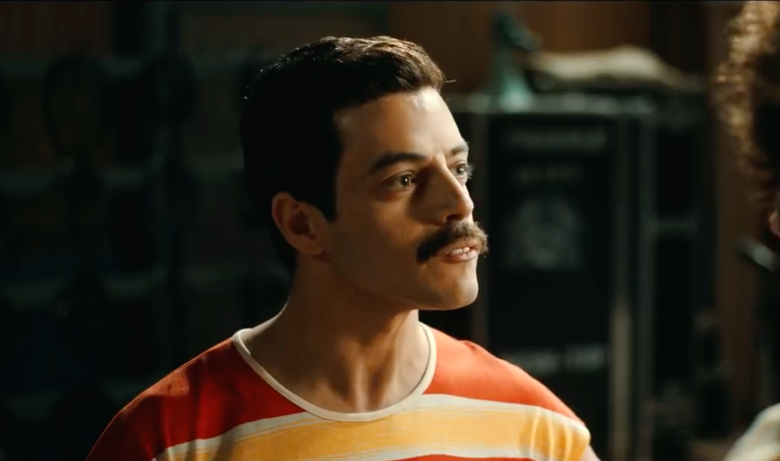 Likewise, there's a generic but quietly humorous scene where Ray Foster (Mike Myers, unrecognisable), a stereotypical EMI record executive, does not understand the band's music. It is a one-dimensional character, typical of every close-minded big-time executive we've ever seen in movies. He is a fool because he only wants formulaic records made. The film even resorts to the old cliché where Freddie is on tour and Mary calls because she is worried that they're growing apart!
The way the film reveals Freddie's AIDS diagnosis is through one of the most overused images in film and television soaps. When Freddie coughs into a bloody handkerchief it looks as though the film will predictably document his deterioration. The film's distributor, Fox, was criticised for releasing a plot synopsis that omitted the phrase 'AIDS' and merely said he had an illness. Homosexuality is tepid in Hollywood, which is apparent here because the supposedly wild parties Freddie organised are tame aside from some coke lines.
Freddie's sexual exploits include as little as a kiss on the lips, and by the end of the film he shows no signs of physical deterioration from his diagnosis. However, some have smartly argued that by not showing his decline it successfully removes the film from the 'bury your gays' trope, which will be a refreshing change for some viewers. One must ask if the film is resisting the trope or being overly cautious about his orientation.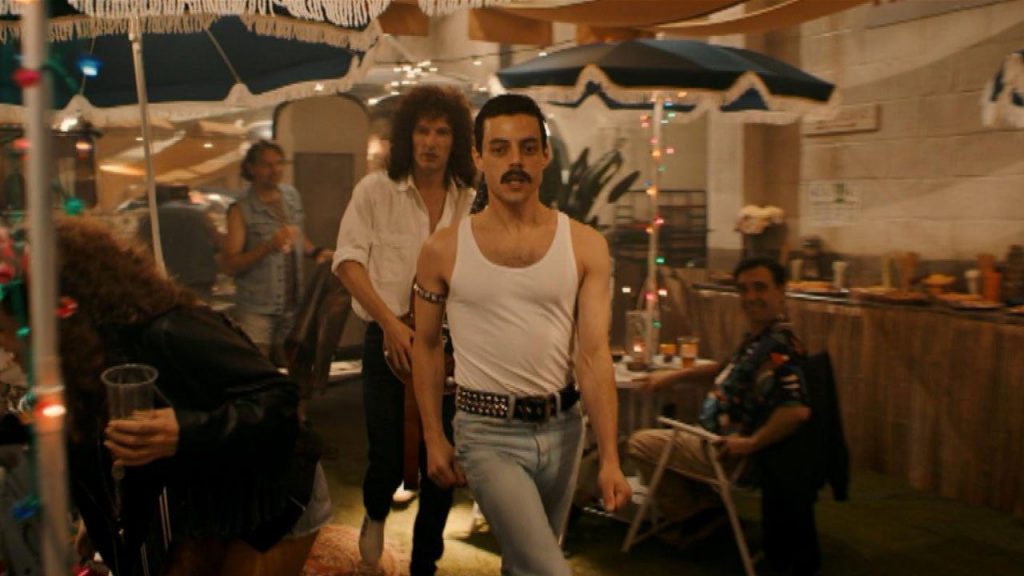 Largely, Bohemian is about fan service because the decision to end with an epic concert scene allows Freddie to go out on top—a decision that admittedly salvages an otherwise clichéd film. The songs aren't merely catchy but timeless and stunningly realised. They completely reinvigorate this middling feature with tremendous energy, electric spirit, and most importantly, fun.
At the early preview screening, people were excitedly mouthing the words to the songs, and the film has already topped the US box office with big results. It is terribly conventional and does not always match Malik's commitment to the wild physicality of this supremely talented artist. Regardless, it will please hardcore fans who can now hear Queen's music being projected from the booming sound system of a cinema screen, which is itself a treat.
Summary: It is terribly conventional and does not always match Malik's commitment to the wild physicality of this supremely talented artist. Regardless, it will please hardcore fans who can now hear Queen's music being projected from the booming sound system of a cinema screen, which is itself a treat.