Games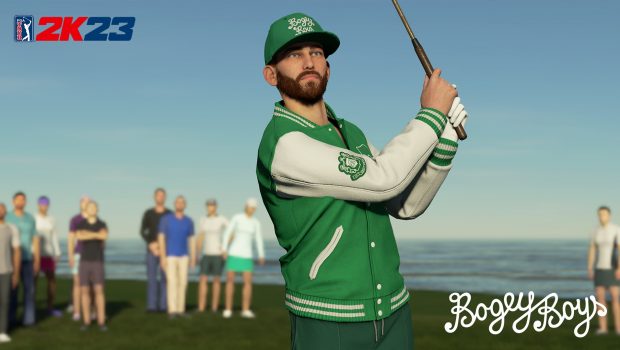 Published on August 18th, 2023 | by Adrian Gunning
Bogey Boys by Macklemore Headlines PGA TOUR 2K23 Clubhouse Pass Season 5
Today, 2K revealed details of Clubhouse Pass Season 5, teeing off this Friday, August 18*, and headlined by Bogey Boys apparel making its PGA TOUR® 2K23 debut.
Founded in 2021 by musician Macklemore, Bogey Boys is an extension of his love of both golf and fashion. Incorporating bold colours and patterns with a blend of modern and retro flair, Bogey Boys apparel offers the perfect fit for those wishing to make their MyPLAYERs stand out. The Bogey Boys apparel collection will be available via the PGA TOUR 2K23 Season 5 Clubhouse Pass Premium and Premium Plus reward ladders, including baseball caps, hoodies, polos, socks, cardigans, vests, tracksuits, jackets, pants, and more.** Also available on the rewards ladder are a collection of assorted, vintage hickory clubs and balls for golf purists.
Clubhouse Pass Season 5 offers 10 weeks of challenges and rewards. New daily and weekly events include an eSeries Society Event running August 24-27, mirroring the real-life TOUR Championship, a Tiger Woods Legacy Society Event, and the Topgolf 2K Swing Showdown allowing players to earn real world discounts valid at U.S. Topgolf locations.***
In addition to Clubhouse Pass rewards and events, a new group of playable golfers will join the ranks of  PGA TOUR 2K23 on August 30. Garrett, Tyler and Cody of popular sports and comedy collective Dude Perfect will join the likes of Tiger Woods, Nelly Korda, Matthew Fitzpatrick, Jon Rahm, Lydia Ko, Tony Finau, Brooke Henderson and Xander Schauffele, as well as celebrity guests, including Michael Jordan, Stephen Curry and John Cena on the in-game roster.****
PGA TOUR 2K23 is the highest-rated golf simulator of the past decade on Xbox and PC, according to Metacritic*****, and is currently available on PS+ for PlayStation platforms through September 4, 2023.****** The PGA TOUR 2K23 Deluxe Edition is currently on sale for 75% off on PlayStation platforms through August 30. The Standard Edition will be 67% off for Xbox One and 65% off for Xbox Series X|S, while the Tiger Woods Edition will be 50% off on Xbox Platforms, August 22-28. Standard Edition will also be 67% off and Tiger Woods Edition will be 50% off on PC via Steam, August 23-September 11.******* For new players looking to catch up, as well as seasoned veterans hoping to fill any gaps in their collection, new DLC packs are available now, and loaded with VC and consumable ball packs. More new content, including an additional playable golfer, will be coming soon.
PGA TOUR 2K23 Deluxe Edition, Tiger Woods Edition and Standard Edition are available now for Xbox Series X|S, Xbox One, PlayStation®5 (PS5™), PlayStation®4 (PS4™) and Steam.
For more information on PGA TOUR 2K23 and 2K, visit the game's official website , become a fan on Facebook, subscribe on YouTube, follow the game on Twitter, Instagram and TikTok, and use the hashtag #PGATOUR2K23.