Films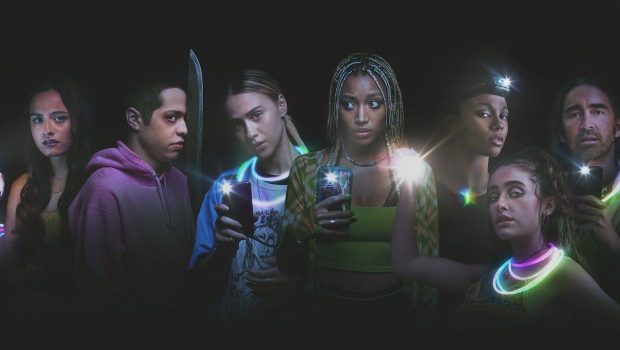 Published on September 22nd, 2022 | by Damien Straker
Bodies Bodies Bodies – Film Review
Reviewed by Damien Straker on the 22nd of September 2022
Sony presents a film by Halina Reijn
Screenplay by Sarah DeLappe
Produced by David Hinojosa and Ali Herting
Starring Amandla Stenberg, Maria Bakalova, Myha'la Herrold, Chase Sui Wonders, Rachel Sennott, Lee Pace, and Pete Davidson
Cinematography Jasper Wolf
Edited by Taylor Levy and Julia Bloch
Music by Disasterpeace
Rating: MA15+
Running Time: 94 minutes
Release Date: the 15th of September 2022
Some laughs and tense moments allow Bodies Bodies Bodies to emerge as a fun, guilty pleasure title. It is another cinematic 'whodunnit' entry intent on capturing the same box office lightning as Rian Johnson's smash murder mystery Knives Out (2019). While Bodies is inferior and far from a classic, its dark humour and solid performances will somewhat fill the mystery void until Johnson's sequel releases at the end of the year. On its own terms, Bodies is a violent and darkly funny look at how young people are disaffected by infighting and personal grievances. Through this lens it is an enjoyable but largely an unmemorable take on the genre, meaning viewers should dispense with rationale and scrutiny.
The film centres on a couple who have only been together six weeks. The duo is Sophie (Amanda Stenberg), who is a recovering drug addict, and an elusive East European woman named Bee (Borat 2's Maria Bakalova). They are first seen in a car heading towards a party hosted by Sophie's childhood friend, David (Pete Davidson). David has opted to invite everyone to his family manor. Sophie introduces Bee to the group, including Alice (Shiva Baby's Rachel Sennott) and her partner, Greg (Lee Pace), Emma (Chase Sui Wonders), and Jordan (Myha'la Herrold). By nightfall, they opt to play a game called 'bodies bodies bodies' where they slap one another hard across the face and then someone pretends to be a murderer. Everyone is hysterical when one of their friends is really found dead. The manor is also left with low visibility due to a power outage caused by a terrible storm. Personal grievances soon ignite as the group tries determining who amongst them is the real killer.
Following its cinema release, Bodies will earn a strong second wind on various streaming services. The trajectory of its distribution reflects the film's qualities and limitations. The central idea of a killer inside the house as millennials are hunted one by one is not a new idea. It has been the subject of violent slasher films for decades. The plot too is also modestly constructed compared to Knives Out's winding, intricate narrative. There is no doubting Johnson's work was also elevated by its star power and the novelty of having its actors drawn out of their comfort zones.
Despite prevalent use of drugs and alcohol by its new age millennial characters, escaping tradition and expectations is low on Bodies' agenda. The story beats involve the gruesome fate of its young victims as questions of loyalty are raised and we await a chaotic denouement. This is not revelatory storytelling, but the psychological questions are engaging. How well does everyone really know each other? Are Sophie's closest friends trustworthy or mad? Are the outsiders like Bee violent or is it in the head of these spoilt American millennials? By lightly skimming over these questions any political or cultural subtext pales compared to the vivid discourse of Jordan Peele's excellent horror-comedy Get Out (2016).
Bodies compensates for its lack of creativity and depth through its atmosphere, low-key tension, and personal grievances. What could have been a perpetually silly parody of millennials shoehorned into a generic Cluedo-style setup is staged with weight by Dutch director Halina Reijn. The face slapping scene is one example of the dramatic heft she provides the pivotal story beats. This tension is amplified by Reijn shooting the manor using dark shadows instead of vivid imagery. The minimalist lighting is an interesting visual choice, perhaps reflecting the characters' blindness about their own actions.
The stylistic decisions would have also challenged the young actors. Some of them must wear coloured bands around their necks and wrists and don headband lights, which leaves the images faint as they protrude through the darkened corridors. To further heighten the tension, the camera also stalks the actors in tightly framed shots down hallways and occasionally outside for scenes set in the brutal downpour. The darkened scenery results in some chilling moments, such as when Greg starts howling madly in front of everyone. Illustrating this confrontation is not a spoiler because there are a few belated twists aiming to upend the whodunnit tropes, particularly regarding the killer's identity.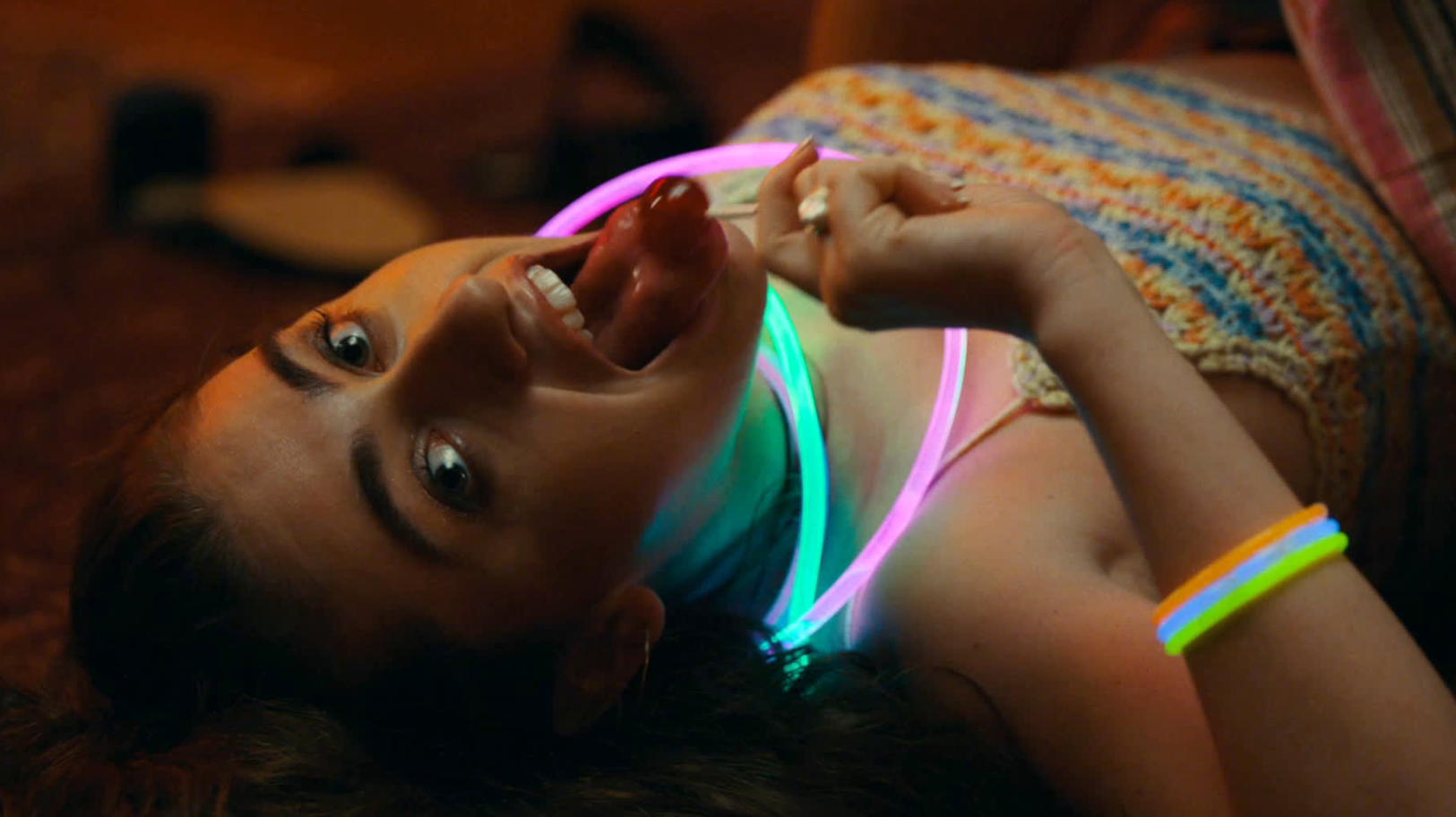 The successful fusion of humour and violence is attributable to the promising cast. Amanda Stenberg made a strong impression in The Hate U Give (2018). In this role, she brings the same intensity when Sophie is caught between her loyalty to people from her childhood and her new relationship. There is also a degree of mystery around how Maria Bakalova plays Bee. Is she as vulnerable and quiet as she first seems? The microaggressions aimed at her, courtesy of Myha'la Herrold's intimidating performance as Jordan, land harder than the bloodshed. There is a moment where someone asks Bee, 'is this your first relationship?' and they suggest she offers that type of vibe. Pete Davidson is goofy and unnerving while amplifying the story's paranoia, particularly when combative towards Greg. The standout is Rachel Sennott. The way the actress chimes into scenes with deft comic quips recalls Rebel Wilson's brisk improvisation. Yet she also brings her own humorously clumsy physicality to her role too. She is incredibly funny, self-deprecating, and invaluable in countering the bleak violence.
Bodies Bodies Bodies' setup is too meagre to become a memorable, classic whodunnit film. Over its brief running time characters meet their end and a killer is revealed. These are the most common staples of the mystery genre. Only the closing scenes find a very clever way to subvert these expectations. It allows us to reflect on the earlier parts of the story and pinpoint moments of paranoia. The script's strongest theme relates to personal grievances and outlasts jokes and dispensable commentary about mental illness and overprivileged millennials. In addition to the charismatic performances, the film's small scope and brief running time is an asset in waiting. The lack of a huge visual canvas means it could potentially be more effective at home on streaming platforms. The claustrophobia and muted decor will be amplified and make for some fun if dispensable late-night viewings.
Summary: While not an entirely memorable take on the whodunnit genre, Bodies remains darkly funny and enjoyable.