Films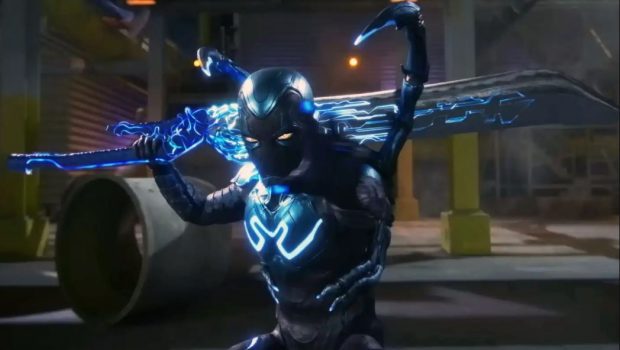 Published on September 16th, 2023 | by Harris Dang
Blue Beetle – Film Review
Reviewed by Harris Dang on the 14th of September 2023
Warner Bros Austrlaia presents a film by Angel Manuel Soto
Produced by John Rickard and Zev Foreman
Starring Xolo Mariduena, Adriana Barraza, Bruna Marquezine, Belissa Escobedo, Susan Sarandon, Damian Alcazar, Elpidia Carrillo, George Lopez, and Raoul Max Trujillo
Cinematography Pawel Pogorzelski
Edited by Craig Alpert
Music by Bobby Krlic
Running Time: 127 minutes
Rating: M
Release Date: the 14th of September 2023
Blue Beetle tells the story of Jaime Reyes (an engaging Xolo Mariduena), a recent graduate of Gotham Law University who has arrived home in Palmera City. His family, including his sister, Milagro (an acerbic Belissa Escobedo), Nana (a spry Adriana Barraza), father, Alberto (an amazingly nuanced Damian Alcazar), mother, Rocio (an optimistic Elpidia Carrillo) and uncle, Rudy (a loony George Lopez), is undergoing financial hardships. Their business has closed, Alberto has suffered a health scare, and they are facing eviction. Feeling the heavy burden of responsibility post-graduation and wanting to make something of himself to help his family, he takes it upon himself to help them escape debt.
He decides to interview for a position at Kord Tower, which is an organisation run by Victoria Kord (a sharp Susan Sarandon). The position is organised by Victoria's niece, Jenny Kord (an understated Bruna Marquezine). However, Jenny finds herself in a predicament where she tries to abscond with dangerous technology (in the form of a scarab) away from Victoria's hands.
However, after she smuggles the scarab out unsuspectingly with Jaime's unwitting help, Jaime tampers with it and becomes fused with the scarab, which bestows him with superpowers. With Victoria Kord and her super soldiers, including her military-trained bodyguard Carapax (an imposing Raoul Max Trujillo) on Jaime's tail, he must prove his mettle to become the titular Blue Beetle to protect his loved ones from impending doom.
The most peculiar aspect of Blue Beetle is its place in the DC Extended Universe (DCEU). The film is wedged between various DCEU flops and the change in management of DC Studios with James Gunn and Peter Safran taking the reins. The film was originally meant to premiere on the streaming service HBO Max but was granted a theatrical release. Considering the small scale and its connection to the other entries (or lack thereof), its final form is amusing and refreshing.
The film is directed by Angel Manuel Soto who received acclaim for his drama Charm City (2020). His aim with Blue Beetle includes expanding the positive representation of the Latino community that was briefly noted in the original comics.
While this writer cannot vouch for the accuracy of the representation, the character chemistry and cast interactions are affable and heartfelt in their universal depiction. The focus of the story is the family unit as opposed to the foreboding mood and expansive stakes of previous DCEU entries (barring Gunn's The Suicide Squad, 2021). Soto and Mexican-born screenwriter Gareth Dunnet-Alcocer do an admirable job in establishing characters worth caring about and making their hardships and emotions relatable and identifiable.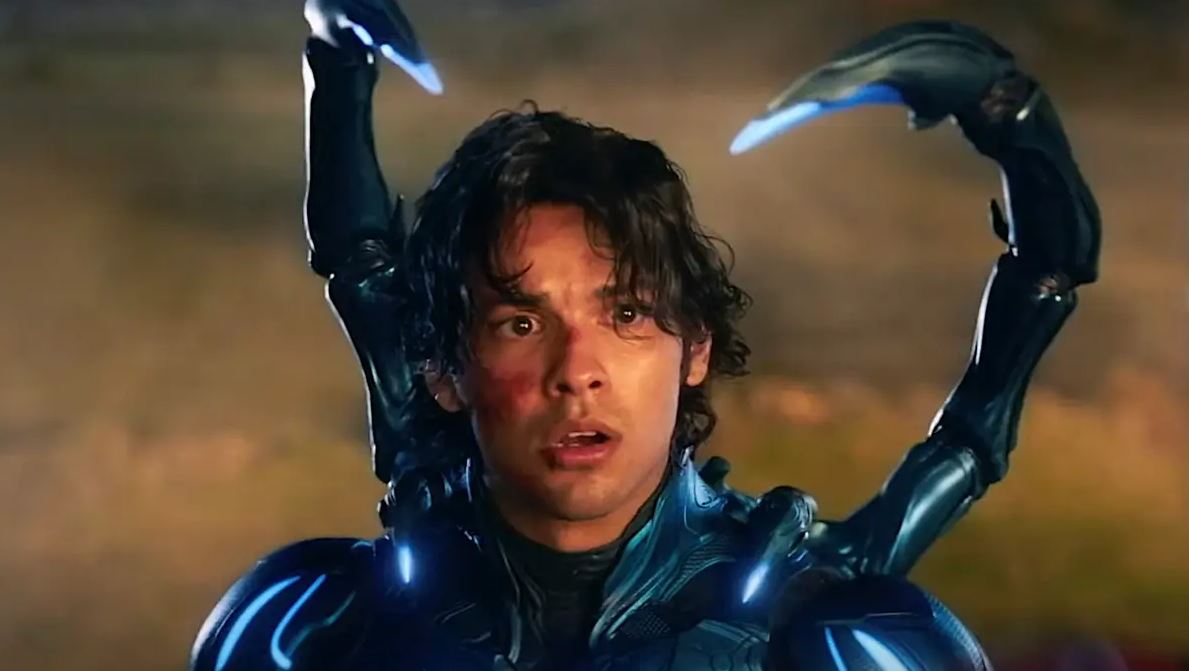 The emotional through-line makes the action scenes suspenseful and thrilling. Veteran stuntmen JJ Perry and Jon Valera, lend the set-pieces a sense of grounded impact that makes the science-fiction escapades feel less like superhero grandeur and more like tokusatsu (Japanese special effects) suit fisticuffs (much like Power Rangers or Super Sentai). The throughline also makes the derivative nature of the story palatable as the story cherry-picks from other blockbusters, such as Spider-Man (2001), Iron Man (2008), G.I. Joe: The Rise of Cobra (2009), Venom (2018) to name a few.
Even with the derivative nature in check, Blue Beetle does not provide a convincing character arc for its titular character. While the sense of family responsibility is universal, the way Soto and Dunnet Alcocer establish stakes for Jaime is underwhelming. The character is not proactive enough when overcoming these challenges. When the major stakes are established, we understand how Jaime feels but don't question whether he will do the right thing since he does not grow drastically throughout the story. This is despite the best efforts of Mariduena's performance.
Nonetheless, Blue Beetle is an amiable, sincere, and fitfully enjoyable piece in the superhero genre that entertains and engages in both thrills and poignancy thanks to its grounded approach and Soto's focus on family over special effects. Recommended.
Summary: Blue Beetle is an amiable, sincere, and fitfully enjoyable piece in the superhero genre that entertains and engages in both thrills and poignancy.