Comics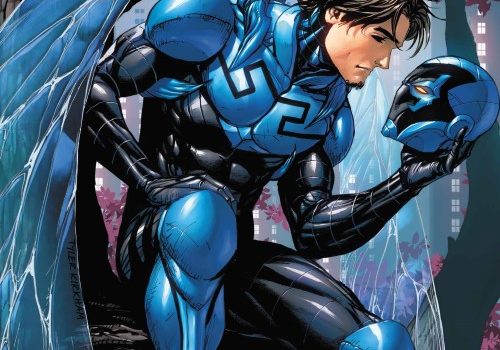 Published on September 27th, 2017 | by Andrew Bistak
Blue Beetle #13 (End Game) Review
Summary: Blue Beetle #13 (End Game) nicely rounds out this run from Giffen, DeMatteis and Kollins
Giffen, DeMatteis and Kollins end their epic run on Blue Beetle as they close their chapter on Jamie Reyes and handover the kingdom to another creative team. With 13 issues, Blue Beetles been an interesting run that not only linked the DCU to Justice League 3001 but also returned Kent Nelson as the mortal host of Doctor Fate.
Furthermore, this run has been filled with action, humour ,drama and at times, a little verbose but it all worked out in the end, especially for fans of both Ted Kord and Jamie Reyes. Complementing the writers was the extraordinary art of Scott Kollins who helped bring these words to life he also drew a very mean Blue Beetle and Doctor Fate.
So here we are at issue #13 as Tina and Teri attempt to return to their own timeline as they use the cosmic treadmill. Unfortunately things don't go according to plan as Jamie follows Teri and Tina to the 31st century which returns them to the twisted Justice League of the future who are fighting a very corrupted Eclipso. As Jamie is out of the pan and into the fire, he is caught between a massive battle with the League as Scott Kollins shows us again why he's such an impressive artist with his larger than life panels and great action sequences.
Speaking of things hitting the fan… Jamie and Teri are taken by Lady Styx and if you read Justice League 3001, you'll know that she is responsible for the future's major problems and in the biggest reveal of the issue, this maniac reveals herself to be La Dama. However Styx needs the Blue Beetle for her plan to come to fruition and sends him and Teri back to the present as the issue ends on a mystery in classic Giffen and DeMatteis fashion.
Final Thoughts?
Although not the greatest issue in the series, Blue Beetle #13 serves as a nice handover to the new creative team and for fans of Justice League 3001, it gives them a little closure. All in all, it was a fun issue with some clever dialogue and great art from Mr Scott Kollins.
Adieu guys and thanks for all the fish!
Gallery