Comics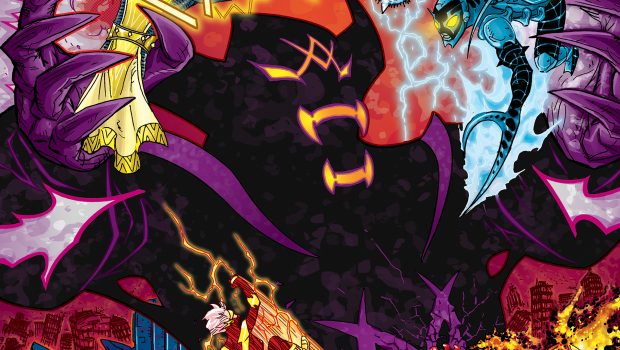 Published on June 28th, 2017 | by Andrew Bistak
Blue Beetle #10 Review
Summary: Blue Beetle #10 is a thoroughly enjoyable tale of old is new!
The excellent duo of Keith Giffen and J.M. DeMatteis continue their exploration of the current Blue Beetle, Jamie Reyes as the world is threatened by the corrupted mage Arion as he attempts to unleash a new age of cosmic dissolution. Unfortunately for our young hero, the 'magic' scarab that once bestowed his powers is now in the hands of Arion as Jamie wears the classic Ted Kord Blue Beetle costume in an attempt to help thwart this cosmic madman.
Not only does Arion threaten the very fabric of reality but also other dimensional realities. However Jamie does have the help of some powerful allies that include the newly reborn and classic Doctor Fate of Kent Nelson, OMAC, billionaire Ted Kord and the speedster Teri Magnus from the future. Although Arion does have scarab, the telepathic link to Jamie is now part of his psyche that helps break the link to this mad god. Unfortunately for our hero, the scarab appears to have been corrupted by its link to Arion as it now makes Jamie its host which ends the issue on a classic cliff-hanger.
The creative team of Giffen and J.M. DeMatteis once again merge the new with the old with the two 'Blue Beetles' of Jamie and Ted and even though our billionaire inventor seemed to be more interested in the scarab, he has really become the right mentor for Jamie. Furthermore, we see the return of the one true Doctor Fate which is once again a merge between immortal Kent Nelson and the Lord of Order known as Nabu and the writers really capture what made this character great. Lastly, the dialogue, although a little heavy at times helps progress this story nicely which makes this is a fun comic, even though things have definitely become serious for all involved.
The art of Scott Kollins is delightful and quite detailed as he brings the story of Giffen and DeMatteis to life. I must admit that his Blue Beetle is one of the best renditions that I've seen, not to mention his classic Doctor Fate which removed all the complications of the New-52 costume in terms of too much detail.
All in all, it's another engaging and entertaining issue by all involved!
Gallery
Talent