Comics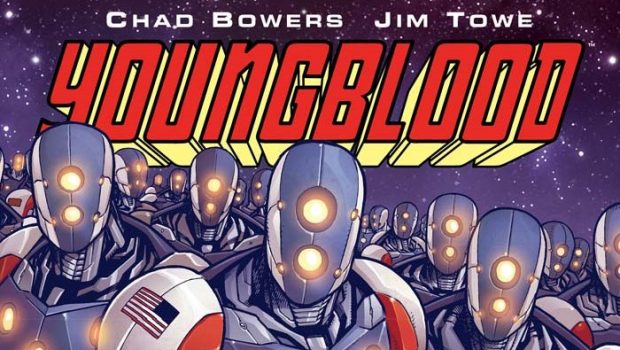 Published on July 14th, 2017 | by Dana Folkard
"BLOODSTRIKE" FINALE WILL RUN IN FORTHCOMING "YOUNGBLOOD" ISSUES!
Image Comics is pleased to announce that the action-packed BLOODSTRIKE finale story by Rob Liefeld will be serialized in the backmatter of the forthcoming Rob Liefeld's YOUNGBLOOD #4-6 written by Chad Bowers with art by Jim Towe. Issue #4 will hit stores this August.
"Bloodstrike fans have been beyond patient as I work towards completing the saga I originally envisioned that ties directly into larger plans for my Extreme vision for my Extreme Universe," said Liefeld. "The most immediate way to get the work I've been doing to the fans is by including it as a flip feature in the current Youngblood series featuring the acclaimed work of Chad Bowers and Jim Towe! No extra charge for a book that will be packed with content!"
Previously in BLOODSTRIKE, a new recruit to the Bloodstrike program, (his identity as a mystery man from the historical Extreme Universe soon to be revealed!) struggles on a covert mission and loses his life as well as his junk to the mysterious Tragedy Ann!
In YOUNGBLOOD #4 Shaft rides a motorcycle straight into danger. When the world's most extreme bowman goes rogue, it's up to the new Youngblood to stop him before he ruins everything. Or worse, gets them all killed.
YOUNGBLOOD #4 hits stores on Wednesday, August 9th.
YOUNGBLOOD #4, Cover A by Towe (Diamond Code JUN170820)
YOUNGBLOOD #4, Cover B by Liefeld (Diamond Code JUN170821)
YOUNGBLOOD #4, Cover C by Level (Diamond Code JUN170822)
YOUNGBLOOD #4, Cover D Hickman (Diamond Code MAY178631)