Comics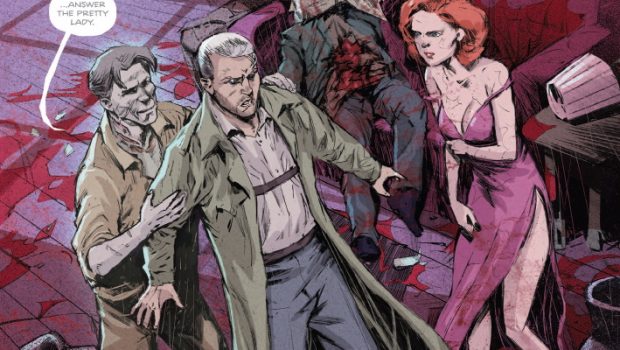 Published on January 2nd, 2022 | by Tim Chuma
BLOOD ON SUNSET #1 (2021) REVIEW
Summary: Worth a look for fans of noir style stories and vampires who want a different take on the story.
4
James Elroy meets Blade vibes
In late 1940s Los Angeles former cop Clint Braddock gets a call from his ex who is in a world of trouble having been in the same house as a mob boss who has just been murdered. Knowing that the gang is going to be looking for her he agrees to help her out but there is something odd about the murder scene and some random mobsters find out for themselves what it is about.
This is a totally new storyline and property drawing on the noir archetype and the 1940s setting. Although you can call it post-war, a lot of the deprivations of wartime lasted up until the 1950s which is why it does get included with the early rock and roll stuff.
As has come up with stories involving vampires in the past it is increasingly difficult to come up with a new angle on them and have it still be interesting. Some manage it and others do not like any story.
This does have an interesting hard-bitten art style and well defined characters who seem to have a lot to them even at this early stage of the storyline.
Due to the subject matter this comic is very bloody, even more than you would usually expect with the genre. I would call it James Elroy crossed with Vampire the Masquerade which seems the type of vibe it is going for.
I would recommend this one to fans of the 1940s detective setting and also people who want to see an original story involving vampires in a different setting.
Comic details:
Writer: Mark D'anna
Artist/Cover art: Arjuna Susini
Publisher: Source Point Press
Published Date: Dec 29, 2021