Events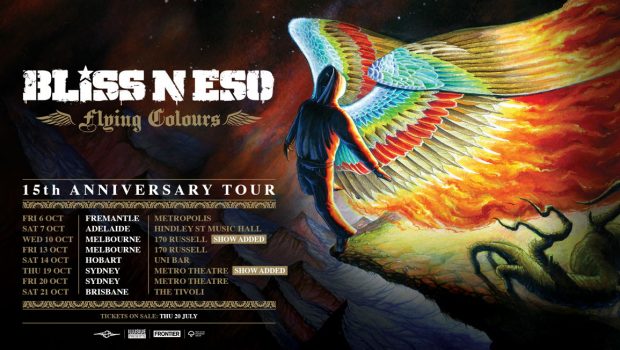 Published on July 19th, 2023 | by Adrian Gunning
Bliss n Eso announce second Melbourne and Sydney show to Flying Colours 15th Anniversary headline tour
Following high presale ticket demand, Illusive Presents and Frontier Touring are excited to announce second Melbourne and Sydney shows for the legendary Australian hip-hop trio Bliss n Eso on their Flying Colours 15th Anniversary Tour this October.
The second Melbourne show will take place at 170 Russell on Wednesday 11 October with the second Sydney Metro Theatre show confirmed for Thursday 19 October.
General public tickets for all shows are on sale tomorrow, Thursday 20 July from 10am local.   Tickets via frontiertouring.com/blissneso 
Bliss n Eso will now take on eight huge new dates kicking off on Friday 6 October at Metropolis Fremantle, then heading to Adelaide on Saturday 7 October for a show at Hindley Street Music Hall, onto Melbourne's 170 Russell for two shows on Wednesday ​ 11 October (new show) and Friday 13 October, Hobart's Uni Bar on Saturday 14 October, then two Sydney Metro Theatre shows on Thursday 19 October (new show) and ​ Friday 20 October before heading to The Tivoli in Brisbane for their final show of the tour on Saturday 21 October.
Watch: Bliss n Eso – The Sea Is Rising
Celebrating 15 years of their iconic, ARIA Award winning, Platinum certified, top 10 Flying Colours album, the trio have had an illustrious career.  Considered Australian hip-hop legends, with three No.1 albums and an extensive sweep of ARIA-certified Platinum and Gold singles, Bliss N Eso have truly earned their star status.
To celebrate 15 years after their career defining album, the upcoming Flying Colours 15th Anniversary Tour symbolises the moment everything changed for Bliss N Eso and this is a chance for them to thank their fans!   Bliss n Eso will be performing the ARIA Award winning Platinum certified top 10 Flying Colours album in its entirety, which includes the hit singles 'Woodstock 2008', 'Bullet and a Target', ARIA Platinum 'The Sea is Rising' and ARIA Gold 'Eye of the Storm' plus performances of their biggest catalogue hits with a few surprises in store!
Limited edition Flying Colours 15th Anniversary Pressing vinyl (released via Flight Deck/Mushroom on Fri 3 Nov), pre-orders live from Thu 20 Jul here.
Limited VIP / Meet & Greet / vinyl / merch bundles available for all shows via: frontiertouring.com/blissneso
A Bliss n Eso show is always memorable, but a Flying Colours 15th anniversary show will be one to remember for a long time to come.  Full of Bliss n Eso's biggest hits, don't miss out as they take to the stage to celebrate their milestone achievement this October!