Hardware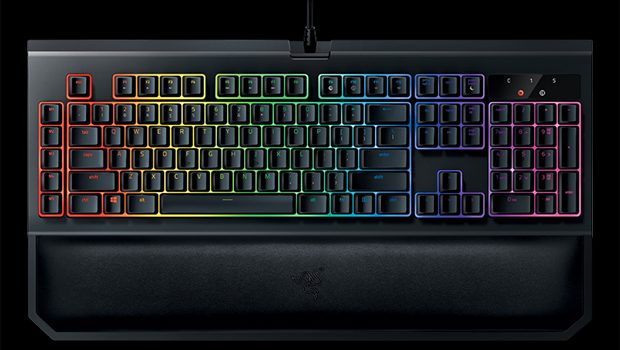 Published on April 2nd, 2017 | by Tony Smith
BlackWidow Chroma V2 Review
Summary: The BlackWidow Chroma V2 by Razer is a very powerful and fast gaming keyboard!
The successor to the BlackWidow Chroma is now available which is version 2 (V2) of this popular PC gaming product from Razer which ups the ante of this keyboard. Although the keyboard does look like its predecessor, there are a number of new changes to hopefully give you the edge while gaming. With a recommended retail price of $299.00AUD (March 2017), this keyboard is definitely on the higher end of the spectrum and after using this product religiously for the last couple of weeks, I can safely report that not only is it fast for gaming but great value for PC gamers.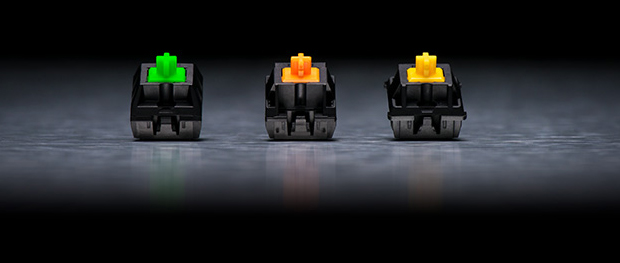 Specifications
Razer™ Mechanical Switches with 50g actuation force
80 million keystroke life span
Chroma backlighting with 16.8 million customizable color options
Razer Synapse enabled
10 key roll-over anti-ghosting
Fully programmable keys with on-the-fly macro recording
5 additional dedicated macro keys
Gaming mode option
Audio-out/mic-in jacks
USB pass-through
1000Hz Ultrapolling
Braided fiber cable
Approximate size: 475mm/18.72 in (Width) x 171mm/6.74 in (Height) x 39mm/1.54 in (Depth)
Approximate weight: 1500g/3.31lbs
Mechanical keys are also the choice for professional e-sport gamers and the key stroke life span of Razer's is 80 million which is quite insane. Furthermore, Razer's keys have a protective housing to help dirt and grime away from the parts underneath them plus gold plated contact points for additional accuracy and sensitivity.  It's also available in three different mechanical switches that include Green (50g actuation force – Tactile/Clicky), Orange (45g actuation force – Tactile/Silent) and Yellow (45g actuation force – Linear/Silent).
| | | | |
| --- | --- | --- | --- |
| | Razer™ Green | Razer™ Orange | Razer™ Yellow |
| Type | Tactile & Clicky | Tactile & Silent | Linear & Silent |
| Actuation Force | 50 G | 45 G | 45 G |
| Travel Distance | 4.0 mm | 4.0 mm | 3.5 mm |
| Actuation Point | 1.9 mm | 1.9 mm | 1.2 mm |
| Actuation vs Reset Point | 0.4 mm | 0.05 mm | 0.0 mm |
In terms of reviewing this keyboard, we checked out the Green version of the BlackWidow Chroma V2. So out of the box, the first thing that you notice about the BlackWidow Chroma V2 is its quality build as everything feels sturdy, well placed and gives the impression that it will last a long time. It's also quite a heavy keyboard but hey, you don't want this thing moving around while the gaming gets intense. Interestingly enough, it does look a little 'blocky' in terms of its appearance as well.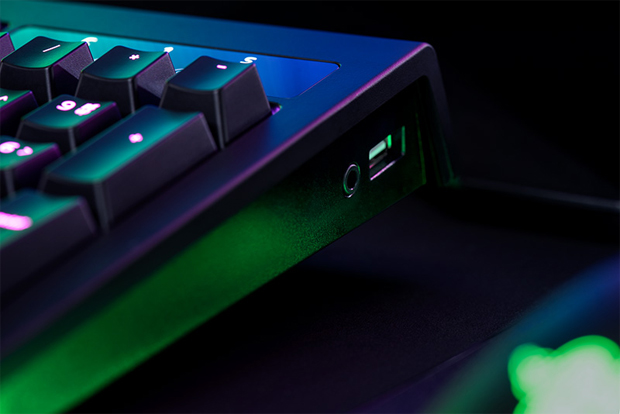 The USB cable is braided which feels quite hard-wearing and there is a detachable cushioned wrist rest for those users that like a little bit of comfort while gaming or typing for long periods. The keys have a nice feel and more importantly, the mechanical switches under them provide some excellent responsiveness and all in all, it's quite an aesthetically pleasing keyboard. Add in a USB pass-through plus audio-out/mic-in jacks and the BlackWidow Chroma V2 has everything you need in terms of design and external features.
To complement the keys, the BlackWidow Chroma V2 supports a wide gamut of programmable colours beneath, including effects which make this product really stand out while you are using it. For example, some of the preset patterns include starlight which gives the keyboard this almost space-like experience with each key having a different colour or wave which gently moves colours across the keyboard to my favourite, reactive which leaves a trail of colours from all the different keys you have pressed.
However in order to maximise the keyboard, you do need to install Razer's Synapse software which allows you to fine-tune these effects or choose one of the predetermined effects with a whopping 16.8 million colours to choose from via the Chroma Workshop. Just a word of warning that you can get a little lost while playing with this feature due to the amazing customisation options from colours to patterns and special effects.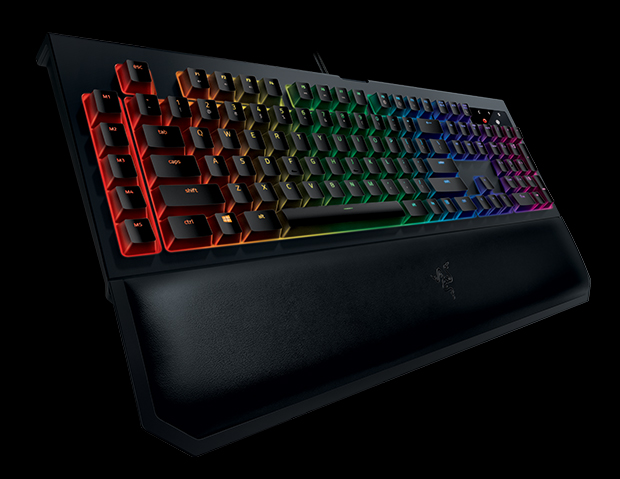 With that said, it's quite easy to create your own effects and patterns, although a little trial and error may be required but overall, Razer have done an excellent job for those wanting to maximise this feature. Furthermore, the BlackWidow Chroma V2 allows gamers to record macros on the fly via the Synapse software and it should also be noted that every key on the keyboard can be programmed for a specific function or functions.
Although this is a gaming keyboard, typing is very important and as stated, pressing keys has this classic old school feel and more importantly, there is no ghosting whatsoever thanks to its 10 key roll-over. However if you're not familiar with mechanical switches, you may feel that the BlackWidow Chroma V2 is a little on the louder side but compared to standard keyboards and some other mechanical keyboards, the responsiveness is far superior and is the price of technology. Sure it has that loud clickity-click sound but the speed of the Chroma is quite insane. Of course where the Chroma V2 comes into its own is for gaming and we tried a variety of games that include Battlefield 1, Call of Duty Infinite Warfare, Diablo 3 and StarCraft 2 with the keyboard delivering on all levels.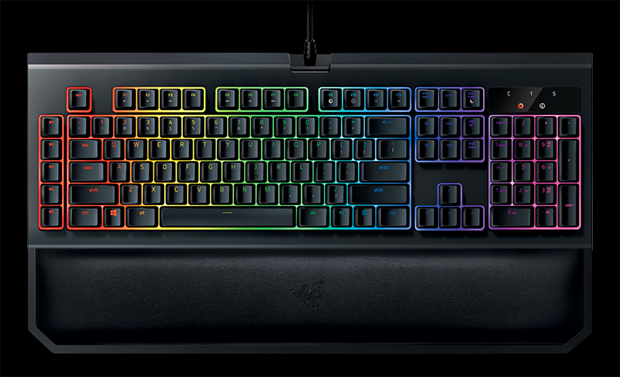 Final Thoughts?
In conclusion, the BlackWidow Chroma V2 by Razer is an overall good gaming keyboard (a little on the expensive side) that contains some excellent customisation options (both for colours and macros) and more importantly a great responsiveness plus its 10 key roll-over to prevent anti-ghosting. The mechanical keys work well and everything is well placed on the keyboard. It's also quite a comfortable keyboard to use, especially with its cushioned wrist rest.
If you have the cash, check it out!
System Requirements
PC or Mac with a free USB port
Windows® 10 / Windows® 8 / Windows® 7 / Mac OS X (v10.8 – 10.11)
Internet connection
100 MB of hard disk space
Razer Synapse registration (requiring a valid e-mail), software download, license acceptance, and internet connection needed to activate full features of product and for software updates. After activation, full features are available in optional offline mode.