Games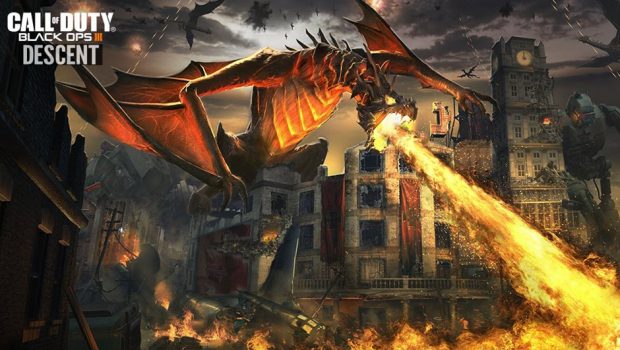 Published on August 12th, 2016 | by admin
Black Ops 3 DLC 3 XB1/PC Out Now
NOW AVAILABLE ON PLAYSTATION 4, XBOX ONE AND PC
The third DLC pack for Call of Duty: Black Ops III, Descent is now available on PlayStation 4, Xbox One and PC, transporting players to four new multiplayer maps that span the globe and an all-new Zombies experience, Gorod Krovi.
In the newest, twisted chapter of the Origins Zombies experience, Gorod Krovi takes players to an alternate-timeline of Stalingrad in which they must face-off against a swarm of mechanised zombie soldiers and avoid hell-fire from aerial dragon assaults, all in the midst of a raging battle within the remnants of Nikolai's motherland.  Gorod Krovi delivers a harrowing Zombies experience, filled with horrifying new enemies, exciting new gameplay mechanics and an epic set of undead-annihilating weapons.
Call of Duty: Black Ops III Descent includes four new multiplayer maps set in a cryogenic penitentiary, a Viking hamlet, a robot death-match arena and a contemporary reconstruction of an ancient Roman estate:
Empire: Fan favourite map Raid returns, re-imagined in this classic, medium-sized map as an authentic Roman villa, where a classic map structure mixes with the new gameplay mechanics of Black Ops III.
Berserk: A Viking village frozen in time enlists players to fight through blizzards, for control of the centre bridge. This medium-sized map features wooden buildings, deadly rocky outcroppings, and tight chokepoints.
Cryogen: Located far in the Dead Sea, this isolated compound holds some of the world's most dangerous criminals in frozen isolation.  Sentry towers keep watch over the small map's circular design as frenetic combat and wall running attacks abound.
Rumble: Gamers battle amongst larger-than-life mechanised warriors in this medium-sized map, which funnels high-speed combat to the central arena, where players battle their way through fallen mechs and pyrotechnics.
Descent is now available on PlayStation 4, Xbox One and PC at a discounted rate via the Call of Duty: Black Ops III DLC Season Pass**, which features four DLC Map Packs planned for the year, as part of the discounted bundle offered at a suggested retail price of AUD$64.95.  Individual purchase of the DLC Map Packs, including Descent, is at a suggested retail price of AUD$19.95.  Call of Duty: Black Ops III is rated R18+ for High Impact Violence and Online Interactivity by the Australian Classification Board. 
*Descent DLC content not available on PS3 or Xbox 360.