Comics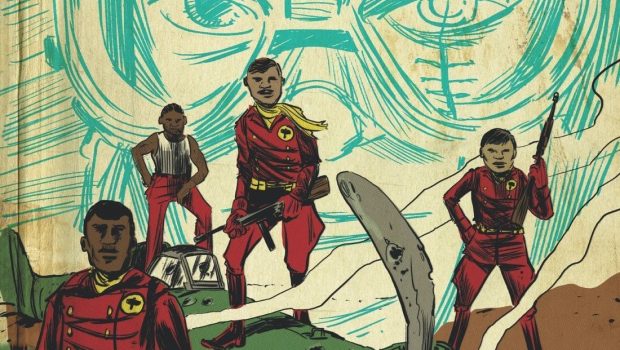 Published on February 20th, 2019 | by Dana Folkard
BLACK HAMMER '45 #1 ADVANCED REVIEW
Summary: An impressive and compelling introduction.
During World War II, an elite Air Force team known as the Black Hammer Squadron was formed to fight the Nazi's occult threats from the air. One final mission stands in their way before heading home, however, this mission comes with a formidable and ruthless enemy.
The story follows Captain Hawthorne, a celebrated war veteran who is now an old man, mentally reliving the events from his past. Plagued with guilt and regret, he recounts the glory days of his crew, known as the Black Hammer Squadron, an elite team of pilots, who were a formidable force during the Second World War. The story flicks back and forth from the past to the present, where we see victory after victory, as Hawthorne lists their many achievements. This particular day, however, marks a dark anniversary for Hawthorne, spurring him to reminisce on their final mission to retrieve an important family, and the consequent encounter with their archenemy, the notorious Ghost Hunter. A fearless and unforgiving force, this Nazi fighter pilot has taken out the most enemy aircrafts of the war, including two of Hawthorne's brothers. For Hawthorne, this is personal and ignoring the warnings from his fellow comrades, dismisses their pleas to forgo this final mission.
Oh yes, I do rate this first issue, and I'll tell you why. One of the first things that strikes me is the feeling of melancholic nostalgia that underpins this story. It's always thought-provoking and moving to see stories unfold from the perspective of a character who is tormented by guilt, heartache and regret. This feeling of regret and remorse is one of the many sad truths that countless war veterans live with, and I'm curious to see how Jeff Lemire and Ray Fawkes will handle this emotionally charged subject. So far, I'm enjoying the delicate touch at this stage.
This is highly compelling storytelling, highlighted by the two contrasting stories showing the aged Captain Hawthorne juxtaposed alongside the young and ambitious captain from the past. A transformation is about to happen, and we are going to see the events that are the catalyst for this change. We know that something tragic is going to transpire from the language, tone and references to the impending disaster, but at this stage we can only guess what that tragedy might be.
I also want to talk about how much I love this alternate world, with Russian mecha bots, occult monsters and superhero soldiers. Nazi occultism isn't something new, but it is a topic that forever piques my curiosity, especially when explored in new and exciting ways. I also really like how Lemire and Fawkes base some of the characters off actual Golden Age superheros or historical figures. The Ghost Hunter for instance, is reminiscent of Erich Hartman, also known as the "Black Devil". Now, I'm only assuming this as there are a few similarities between the two, mainly from their conquests and fearful reputation. I love this reworking of history, and look forward to seeing where they will go from here.
Matt Kindt is a fabulous artist, and this issue will remind you that. His expressive and edgy linework captures a sense of derring-do as we see the Black Hammer Squadron fly through action-packed encounters. A lot of these action scenes are so much fun to look at, with heaps jammed into each panel. It's a feast for the eyes, and feels like you're watching a harrowing scene from a movie unfold.  I also really like how Kindt frames certain scenes, drawing your attention towards particular characters or objects in a clever and visually effective way. The colouring by Sharlene Kindt is done with watercolours, and is absolutely gorgeous to look at. The colour is vibrant, and I love how the edges sometimes bleed into one another. It's all very pretty and works wonderfully with the art.
Overall, I thought that this was an impactful and moving introduction to this new series. I'm loving the pacing and use of dual storytelling. I'm keen to delve back into this story when the next issue comes out.
I'm giving this issue 5 out of 5 stars!
COMIC DETAILS
CREATIVE TEAM: Jeff Lemire, Ray Fawkes, Matt Kindt and Sharlene Kindt
PUBLISHER: Dark Horse Comics
GENRE: Superhero and Science Fiction
PUBLICATION DATE: March 06, 2019
REVIEWER: Dana Folkard
---