Comics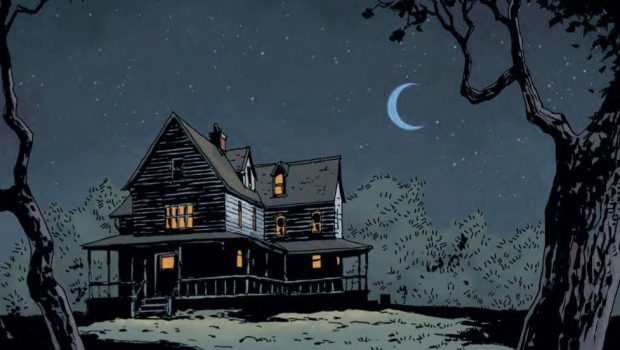 Published on October 17th, 2016 | by Dana Folkard
BLACK HAMMER #4 REVIEW
Summary: Complex characters, intriguing story and wonderful art!
5
Interesting plot developments.
Black Hammer #4 explores the origin story of Abe Slamkowski and how he became the formidable superhero, Abraham Slam! We also get to delve more into Abe's personal life and the complexities of living within a dysfunctional superhero family, all with a few unexpected plot developments thrown in there as well.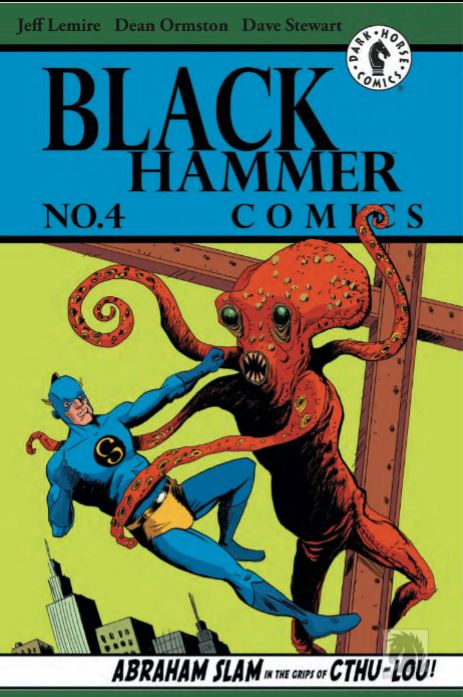 x
This issue begins with a retrospective look at Abe's life, before he became all muscle and brawn and a crime-busting superhero. We see events unfold back in Spiral City, during the 1940's when Abe is a young and frail kid, desperately looking for a way into the military. He has been continuously rejected with his attempts to join the army, being told that he is unfit for service…all of which sounds a little familiar, like some kind of Steve Rogers origin story. However, a chance encounter with the superbly named, Punch Socklington, forever changes Abe's life. Punch takes Abe under his wing and trains him to be a skilled boxer, shaping his body the old fashioned way, with a lot of hard work. We also see events unfold as Abe prepares for the arrival of his main squeeze, Tammy Trueheart for dinner at his house. All fine and dandy, except for the fact that he lives with a group of dysfunctional and noncompliant ex-superheroes, who are always up for the challenge to cause a little stress and mayhem in Abe's life! With a few bumps, an unexpected visit from the Colonel and some choice words from Gail, the dinner goes off without a hitch. This all feels rather taxing for Abe, as it's a hard gig trying to keep their past a secret and have a low profile, especially when some of your friends don't give a damn! We also get to have another small glimpse of Spiral City and events unfolding in the present, with Lucy is still trying hard to find the banished superheroes. In the end we are left with a surprising and exciting plot development that leaves us with many unanswered questions!
Jeff Lemire is doing an excellent job with the character development in this series. I really feel like we are getting to know these characters and through this we can clearly see why the drastic changes in their personalities have occurred. It's all beginning to unravel bit by bit, as we are slowly being revealed clues to their pasts through various flashbacks. It almost feels like we are piecing together a complicated puzzle through these flashbacks. Little clues are dotted throughout the pages, like a small scene that has a cameo appearance of the Black Hammer and interesting solitary moments with some of the other characters. These quiet moments of reflection often reveal a lot, not only about these characters but also about the larger story in a subtle, yet powerful way. The emotional tone in this series is constantly changing. We see so many emotions unravel and interesting secrets revealed as a result and this all makes for a story full of pathos and regret. Lemire has got me contemplating about the story and what is going on. I'm intrigued, curious and want to know more. He has my attention!
Dean Ormston's art is fantastically spooky and retrotastic at the same time. During the flashback scenes, that lovely pulp-like vibe shines through, as you really get the sense that we are flicking through the pages of a Golden Age comic. I particularly liked the scene where we see Abe fighting the hulking Cthu–Lou! He also does a top job with driving that underlying eerie tone that has been a constant throughout Black Hammer so far. Everything reeks or the strange and weird, right down to the haunted faces, mysterious town and the elongated shadows that show up in most of the scenes. Something isn't quite right about this place and Ormston's art really heightens that sense of unease. I also really enjoy those moments when Lemire takes a steps back and allows Ormston's art to tell the story. The lack of dialogue here really works, as we witness some touching moments told through visual story-telling. The colourist, Dave Stewart, reinforces this eeriness and he really helps to heighten the overall emotional vibe. We see sepia-like tones during the flashback scenes, dull and muted colours for the scenes back on the farm, so when Stewart uses more vibrant colours, they really pop and stand out on the page, which in turn draws your eye to focus on those details.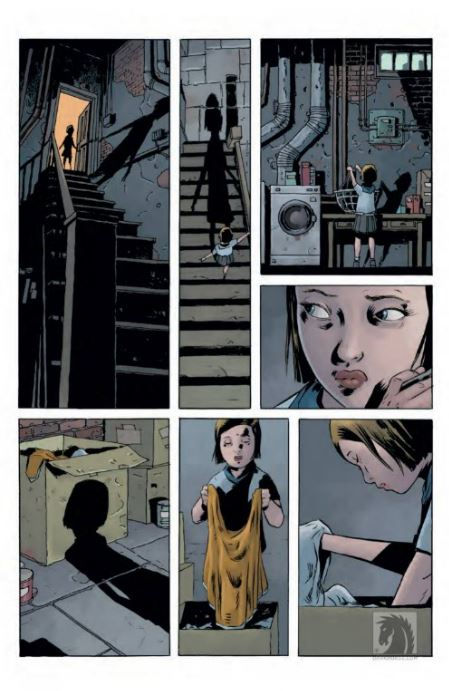 Overall this issue has piqued my curiosity. Whilst a lot is slowly being revealed to us, there still remains a lot of unanswered questions, with more being added to the mix. I find the story and the characters both mysterious, complex and engaging. I'm looking forward to seeing where Lemire is going to take the story and I can't wait until more is revealed to us about the Black Hammer.
I'm giving this issue 5 out of 5 stars!
Comic Details
Title: Black Hammer #4
Publisher: Dark Horse Comics
Creative Team: Jeff Lemire, Dean Ormston, Dave Stewart
Reviewer: Dana Folkard