Comics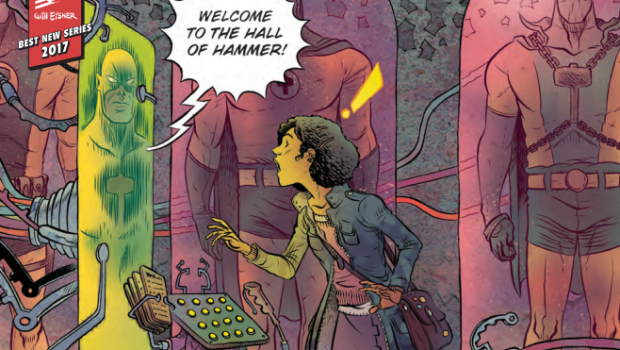 Published on August 23rd, 2017 | by Dana Folkard
BLACK HAMMER #12 REVIEW
Summary: A revealing glimpse into Lucy's past.
After she lost her father, Black Hammer to the Anti-God, Lucy Weber has been forced to live her life keeping her father's identity a secret. Refusing to accept that he truly is gone, Lucy decides to embark on a quest to find out what happened to her father ten years ago. After all, she is Black Hammer's daughter and is determined to be part of his story.
Black Hammer #12 begins with a flashback to ten years ago in Spiral City, where we see the entire population gathered to remember the heroes that were lost to the terrible Anti-God. Sir James Robinson, a.k.a. Doctor Star, delivers a speech to the mourning crowd, reflecting on their selfless bravery and the ultimate sacrifice they made to save everyone. The world is emptier without them and Spiral City is hurting from their sudden loss, and none more so than Lucy Weber, Black Hammer's daughter. We then jump forward two years, where Lucy is at school, getting ready for a presentation on parent's day. After being told to hide the identity of her father, she is forced to fabricate a story about who her dad was which ultimately angers her, as she wishes to talk about him for fear of the world forgetting who he was. We finally jump forward eight years, where Lucy is much older sitting in a park reflecting over her father once again. She is suddenly interrupted by James Robinson, who was a former colleague of her fathers. He gives her an envelope that her father left for her, containing a key that unlocks a secret hideout. It is in this moment, that she vows to find out what happened to her father, refusing to give up on him and his legacy.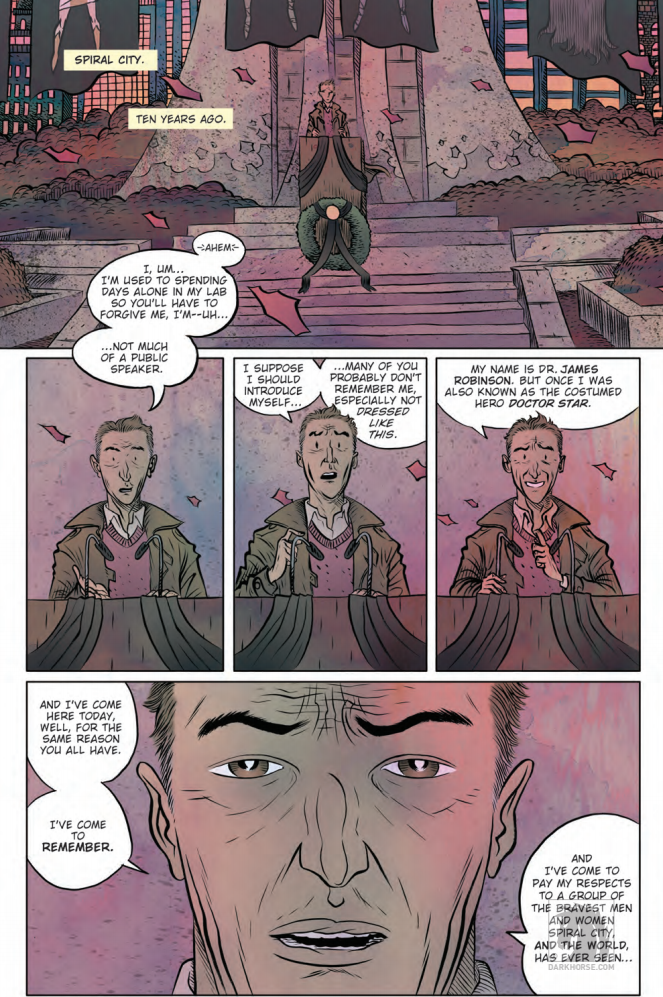 This is a sad and poignant issue of Black Hammer, as we see Lucy as a young child, scared and vulnerable after the unexpected death of her dad. Time passes but her love and pride for him never dulls, only seeming to intensify and motivate her more. It's great to see more of Lucy in this issue, revealing more of her life before arriving on the farm, and the sequence of events that shaped her into the woman she is today. Jeff Lemire has created an interesting character with Lucy and she stands out as being vastly different from the others on the farm. I don't mean the circumstances of her arrival or who she is, but more the kind of person she is. She possesses qualities that the others don't have, and has the drive to use those qualities to question and investigate. Strong, determined and stubborn, if anyone will unravel the mystery surrounding their exile at Rockwood and the death of her father, it will be Lucy. She's resourceful and smart and I have faith in her abilities. I also find Lucy to be quite relatable, and her actions and reactions feel genuine and real, and whilst there is a lot of anger and frustration surrounding her, there is also immense amounts of pathos and anguish. I really feel for her.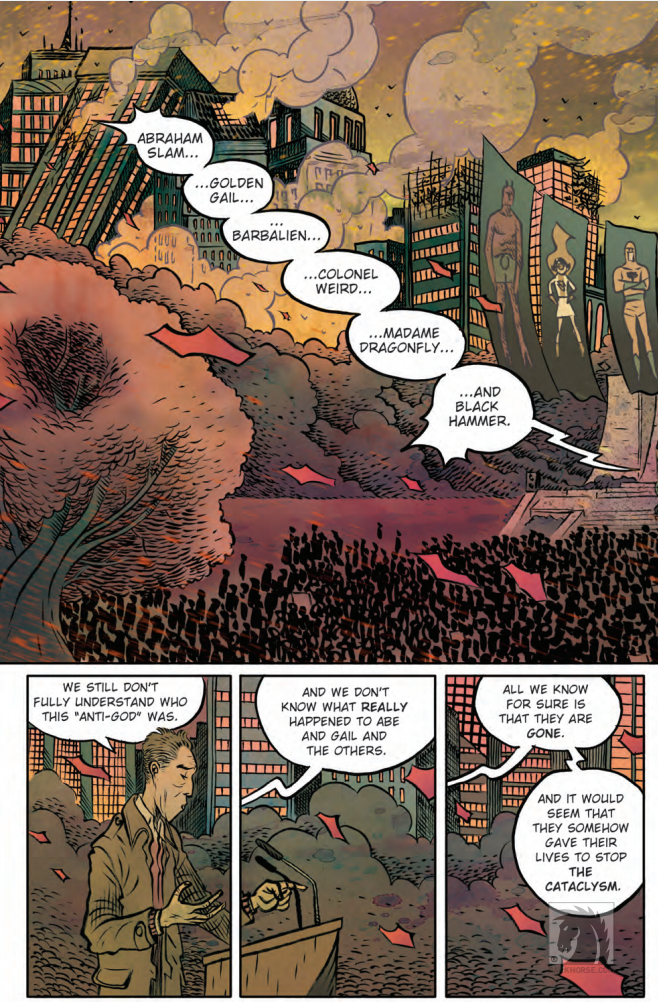 David Rubin returns to illustrate this issue of Black Hammer, lending his whimsical interpretation of this dark and sinister world. I really enjoy his art and the new visual dynamic that it brings. His art is both expressive in a fun and simple style, with nothing feeling over-complicated or unnecessary, but still managing to possess lovely details. I love how Rubin captures Lucy's emotional turmoil throughout her childhood, as you really get a sense of the grief that she is experiencing, and feel the torment that his death has had on her. The colouring frames the overall mood of the narrative, bringing this world to life through the palette that reflects the tonal change that occur throughout the story. This is a troubled girl, living in a troubled world and you really get the sense of this through the art and colouring that come together to bring this narrative alive.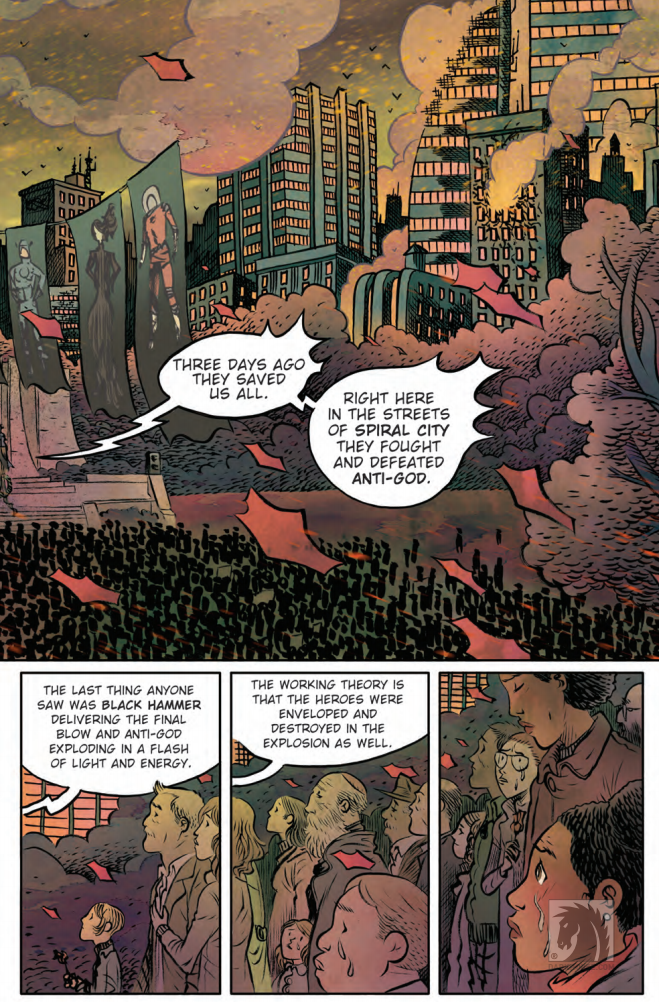 Black Hammer #12 is a revealing glimpse into a sad past. We discover more about Lucy and the events that shaped her throughout her childhood, making her the determined person she is today. It was a pleasure to see David Rubin back to illustrate this issue, with his art bringing a new and interesting visual angle to this world. I look forward to learning more about Lucy, and seeing what steps she will take to finding a way out of Rockwood and unlocking the mystery surrounding her father.
I'm giving this issue 4.5 out of 5 stars!
---
COMIC DETAILS
CREATIVE TEAM: Jeff Lemire and David Rubin
PUBLISHER: Dark Horse Comics
PUBLICATION DATE: August 23, 2017
REVIEWER: Dana Folkard