Events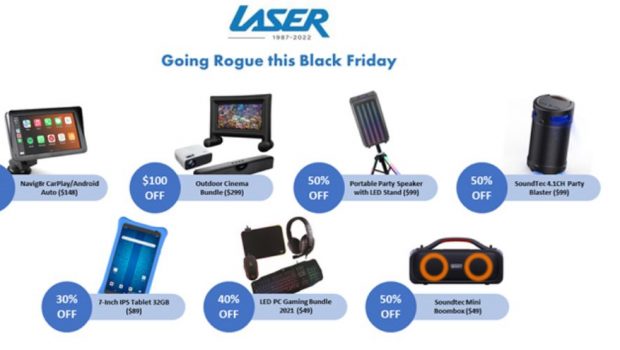 Published on November 21st, 2023 | by Andrew Bistak
Black Friday – LASER – Australia's Affordable Tech Leader Delivers Huge Discounts – Our Top 7 Picks!
For over 35 years, LASER has been committed to providing affordable, reliable, and quality technology to Australians, and this Black Friday it is more affordable than ever before!
Discounts include 50% off portable party speakers, 40% off a PC Gaming Accessories bundle, 30% off a kid-friendly tablet, and reductions on just-launched products including an outdoor cinema bundle and Naviga8r Wireless Car Touchscreen to up-smart your car.
We've pulled together our Top 7 deals that will enable Australian families to upgrade their tech game this Black Friday ahead of Christmas. Products are on-sale from now through to November 27.
Navig8r 7-inch Portable CarPlay/Android Auto Touchscreen Display| $20 OFF | On Sale for A$148 (RRP A$168) | Harvey Norman
Starting with our latest release – The Laser 7″ Portable Apple CarPlay/Android Auto Touchscreen. It brings Apple CarPlay and Android Auto technologies to any vehicle, offering convenience, safety, and functionality. It integrates seamlessly with your car, connecting you and keeping you entertained while on the road.
Outdoor Cinema Bundle| $100 OFF | On Sale for A$299 (RRP A$399)| Big W
Introducing Your Ultimate Entertainment Trio, the Laser Outdoor Cinema Bundle: Immerse yourself in stunning Full HD (1080p) projector with seamless HDMI connectivity, experience wireless audio bliss with the Bluetooth Soundbar, and elevate your outdoor events with a massive 144″ Inflatable Screen for unforgettable movie nights under the stars.
Portable Party Speaker with LED Stand | 50% off | On Sale for A$99 (RRP A$199) | Big W
The Laser Portable Party Speaker will make you the life of any celebration. Crank out your favourite music, turn on the LED lights and bust out the karaoke microphone. Swing the speaker over your shoulder and turn yourself into a mobile party station to delight your friends. The built-in rechargeable battery with up to 4 hours of playback gives you the freedom to go anywhere with your tunes.
SoundTec 4.1CH Party Blaster | 50% off | On Sale for A$99 (RRP A$199) | Big W
When you need big sound for the whole room, the SoundTec 4.1 CH Party Blaster has you covered. Featuring 4 integrated speakers and an independent subwoofer driver, the heavy hitting sound combined with its accessible design will have you rocking the house no matter the occasion. Its subtle RGB lighting peering out from the speaker internals makes it stand out in dark environments.
7-Inch IPS Tablet 32GB With Blue/Pink Case | 30% off | On Sale for A$89 (RRP A$129) | Big W
The best bridge between your smartphone and your laptop, Laser's Android tablets are user-friendly, practical, and portable. Watch your favorite Netflix shows while relaxing or listen to your Spotify playlists and play games while commuting on the train. Alternatively, you can transform your tablet into a safe learning environment for kids with Google Kids space.
LED PC Gaming Bundle 2021| 40% off | On Sale for A$49 (RRP A$89) | Big W
Your complete gaming package. This PC Gaming Combo from Laser has all the essentials you need to get started on your computer gaming journey. The bundle features:
Full-sized RGB Gaming Keyboard – The attractive RGB backlighting makes it easy to see the keys in low light conditions and will make a great centrepiece to your gaming setup.
6 Button Mouse – Configure your games with your most used commands. Even web browsing is made easier with the built-in scroll wheel and forward and back buttons.
RGB Mouse Pad – Choose from 13 different lighting modes. The included mouse pad will pair perfectly with your mouse and keyboard as it features its own RGB light details around the edges of the pad.
Headset with Microphone – A more detailed audio experience. In-game audio will be easier to pick up during intense gaming sessions. The built-in boom microphone on the headset comes in handy when gaming online or during applications which require voice-chat.
Soundtec Mini Boombox| 50% off | On Sale for A$49 (RRP A$99) | Big W |
The SoundTec Mini Boombox with its dual sound speakers, robust carrying handle and boom-box shaped design will have you blasting beats at a backyard BBQ or splashing sounds at your next pool party. With its attractive RGB lighting and water resistance, you're sure to have a hassle-free good time.