Comics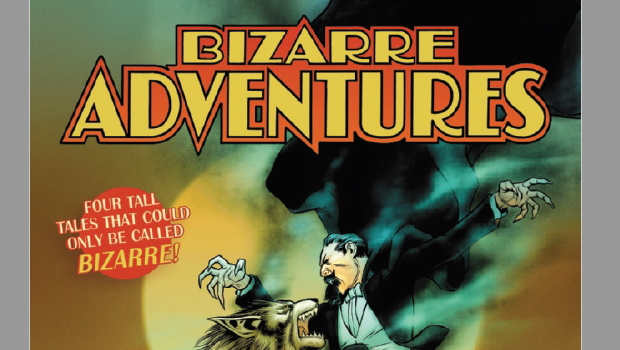 Published on October 7th, 2019 | by Chris O'Connor
Bizarre Adventures #1 Comic Review
Summary: Four stories, different in content, united in theme... bizarre.
Marvel's 80th celebrations continue, in this case with the resurrection of Bizarre Adventures! Shang-Chi, Dracula, Ulysses Bloodstone and Black Goliath all share the pages for some bizzare stories.
Writing
Compilation works can be great in the mix of different voices presenting the stories, they can also provide some duds… but in this case all the stories are entertaining (to me at least). The first story, featuring Ulysses Bloodstone, feels very "old school". The second story, featuring Shang-Chi, certainly seems infused with all the martial arts ferver of the 80's. The third tale, starring Dracula, gives us a different perspective of the King of Vampires… showing a little heart. The fourth and final piece, Black Goliath's, gives us a terrifying glimpse at just what happens when some people use special powers. Each story carries it's own stylistic voice… from prose like epic galactic battles to the more playful interview chat, each style fits the subject matter very well.
Artwork
Much like the different narrative tones, the images also vary quite a bit here. The first tale certain reminds me of the more "classic" comics… slightly more "scratchy" looking and a looser use of colour (more like a water colour wash that is allowed to spread over the page, rather than confined to within lines.). We then have a very controlled and neat visual style for Shang-Chi's story with vibrant colour and clean lines. Dracula's tale is full of bold line work and colour "themes" for each panel… warm and cool colours being used alternately to set the feel. Finally we have almost a mix of the former… a somewhat more free flowing line work and some solid, sometimes psychedelic, colours.
Final Thoughts?
Bizarre Adventures is a fun mix of stories. I'm not sure Bizarre is the word I'd use to describe them… but I guess it does cover the mix pretty well. A fun collection if you want some variety in your comics.
Gallery
Comic Details
Publisher: Marvel
Writer: Sebastian Girner, Michael Conrad, Jed Mackay, Becky Cloonan
Artist: Becky Cloonan, Francesco Manna, Christopher Mooneyham
Cover Artist: Carlos Pacheco
Genre: Super hero, Action/Adventure, Mystery
Format: 36pgs, FC, series
Release Date: 2nd October, 2019