News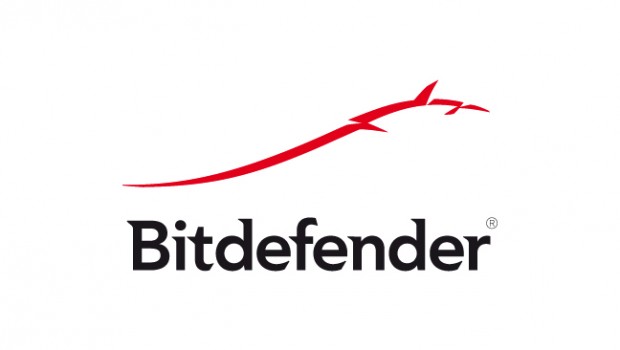 Published on September 3rd, 2014 | by Admin
Bitdefender Total Security 2015 Review
Summary: Bitdefender Total Security 2015 Bitdefender Total Security 2015 is more than just internet security! It's holistic at its best!
Bitdefender Total Security 2015
Product: Internet Security and PC tune-up
Reviewer: Kyle Sudukis
Bitdefender Total Security 2015 is your one stop shop for internet security and ensuring that your PC remains fine-tuned with this holistic applicaiton. Best of all, once installed, Bitdefender Total Security 2015 quietly runs in the background as it keeps your data and identity safe while you are connected to the internet. Another highlight of this software package is that it monitors your social media accounts such as Facebook to ensure that the end-user is "totally" protected.
The software suite is also one of the high performers of AV-tests, an independent company that compares various internet security applications. This means that you will be protected from a variety of both known and unknown threats such as malware, viruses, Trojans, rootkits, bots, spyware and other nefarious activities from cybercriminals like identity theft. Parents will also be pleased that the program boasts a handy parental control system which assists in protecting children from the dangers of the internet.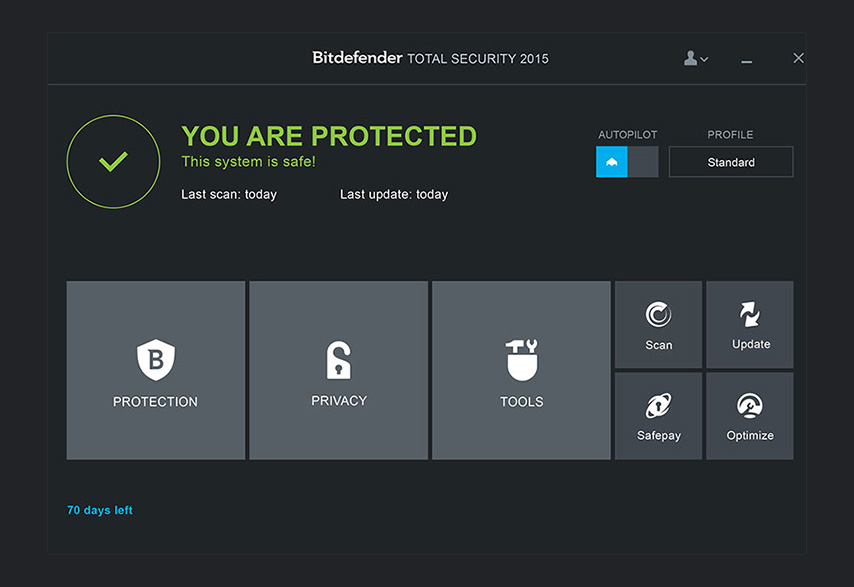 Add in support for a vulnerability scan, antispam, file encryption, data protection, firewall, a vault to protect files and even a wipe all data feature should your PC get stolen and Bitdefender Total Security ticks all the right boxes. Another cool feautre is the safebox which allows you to save files with others.
Installation of Bitdefender Total Security 2015 is a flawless process and once installed, the system will check for any updates. It even measures the speed of your internet connection while installing. The interface itself is very minimalistic but for advanced PC users, this can be tweaked. However for the majority of users like myself, the basic interface is all that you need. The main screen informs the user in bold green writing that your system is protected and safe. It also displays when the last scan and update were made plus how many days you have left of your subscription. Easy on the eyes and easy to navigate!
There are also three main icons that include protection, privacy and tools. Next to these icons are four additional smaller icons that include scan, update, safepay (protects online banking) and optimise. This is basically the crux of Bitdefender Total Security 2015. I really like how streamlined the interface is opposed to some other internet security programs.
Apart from security, Bitdefender Total Security 2015 also assists in keeping your computer maintenance up the date via its pc-tune capabilities. This is great to prevent any data loss and to ensure the intregity of your PC. As you service a car regularly, you also need to service your PC to ensure that it remains in top performance.
The 2015 edition also boasts some great new features that include a oneclick optimizer. This optimizer basically scans your system for any anomalies and then performs a system optimization. There is also a startup optimizer which measures how long it takes applications included in your PC startup to load which may slow down your boot-up time. From here, you can enable, delay or disable these startup programs.
Other useful tools include is a PC cleanup wizard which searches your PC for irrelavant files such "tmp" files, a disk fragmenter which sorts how your data is stored on your hard drives and by running this, it may make your PC faster. There is registry cleaner that removes unwanted data such as programs that have not uninstalled correctly which is another handy tool. While we're on PC-tuning, the program offers a duplicate file remover that looks for duplicate files and gives the user the opportunity of deleting them to free up hard drive space.
Final Thoughts?
Bitdefender Total Security 2015 once again proves why this software suite is one of the better ones available which is a holistic view of not just PC protection but your entire PC from maintenance to protection and even social media.
Highly Recommended!