News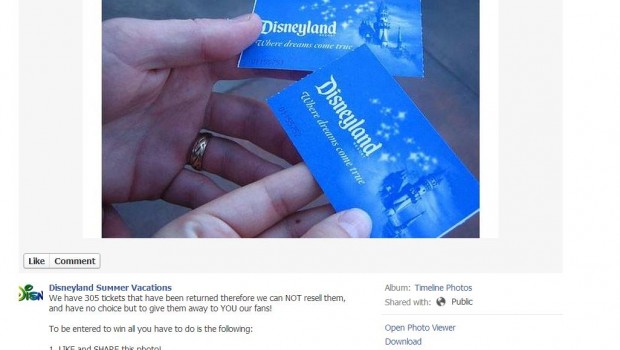 Published on August 5th, 2014 | by admin
Bitdefender Reveals Top 10 Most Successful Facebook Baits
SYDNEY, AUSTRALIA, 5 August 2014 – An analysis by antivirus software provider Bitdefender, has revealed the top 10 Facebook baits of the past 12 months with "guess who viewed your profile" scams keeping a steady first place, comprising almost one third of the total.
After tricking tens of thousands of victims last year and outclassing 'profile stalkers', the 'free Disney tickets' scam was excluded from this year's list while "change your Facebook color" schemes now circulate internationally and claim 7.38 per cent of the total number of scams.
Rihanna continues to be the most tempting celebrity used as a "hook" for malware delivery via social media as Taylor Swift leaves the scam parade.
Catalin Cosoi, Chief Security Strategist at Bitdefendersays despite all security warnings, users still want to see who has been taking a look at their profile because they believe these are legitimate apps, "this is social engineering at its finest – a challenging mental game that pushes the right psychological buttons. While the bait changes over time (stalkers, admirers, overly-attached girlfriends and exes), the reason this scam works is simple: human nature."
Novelties in the top ten most successful scams lure users with free Facebook T-shirts (4.21 per cent). Fans aspiring for branded clothes end up filling out fraudulent surveys or installing malicious add-ons that mine their sensitive data. Other newcomers include scams that lure users with unsealed giveaways(2.41 per cent).
The past couple of years have seen a proliferation of Facebook scams to match the growth of the social platform. Below is a list of the ten most widespread Facebook scams:

TOP 10 FACEBOOK SCAMS
1. Total profile views/visitors (Check out now who viewed your profile) – 30.20% (US/UK, Australia)
Change your Facebook Colour – 7.38% (US/UK, Australia)
3. Rihanna sex tape with her boyfriend – 4.76% (US/UK, Australia)
4. Check my status update to get free Facebook T-shirt from Facebook – 4.21% (US/UK, Australia)
5. Say goodbye to Blue Facebook – 2.76% (France)
6. Unsealed. We are giving them away for free – 2.41% (US/UK, Australia)
7. Check if a friend has deleted you – 2.27% (US/UK, Australia)
8. See your top 10 profile peekers here! You will be shocked to find out your ex is still creeping on your profile! – 1.74% (US/UK, Australia)
9. Find out how to see who viewed your profile – 1.55% (Spanish-speaking countries)
10. "I just changed my Facebook theme. It's amazing" – 1.50% (US/UK, Australia)
Other scams: 41.22% (US/UK, Australia, Germany, Turkey, Saudi Arabia, China)
Bitdefender research also shows an increasing amount of viral video scams abusing Facebook's 'like' and 'share' options. In the last year, fraudulent websites that use likejacking and YouTube have spread not only in the English language, but also in German, Chinese and Italian.
To avoid security detection, scammers may use special characters and numbers. A popular variant of the "top profile viewers" scam attracts new victims with the "Check 0ut n0w wh0 viewed ur profile" message.
A Bitdefender study showed almost a quarter of Facebook scams offered users a fake method to see who has viewed their profile. Based on six months of research, the study also revealed Rihanna and Taylor Swift were the celebrity names most used by scammers in the first half of the year.
The studies were based on data from the Bitdefender Safego tool, a free Facebook app that scans timelines and alerts users of malicious and fraudulent posts. For more information about protecting social media accounts, visit Bitdefender's dedicated security guide.