Comics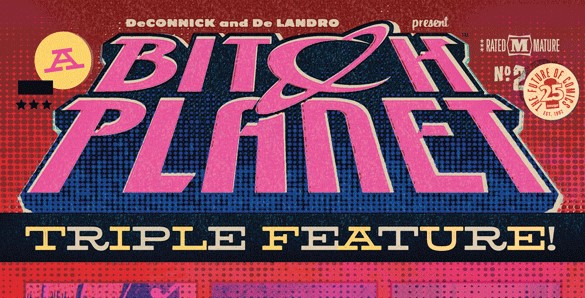 Published on July 19th, 2017 | by Dana Folkard
BITCH PLANET: TRIPLE FEATURE #2 REVIEW
Summary: Thought-provoking, compelling and downright hilarious, this anthology will inspire the rebellious spirit within.
Bitch Planet: Triple Feature #2 is here and ready to kick your ass…in the nicest way possible. From the world Kelly Sue DeConnick and Valentine De Landro created, these three short-stories explore the women who inhabit this unfortunate world, ruled by a ruthless and oppressive patriarchy. Thought-provoking, compelling and downright hilarious, this anthology will inspire the rebellious spirit within and have you craving more from this wild, dystopian world.
This second edition in the Bitch Planet: Triple Feature explores three clever tales about image, family values and women's biological clocks. In the first story, Bits and Pieces, written by Che Grayson, with art by Sharon Lee De La Cruz, ventures into the weird world of beauty pageants, where we see young girls competing in "The Miss Tween Neck Competition". Young girls are forced to take the drug called, Agreenex, and parade themselves on stage, like pretty little show ponies, to see who has the biggest smile…because in this world, only the best will do. The second story, This is Good For You, written by Danielle Henderson, with art by Ro Stein and Ted Brandt, follows a group of misfit female activists, who are all ferried into a cinema and forced to watch a propaganda film. The film ventures to tell women how they should dress, behave and look. Silent yoga, tackling weight gain, desirable hairstyles and femininity classes, it's all about bettering yourself because remember ladies, it's important to make the world safer for men…I have no words! The third and final story, What's Love Got To Do With It? written by Jordan Clark, with art by Naomi Franquiz, follows a woman who is about to turn thirty, and be hit with the awful "Old Maid Tax". With her biological clock literally ticking away, she must try and find solution before time runs out.
I'm loving these anthology series that DeConnick and De Landro are bringing out. I find that they help in diversifying this world, enriching it with weird and wonderful stories from a collection of very talented writers and artists. Whilst I absolutely love the main title, it is a nice change of pace and scenery to venture into this world from fresh perspectives. I found all of three of these stories to be incredibly clever and witty, with a fistful of satire punching me in the face. In the back of this anthology, DeConnick remarks that their desire was to liken the tone in this anthology to that of ROBOCOP, with a serious mix of satirical humour and bold sentimentality. This itself made me giggle, and I actually get what she meant from saying that, as I found that these sentiments are echoed throughout these stories. From parasitic diets, to a dating app called DicPic, it's all strangely absurd, making you cringe and feel a little bit dirty, as you experience what is considered to be an average day for these women. Whilst all very funny and tongue-in-cheek, there is a dark side to these stories, focusing on female oppression and the grim reality of this warped dystopian world. It's all about cleverly balancing the light and the dark, in order to make it successful.
The art for all three of these stories bring a wonderfully fresh and new dynamic to the world of Bitch Planet. All very different from one another, each artist interprets each story in their own unique way, creating a new and exciting sense of energy. I loved seeing all three of these stories, illustrated with a diverse array of interesting and lovely illustrations from a variety of talented artists. The colouring works to heighten the overall tone of each story, from the vibrant colours of What's Love Got To Do With It?, to muted tones and almost filter-like quality of This is Good For You, it all comes together to create a visually dynamic and aesthetically diverse experience.
Overall, I thought that this was a clever, entertaining and funny anthology. Each story is unique, smart and well written, fitting perfectly within the larger dystopian world of Bitch Planet. With a mixture of compelling themes alongside satirical humour, these stories all come together to create a powerful and thought-provoking narrative. I have found that the world of Bitch Planet has helped to foster a sense of solidarity and community for people from all walks of life, and this in itself is the biggest reason why you should go grab a copy, and become one of the non-compliant!
I'm giving this anthology 5 out of 5 stars!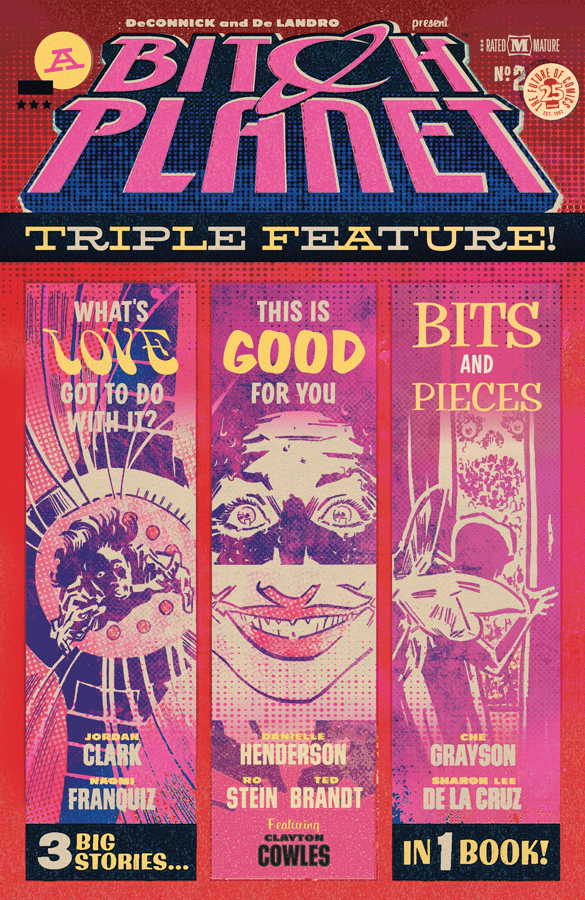 ---
COMIC DETAILS
CREATIVE TEAM: Che Grayson, Danielle Henderson, Jordan Clark, Naomi Franquiz, Ro Stein, Sharon De La Cruz and Ted Brandt
PUBLISHER: Image Comics
PUBLICATION DATE: July 19, 2017
REVIEWER: Dana Folkard