Comics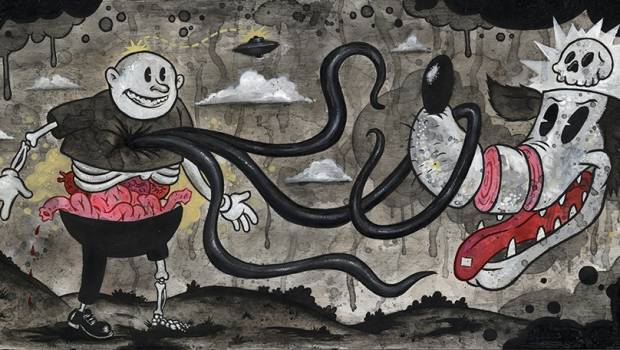 Published on May 29th, 2018 | by Dana Folkard
BILLY BOY: THE SICK LITTLE FAT KID REVIEW
Summary: Wonderfully dark, disturbing and twisted, this is a series that will appeal to lovers of horror and vintage comics.
This collection gathers #1-3 of Billy Boy, the devilishly dark horror series by writer/artist Frank Forte. Billy Boy ventures forth to tell dark and disturbing tales of a messed-up kid who has all sorts of sinister encounters and twisted adventures. Never a dull moment for little ol' Billy, he encounters creatures like a talking voodoo charm, a gunshot wielding old lady, a flesh chomping demon and a gang of hungry trolls. We follow Billy as he ventures around his town, getting into all sorts of mischief, which more often than not, end badly for the pudgy little guy. Out of the frying pan and into the fire, Billy stumbles from one nightmarish adventure to the next, with nothing but a skip in his step and a creepy smile spread across his face.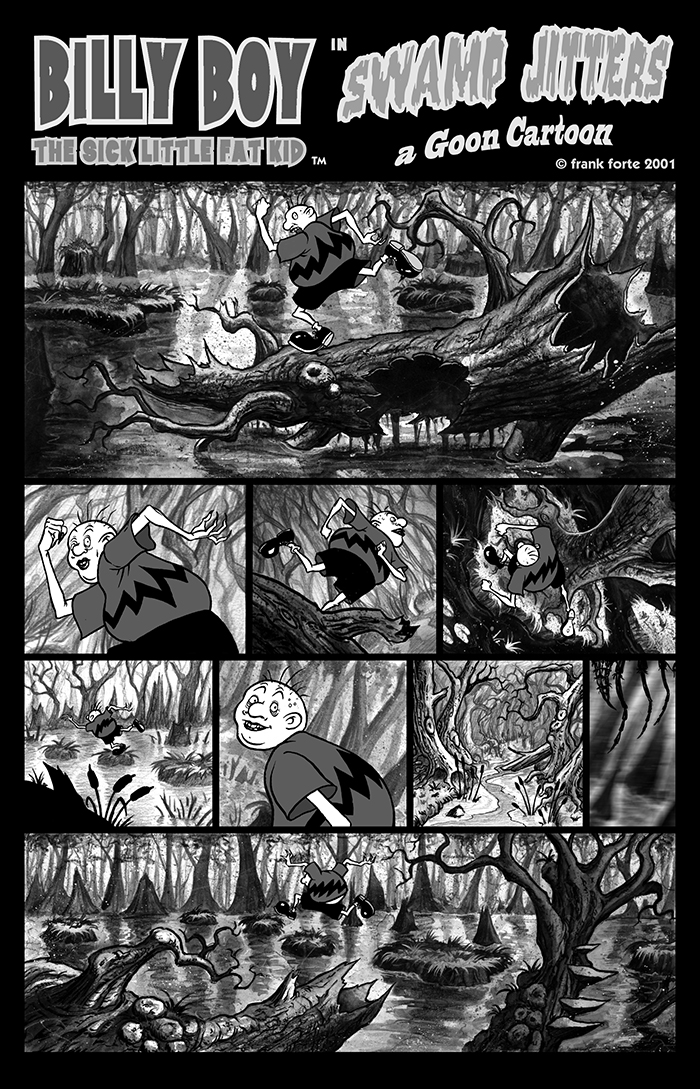 This is my first time delving into a Billy Boy adventure, and I'm so glad I did. I absolutely loved this dark and twisted character that Frank Forte has created and the weird and surreal adventures he falls into. This is a dark breed of comic, venturing into some creepy territory that made me relish and enjoy the diabolical carnage that unfolded on each page. I also thought that the shape and form of these one-shot adventures flowed in a punchy and direct way, which made each little tale highly engaging and very entertaining. There is a bit of an old school pulpy vibe about Billy Boy that I reckon will appeal to a lot of horror fans, with moody and atmospheric tales that will leave your spine thoroughly chilled. I also enjoyed the chilling banter between Billy and many of the various monsters he encounters. Strange, spooky and downright funny, the dialogue is equally sharp, funny and offensive. I like it.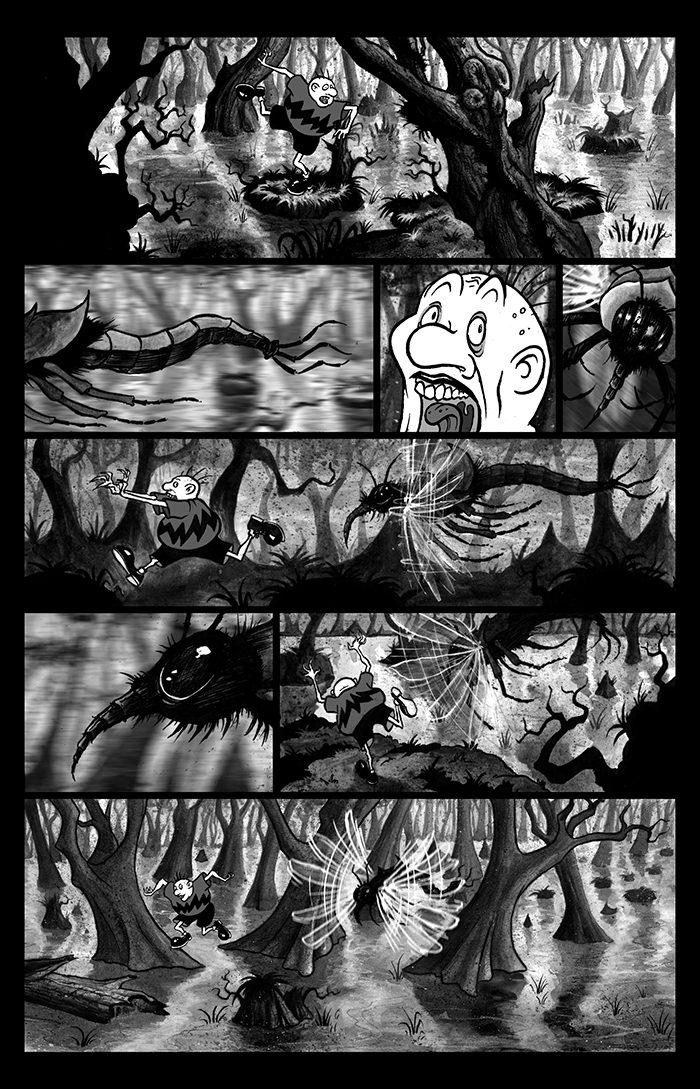 Frank Forte not only writes but illustrates Billy Boy, lending his self-described pop-surrealism to bring this menacing world to life. His illustrations look like they have been heavily inspired by vintage cartoons from the 1920' and 30's, emulating cartoons from Disney or Fleischer Studios. This simplistic, rubbery cartoon style has a knack of looking wonderfully creepy, suiting the horror setting perfectly. I particularly love Billy Boy's twisted face, especially when he smiles, showcasing a lovey set of pointed teeth. I also love the monster and demon designs, which I felt captured the surreal weirdness and creativity that we often see in vintage cartoons perfectly. The comic also doesn't shy away from gore and guts, with some pretty hectic and violent scenes unfolding in various stories. The entire comic is in black and white, emphasising that lovely pulp aesthetic, whist also heightens the overall creepy ambiance.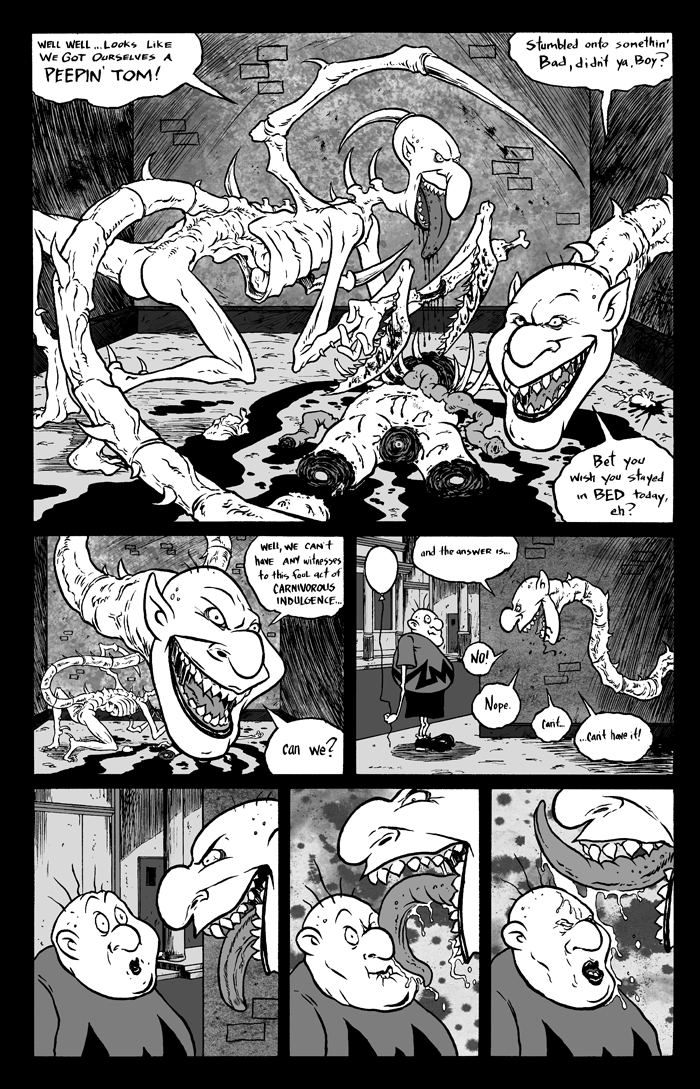 Overall, I really liked this collection of Billy Boy comics. Wonderfully dark, disturbing and twisted, this is a series that will appeal to lovers of horror and vintage comics. The stories are short, sweet and fun to read, with excellent art to match. I recommend giving this comic a go if you're interested in delving into the world of a messed-up little kid who gets up to all sorts of horrifying shenanigans.
I'm giving this comic 4.5 out of 5 stars!
---
COMIC DETAILS
CREATIVE TEAM: Frank Forte
PUBLISHER: Asylum Press
GENRE: Supernatural/Horror
REVIEWER: Dana Folkard
If this tickles your fancy, don't forget to check out the Billy Boy Kickstarter.