Films
Published on September 9th, 2020 | by Harris Dang
Bill & Ted Face the Music – Film Review
Reviewed by Harris Dang on the 8th of September
Madman presents a film by Dean Parisot
Produced by Scott Kroopf, Alex Lebovici, David Haring, Steve Ponce, Ed Solomon, and Alex Winter
Written by Chris Matheson and Ed Solomon
Starring Keanu Reeves, Alex Winter, Samara Weaving, Brigette Lundy-Paine, Kristen Schaal, Erinn Hayes, Jayma Mays, William Sadler, Anthony Carrigan, Hal Landon Jr., Beck Bennett, Kid Cudi, Amy Stoch, Jillian Bell, and Holland Taylor
Cinematography Shelly Johnson
Edited by Don Zimmerman
Running Time: 92 minutes
Rating: PG
Release Date: the 10th of September 2020
Long-gestating sequels are a tricky proposition. It becomes even more difficult in the case of comedies. There are numerous factors filmmakers must consider when returning to the creative mindset of the cinematic world they first created. How will the characters fit into the present-day? Will age factor into the story? How has the long period of time affected the characters? These questions and many others will also be on the audience's mind as they eagerly await a new project.
Bill & Ted Face the Music has been in development as far back as 2008. It was hindered by a lack of interest from studios and the assumption the franchise lacked worldwide appeal outside the US. The franchise's third entry was boosted by Reeves' career resurgence, attributable to the John Wick action franchise. Twenty-nine years after the last Bill sequel, we now have the long-awaited reunion of Alex Winter and Keanu Reeves as Bill and Ted, respectively. Will the film be worth the wait?
Set a few decades after Bill & Ted's Bogus Journey, the Wyld Stallyns find themselves in a rut after taking desperate measures to write the song prophesised to save the world. Their marriages with their princesses/wives, Elizabeth and Joanna (Erinn Hayes and Jayma Mays), are crumbling apart and their careers have hit a new low. They are now relegated to performing wedding gigs. Their daughters, Billie and Thea (Samara Weaving and Brigette Lundy-Paine), are unfazed by these setbacks. The girls are just as naïve and into music as their dads.
The plot heats up when Rufus' daughter, Kelly (Kristen Schaal), arrives in their presence. She takes them to the future to see the Great Elder (Holland Taylor). She warns them they have 78 minutes to write their song before time and space fold over, causing the universe to be destroyed. With the help of their daughters and some new and familiar faces, will they end up writing the song that will save the universe? Talk about heavy pressure, dude.
Bill & Ted Face the Music lives up to our expectations. The combination of the mature themes and the bubbly good-natured production proves a welcome respite from the world's current problems. A major reason why delayed sequels often fail is because the filmmakers forget what their characters meant to audiences. For example, in the sequel Dumb and Dumber To (2014), the characters went from lovable, dim-witted simpletons to mean-spirited, creepy people; they were far from what people expected.
Thankfully, Bill & Ted Face the Music never falls into that trap. The actors inhabit their roles as if the film were made immediately after the second feature ended. Winter shows limitless enthusiasm in the role of Bill S. Preston, displaying the cockeyed optimism that is incredibly enjoyable and infectious. Reeves' work takes time to adjust to since initially he seems morose. It is perfectly befitting of the character's state of mind. Once the time-travelling hijinks begin, he returns to his old self and throws himself in every silly situation with wild abandon.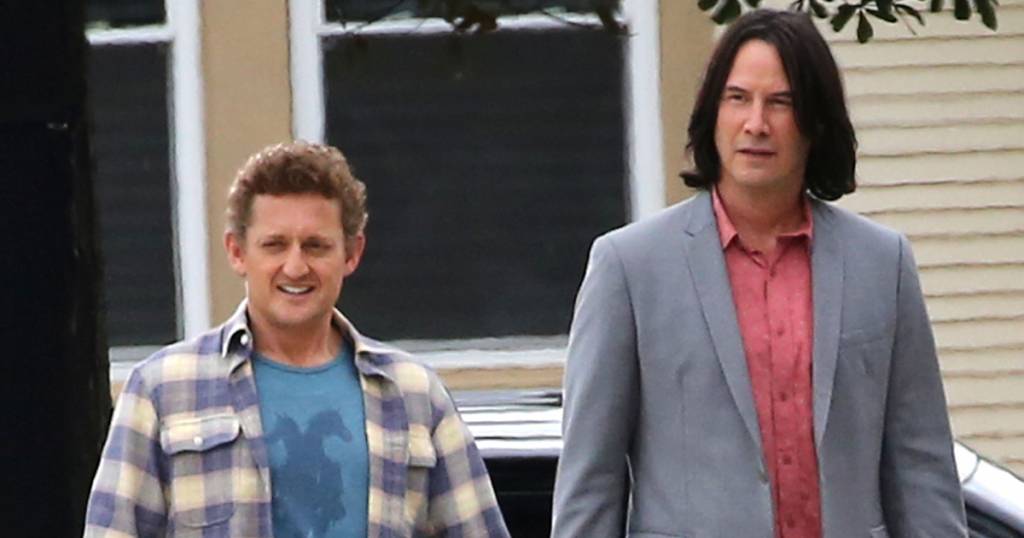 The situations our heroes undertake harks back to the events of Excellent Adventure more than Bogus Journey. They involve time travel rather than pursuing one fantasy setting after another. Thankfully, the plot provides many opportunities for the actors since it shows the characters' future selves. The gags range from prisoners, seniority, and, most hilariously, attempting English accents. It helps that director Dean Parisot, whose work on Galaxy Quest (1999) is timeless, keeps the pacing moving and never drags the comedic set pieces past their breaking point.
Even with the hilariously silly situations, writers Ed Solomon and Chris Matheson (who penned the prior instalments and have cameos here) inject a dose of down-to-earth melancholy and introspection that meshes with its all-round silliness surprisingly well, especially when Bill and ted meet their older selves.
The leads are not the only ones having fun. Schaal is amusing as Kelly (named after George Carlin's daughter), Jillian Bell (Brittany Runs a Marathon, 2019) briefly steals the show as Dr. Wood the marriage therapist, and Anthony Carrigan is a hoot as a robot (whose name is a joke that should remain unspoiled) sent to kill Bill and Ted. Returning actors, including Hal Landon Jr., Amy Stoch, and William Sadler, fit back into their roles like a glove and the cameos from various musicians like Kid Cudi (who is strangely knowledgeable on the quantum physics of time travel) make their mark.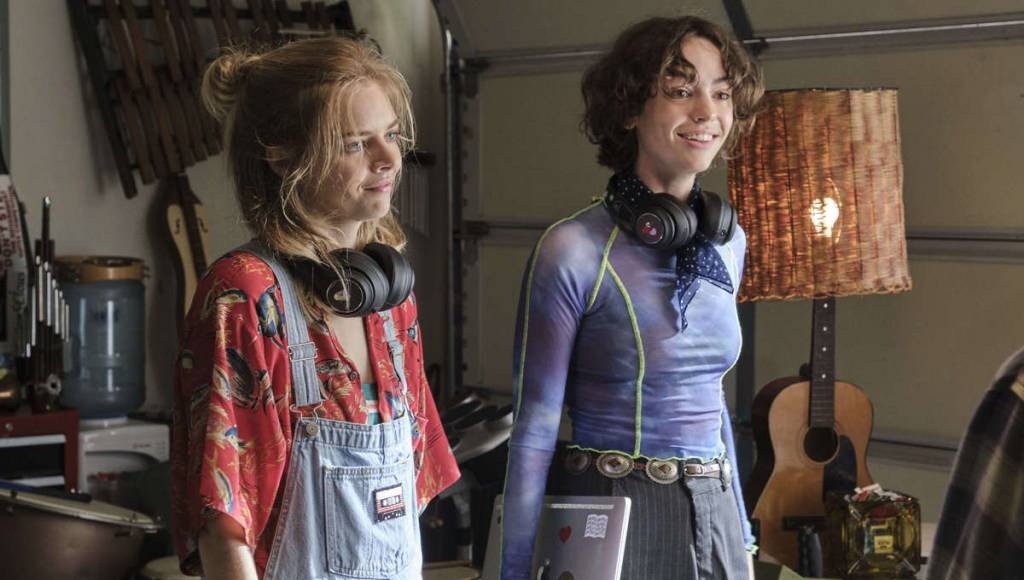 However, the biggest standouts are Weaving and Lundy-Paine. Weaving has been a rising star since her work in the horror genre (including Ready or Not, 2019). Her role as Billie will only add to her repertoire. Her enthusiasm makes it believable that she is the daughter of Bill, without resorting to imitation. Lundy-Paine is scarily good as Thea; they do such a fantastic job of imitating Reeves that their performance is almost as good as Hal Landon Jr.'s impression of Reeves from Bogus Journey. The two are so much fun to watch as they gather help via various musicians throughout history that more adventures from them would be welcome.
As for its flaws, the CGI and greenscreen effects looks cheap but oddly enough in an endearing fashion. Some of it harkens back to special effects from the late 1980s and 1990s, particularly as the imagery coming from characters playing musical instruments comes into motion. The ending itself can be also seen as abrupt but for those who are patient, there is a welcome post-credit sequence that caps off the franchise in a sweet, silly, and satisfying fashion.
Overall, Bill & Ted Face the Music is exactly what this reviewer wanted. It is the kind of comedy where its cockeyed optimism and unbridled enthusiasm (yes, that is a Seinfeld reference) is so infectious, it not only becomes a hilarious comedy but a tonic for life's ailments.
Summary: Bill & Ted Face the Music lives up to our expectations. Its both a hilarious comedy and a tonic for life's ailments.