Comics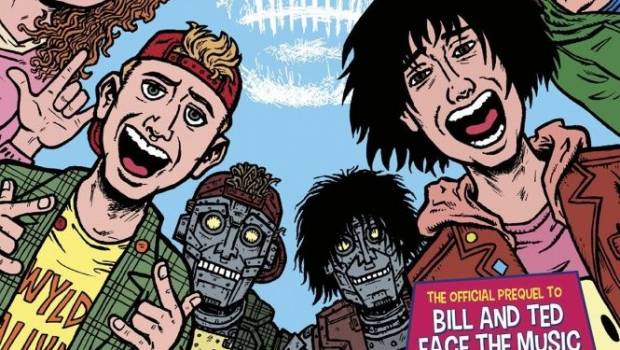 Published on August 24th, 2020 | by Tim Chuma
Bill and Ted Are Doomed #1 (2020) Review
Summary: A good introduction to the series for those who don't know the original movies and only know about Keanu Reeves from John Wick.
Several years after the events of Bill and Ted's Bogus Journey but before Bill and Ted 3 the two are still trying to write the song that unites the world and creates a utopian society. The "Good robot uses" are living with them and STATION the Martian scientists are their neighbours. Death is hanging out at the graveyard doing bass solos.
In the future there is a disturbance in the fabric of reality Rufus has been summoned to investigate. He is still on the side of the Wyld Stallyns and thinks "these things take time" but things happen to make the most excellent dudes think otherwise.
I am looking forward to the new Bill and Ted movie when we eventually get out of lockdown in Victoria and this is a fun new series from a series that has not seen much movement apart from the cartoon that did not go for that long.
The art style is fun and the characters recognisable and they look and act like they did in the movies which is great to see.
This does look like it will be a good series and fun to follow along with to see how it works out in relation to the new movie.
I would recommend this if you are a fan of the original movies or even if you only know Keanu Reeves from the Matrix and John Wick movies and want to see him in something different.
Comic details:
Writer: Evan Dorkin
Artist: Roger Langridge
Release date: Sep 09, 2020