Games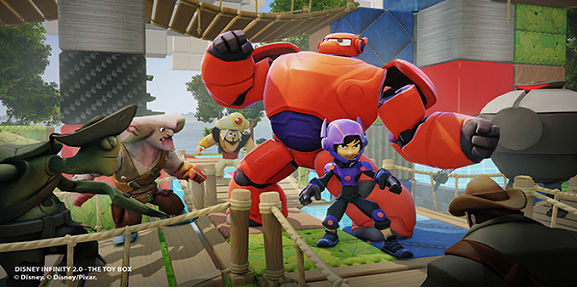 Published on August 27th, 2014 | by admin
"Big Hero 6" To Pack a Mighty Wallop in Disney Infinity 2.0 with Appearance of Hiro and Baymax
Today, Disney Interactive announced that Hiro and Baymax from the upcoming action-packed movie "Big Hero 6" will be entering the Disney Infinity 2.0 Toy Box. Fans will be able to use Hiro's mind-power and Baymax's super strength, along with hundreds of items, locations, props, vehicles and more from across the Disney and Marvel universes to create all-new adventures born from the imagination of players.
Key highlights include: 
Hiro: From the heart of San Fransokyo into Toy Box 2.0 comes the brilliant robotics prodigy Hiro Hamada, who created "Big Hero 6." The inventor of mind-controlled microbots uses his brain as his most powerful weapon.
Baymax:  There is no robot better suited for the Disney Infinity 2.0 Toy Box than the plus-sized inflatable Baymax. While this robot might have a huggable side, he definitely packs a hard armor shell. His Kung Fu fighting moves can ward off even the fiercest of enemies. His rocket fist, super strength and thrusters are unmatched.There will also be a "Big Hero 6" Chem Capsule Power Disc, which allows players to create a cloud of frost that freezes enemies right in their tracks.Disney's Hiro and Baymax figures will be available in Australian and New Zealand retail stores on November 6. Disney Infinity 2.0 is rated PG for mild violence and online interactivity. Additional Disney and Marvel characters will be announced in the coming months.