Events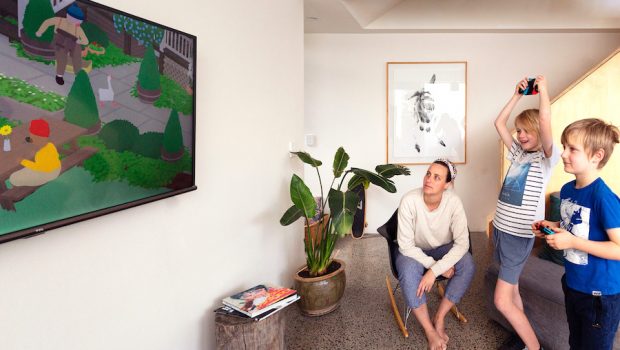 Published on September 22nd, 2021 | by Adrian Gunning
Big Games Night In – Enjoy all the fun of Games Week at home
On Sunday 3 October Melbourne International Games Week (MIGW) and ACMI, Australia's national museum of screen culture, will host Big Games Night In; offering the chance to play a range of exciting new locally made games that expand our understanding of what digital games can offer …
Back for a big second year and a highlight of MIGW's public program 'Big Games Night In' (BGNI) will be a night for families, friends and households to connect, celebrate Australian game-makers and to support a thriving local Victorian industry.
Curated by ACMI, the selection of free-to-access games on offer showcase the diversity and uniqueness of the Australian games industry – from beautiful, meditative games and games that make us think and learn like Unpacking, A Long Goodbye and Trios to exciting adventure quests and hilariously fun games for the whole family like Moving Out and Completely Stretchy and Uncomfortably Sticky.
Victoria is the epicentre of the Australian digital games industry which has not only survived but thrived during COVID-19; with a majority of studios growing in size and revenue in the past year. The Victorian games industry has also seen international success recently with the likes of Untitled Goose Game, Moving Out and Necrobarista all making waves globally.
Minister for Creative Industries, Danny Pearson, says: "Melbourne International Games Week is a celebration of this thriving industry and a showcase of the latest, and best, in digital games. The Victorian Government is proud to present 'Big Games Night In', a free family event where players of all ages will discover the incredible diversity and creativity of locally made games, test their skills and find a new favourite."
Some of the highlights in this year's BGNI selection of games include:
Completely Stretchy and Uncomfortably Sticky by independent developer, Daniel Ferguson, is an award-winning and hilariously quirky physics-based game where you awake to find yourself strangely stretchy and sticking to everything as you make your way through an alien world full of endearing characters.
Unpacking by Witchbeam Games is a calming zen game about the familiar experience of unpacking boxes and fitting them into a new home. Part colourful block-fitting puzzle, part home decoration, players are invited to create a satisfying living space while learning clues about the life they're unpacking and reflecting on the things we choose to take with us and those we leave behind.
Trios by indie games studio, Samurai Punk, is a relaxing, minimalist maths puzzle game. Take your time, chill out with some numbers. Deceptively simple, surprisingly challenging.
Spiritwell by independent developer David Chen is a unique homage to the era of 16-bit roleplaying games – (think early 90's Zelda, Chrono Trigger). In Spiritwell players enter a magical world full of memorable characters and explore in this non-violent adventure.
Topography by independent developer Cecile Richard is a Bitsy game about online friendships, the golden age of tumblr, closeness and closure.
A Long Goodbye by independent developer Dana McKay is an award-winning short narrative game about two friends who have to say a final goodbye over the phone. Chat along and find new pathways through the story each time you play.
Ring of Pain by Twice Different is a tough but fair card-based dungeon exploration game. Combat monsters, meet strange new friends and customise gear to try and survive.
Moving Out by SMG Studios is a hilarious physics-based moving simulator. Join your family or friends in this frantic couch co-op as you take on a variety of moving jobs around the town of Packmore.
Arieh Offman, ACMI's video games curator, says "The 'Big Games Night In' is a chance for people of all ages to enjoy a night of free family-friendly fun. With games suitable for players of different ages and abilities, and a wide range of genres, this is the perfect opportunity to discover unique and entertaining titles made right here in Australia."
This year's 'Big Games Night In' program will also feature games from some of the finalists in the 2021 Australian Game Developer Awards, giving us all the chance to experience even more of the best and most exciting locally-made games.
ACMI will also be hosting a Discord forum for a week following the event for players to connect with game developers and share their thoughts and ask questions.
MIGW's 'Big Games Night In' on Sunday 3 October, offers a free-to-access space for games enthusiasts of all ages to enjoy new games by local game developers, specially curated by ACMI. Visit HERE to play, and share your fun on social using #MIGW21 #BGNI21
EVENT DETAILS:

Event:

MIGW's 'Big Games Night In'
Date/Time: Sunday 3 October 2021
Where: At home
Hashtags: #MIGW21 #BGNI

For tips and links for the best and newest games to play visit this link