Switch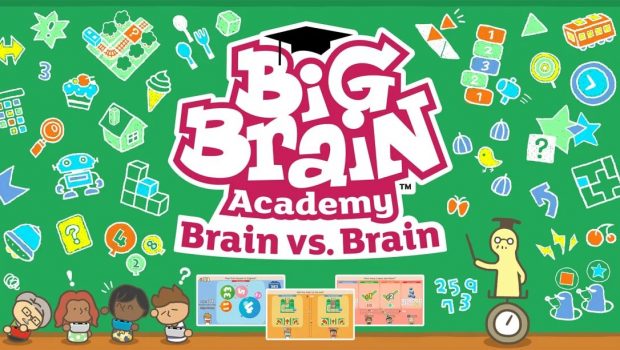 Published on December 20th, 2021 | by Richard Banks
Big Brain Academy: Brain vs. Brain Review
Summary: A welcome return for one of Nintendo's best forgotten IPs.
Fourteen years since Big Brain Academy's second outing on the Nintendo Wii, Brain vs Brain marks a welcome return for one of Nintendo's long-forgotten IPs. Simple in execution but no less engaging, Brain vs Brain proves the Big Brain Academy series is still one of the most addictive collections of brain-teasers available, and a fine addition to the Switch's growing puzzle catalogue.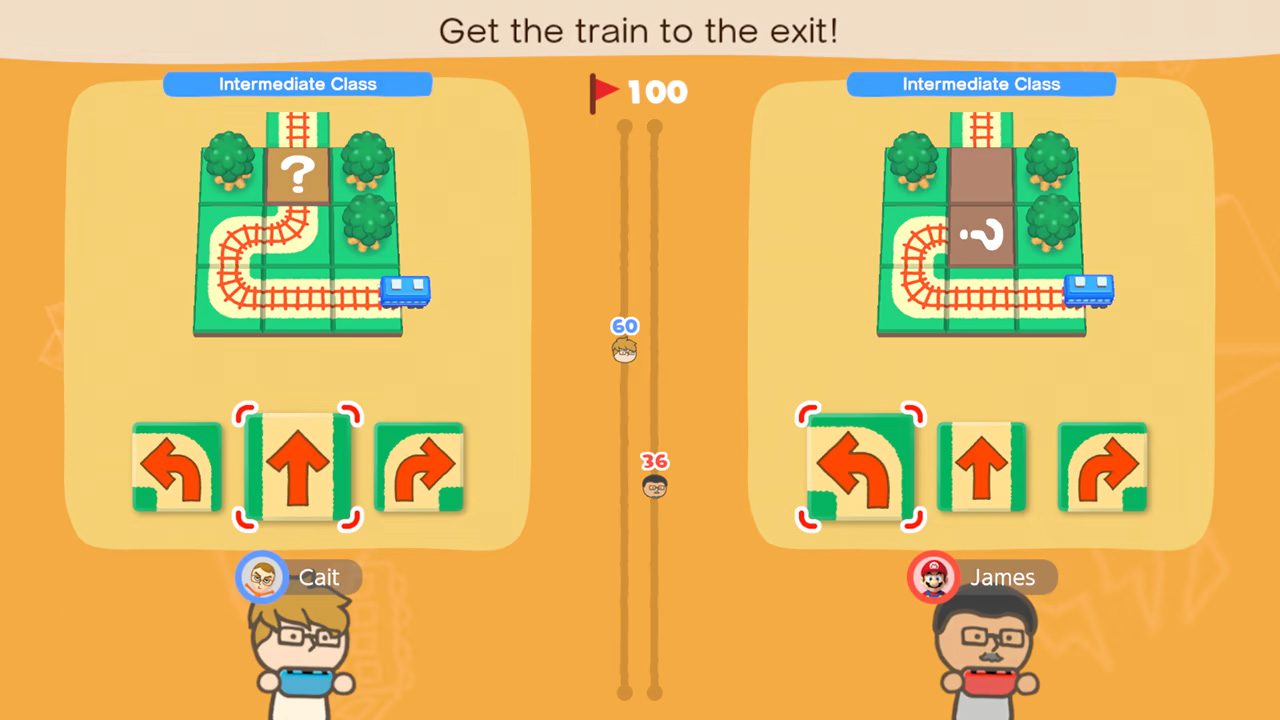 Big Brain Academy has always felt like the little brother to the Brain Training series, and Brain vs Brain again feels like a more accessible version of the Dr Kawashima puzzle titles. While Brain vs Brain leans heavily on its multiplayer Ghost Clash mode, the core aspects still feel like a little less intense Brain Training, chocked full of deceptively simple puzzles designed to test each area of your brain. The twenty mini-games fall within one of the Identify, Memorise, Analyse, Compute and Visualise categories, each game playable separately allowing you to fine-tune your skills in different areas. There are also two practice modes offering varying degrees of difficulty – a standard practice arena, allowing you to fully flex your brain and an unlockable Super Practice mode that pushes the intensity of the tests to almost maddening difficulty.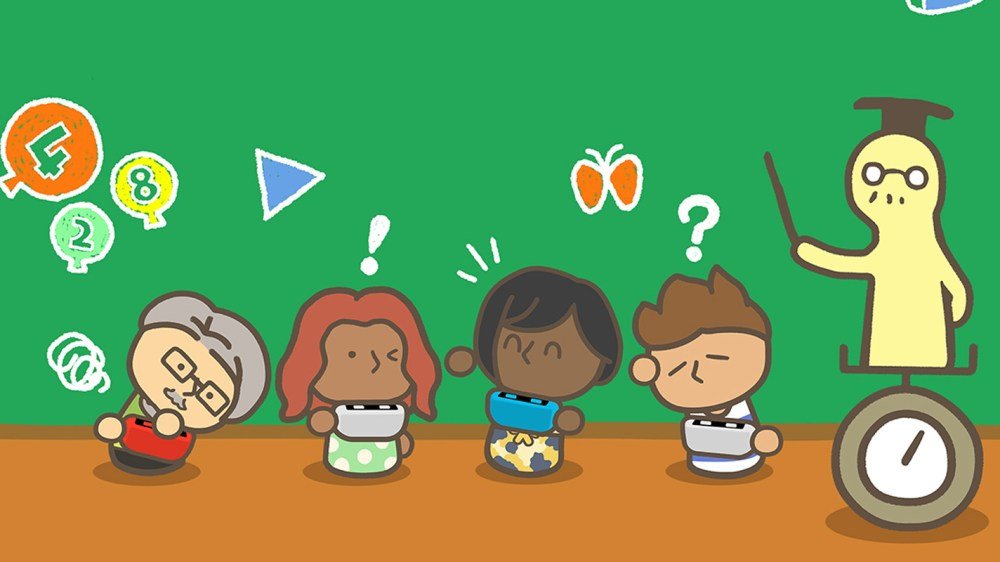 You can also complete a daily assessment to monitor your progress, allowing you to track how successful the game has been as it attempts to improve your brain function. It's satisfying to watch my improvements improve, with Dr Lobe, the weird, claylike tutor of Brain vs Brain, providing his daily assessment of my mental capacity, his opinion moulding to match my encouraging improvements across the game's categories. Whether Brain vs Brain offers genuine improvements is up for debate, but at the very least, it's an enjoyable test of your puzzle-solving skills, and getting higher rankings in areas you've previously struggled in gives a satisfying release of puzzle-solving endorphins.
Surprisingly, there's a fair amount of diversity across the twenty games. A personal favourite, Whack Match, is just that, Whack-a-Mole with shapes and items that you have to identify against the clock to score points. Another fantastic game is Train Turn, which tasks you with matching the correct piece of the missing train tracks to the line to ensure the train makes it to their other side. In Speed Sort, you have to identify the unique traits of animals and things as quick as possible, like which creature is the biggest or which item is a living thing. Some puzzles feel overly easy at first, but Brain vs Brain gradually increases the difficultly of each puzzle, helping to make even the simplest task feel like a challenge.
Likewise, the game ensures it doesn't become frustrating when you're struggling. If at any point you find a particular level too hard, the game will adjust to an easier difficulty until it assesses that you're ready for the more difficult challenge. It makes the game incredibly accessible, a perfect opportunity for all ages to get stuck in to improve their puzzle-solving capabilities. The combination of bright, kid-friendly graphics and the fantastic auto-adjusting difficulty curve make it a treat for all ages and one of the most successful family titles available on the Switch.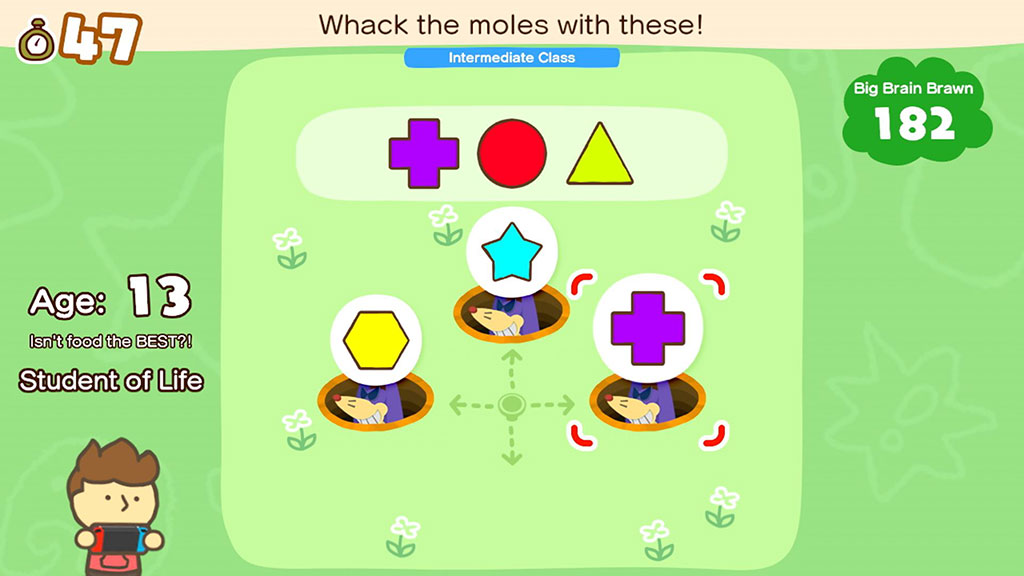 Brain vs Brain's Ghost Clash mode is really where the game feels unique to its predecessors. While not a true multiplayer, as you're playing against opponents previous attempts and not live players, Ghost Clash's ranking system and vs arena make for a great online mode that just "works". Not waiting for live players means there's always an opponent to battle, and a reward system that constantly chugs out new aesthetics makes it hard to stop playing, like new outfits and titles to tease your opponents. It's not going to challenge the likes of Fortnite, but it's nice to be rewarded for little wins, especially as unlocks come thick and fast as soon as you complete puzzles.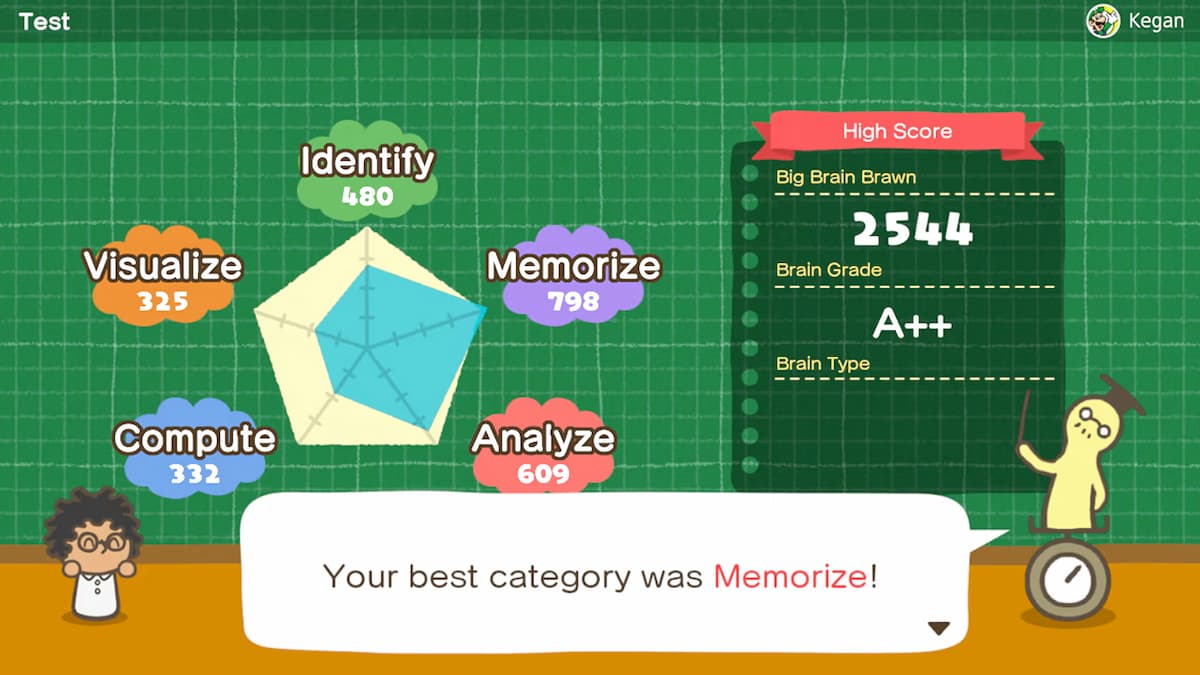 If you do want to challenge a friend in person you still can, as the game allows up to four players per console to test themselves in local multiplayer. Both online and local multiplayer is great competitive fun, but there's a distinct advantage for touchscreen players compared to those who use predominantly buttons. During one game, where you match the time on a clock with the time shown on the screen, you can quickly move the dials to the correct time with your finger, whereas if you've opted for button input, it takes much longer to get the correct time. It makes it difficult to effectively judge who's on top in online matches, especially as online rounds are won by winning as quickly as possible, as it leans heavily in favour of those who rely on touch controls over more traditional button players.
But, very small issues aside, there's just such a genuine charm oozing out of Brain vs Brain, thanks to a charming exterior, fun solo play and addictive multiplayer mode, making Big Brain Academy: Brain vs Brain one of the best puzzle experiences available on Switch. Regardless of any issues the mismatched control levelling causes, for casual gamers and those who want a pick-up-and-play puzzler are a fine example of how to breathe life back into an aged and forgotten game series.