Blu-ray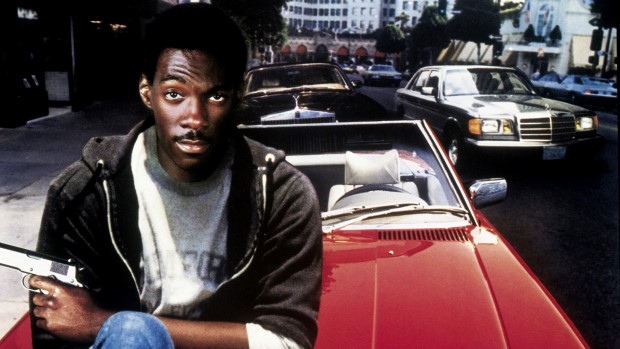 Published on September 7th, 2014 | by Sean Warhurst
Beverly Hills Cop 30th Anniversary Blu-ray Review
Summary: Beverly Hills Cop is still as charmingly entertaining as when it was released and both fans and newcomers will have a great time with this Blu-ray release.
Beverly Hills Cop 30th Anniversary
Distributor: Paramount
Format: Blu-ray
Running Time: 105 Mins.
Rating: M
Genre: Action/ Comedy
Reviewer: Sean Warhurst
It may be hard to believe but this year marks the 30th anniversary of the classic action comedy masterpiece Beverly Hills Cop, the film that propelled Eddie Murphy into the spotlight and opened up a whole new perspective on action films that influenced a majority of mid to late Eighties films; where the protagonists were once the stoic, Dirty Harry types, after this film the wisecracking cop with a quip for every situation became de rigueur.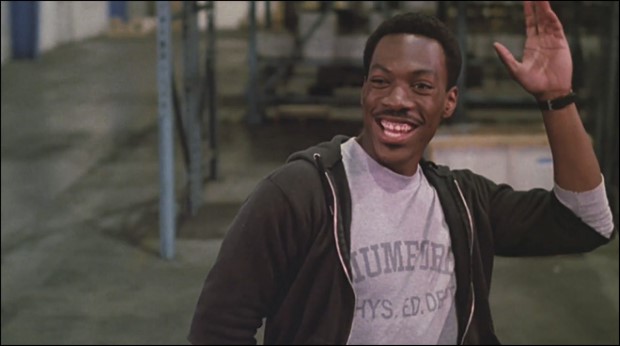 Essentially a starring vehicle for Murphy, Beverly Hills Cop introduces us to Axel Foley, a wise ass Detroit cop who plays by his own rules, much to the chagrin of the long suffering chief of police. After his childhood friend is murdered outside of his apartment, Foley resolves to bring the killers to justice despite being warned not to pursue the case.
Choosing to take his vacation leave, Foley travels to Beverly Hills and embarks upon his own investigation, starting by visiting the shady owner of an Art Gallery who had previously employed his friend; after that encounter ends with him being thrown through a window, Foley finds himself crossing paths with the Beverly Hills police department, particularly the hapless duo of Rosewood and Taggert (Judge Reinhold and John Ashton), who quickly find themselves dragged along for the ride as Foley doggedly pursues the men responsible for his friend's death.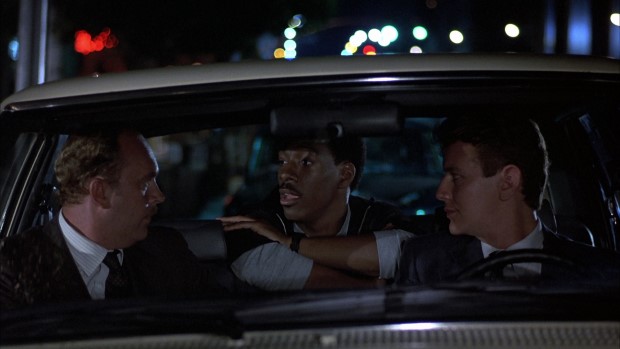 The story will most likely be familiar to most readers and, to be completely honest, it's not exactly the film's strongest feature. Whilst serviceable enough, for an action film there's surprisingly little action on screen and the film lacks any central mystery or twists, playing out as straightforwardly as possible.
The direction is pretty standard and safe and the film adheres to a simple, routine three act structure, yet the whole thing succeeds somehow due to the infectious enthusiasm and charisma of its lead; Murphy elevates the film above its shortcomings and introduces a unique dimension to what could have otherwise been a dull, generic action piece.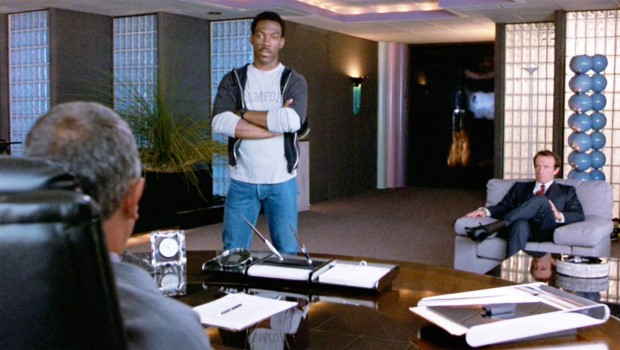 Murphy's performance as Axel Foley allows the actor to demonstrate his impeccable comic timing but also shows a certain level of restraint, something that's lacking from some of his later roles.
The interplay between Murphy and his co-stars, everyone from Reinhold and Breaking Bad's Jonathan banks to smaller roles like Bronson Pinchot, Damon Wayans and Paul Reiser, is played as naturalistic and organic as possible, lending the entire film an almost improvised quality at times, which isn't surprising when you consider that Murphy is notorious for ad-libbing.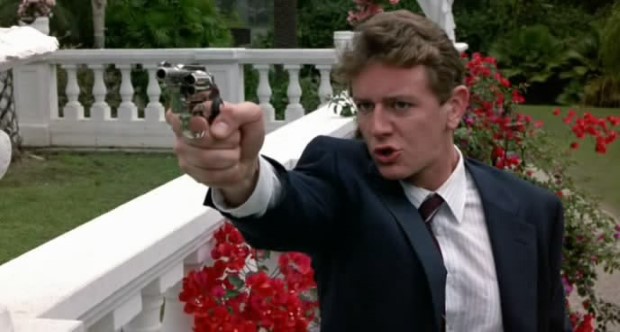 Reinhold and Ashton also bring a gleefully funny dynamic as their chemistry as the Odd Couple partners is played for laughs and the cast as a whole perfectly complements Murphy's mercurial performance.
Another area where Beverly Hills Cop shines is in its delightfully kitschy Eighties soundtrack, featuring the now iconic "Axel F." theme and such high energy hits as "The Heat is on" and "The Neutron Dance" (Which, in retrospect, sounds so similar to the theme from Ducktales that The Pointer Sisters really should consider legal action) – Rarely has a soundtrack so perfectly encapsulated the aesthetic of an entire era and it really serves to add to the magic of the entire viewing experience.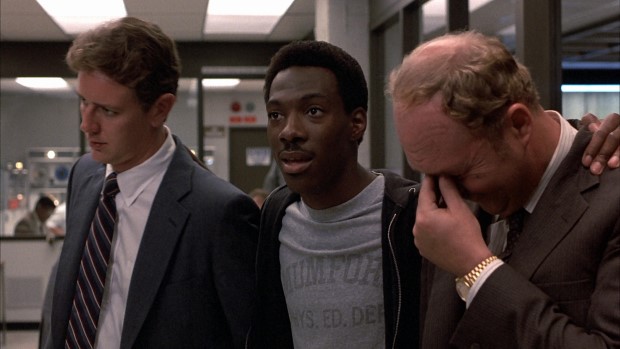 Audio/ Visual
Beverly Hills Cop comes with a solid transfer that, whilst aesthetically appealing, won't blow viewers away when compared to some other remastered classics. The image has a few minor stabilisation issues but aside from that there are no noticeable signs of compression or any other artefacts. The image has been cleaned up admirably so that there is no visible print damage and colours and fine detail are pleasing to the eye. Fans will appreciate the effort that has gone into restoring the image and the result is much better than the DVD transfer but not eye poppingly glorious.
The film comes with a standard 5.1 DTS-HD lossless soundtrack but unfortunately it stumbles in places, with certain scenes lacking the dynamic "oomph" one would expect from a film of this calibre. The audio doesn't take advantage of the directionality afforded by a surround sound set up but it does make for a serviceable track that offers clear dialogue and ambient sounds.
Overall Paramount offers a competent track that may not be the greatest transfer on the market but it more than does the job and its minor flaws don't detract from the viewing experience in any way.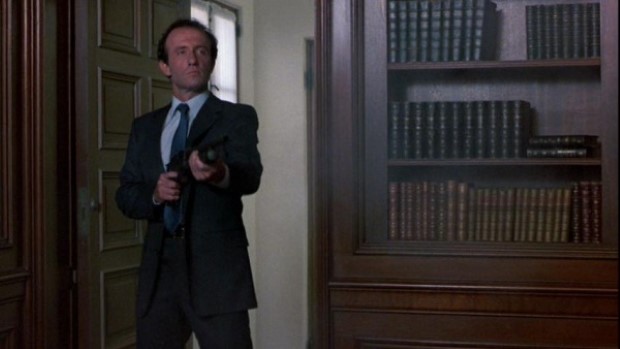 Special Features
Beverly Hills Cop has a decent selection of supplemental features, including a retrospective commentary from Director Martin Brest, a Featurette looking back at the process of making the film, some short vignettes on different aspects of the production and more.
The audio commentary offers a fair bit of insight about the creation of the film, such as putting together the shoot, commenting on performances and explaining the effects the behind-the-scenes changes and budget restraints had on the film, such as the fan favourite banana in the tailpipe scene initially having Foley using a potato instead; there are a fair few moments of dead air where Brest seemingly becomes entranced by what's upon the screen but for the most part it's an informative and interesting track.
Also included is a featurette focusing on the beginning of the series, offering information on the history behind the film's inception and its transformation from a vehicle for Sylvester Stallone (Which would eventually be spun off into the film Cobra) and featuring interviews with the cast and crew as they reminisce about the film's development and legacy.
There's also a look into the role of the film's memorable score, which apparently won an Emmy, the casting process, a theatrical trailer which is the only feature presented in true HD and a location map feature that offers a brief series of clips about the locations used in the film.
Overall there's a nice selection of extras here but it's a bit disappointing that there are no new features added in celebration of the film's anniversary, with many coming from the 2001 DVD release of the trilogy.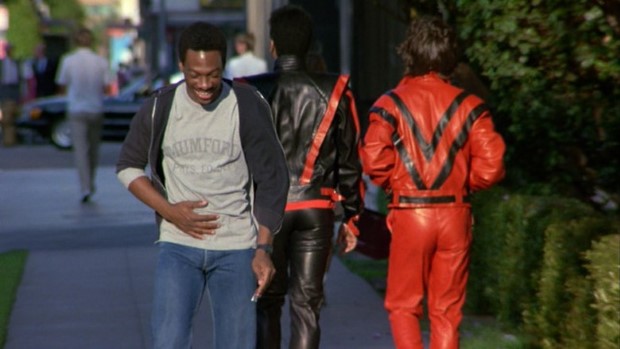 List of Features:
–          Audio Commentary with Director Martin Brest
–          Beverly Hills Cop – The Phenomenon Begins (29:11)
–          The Music of Beverly Hills Cop (7:50)
–          A Glimpse Inside the Casting Process (9:37)
–          Location Map
–          Theatrical Trailer (2:32)
Final Thoughts
For my money Beverly Hills Cop ranks up there with other classics of Eighties action like Die Hard and Lethal Weapon and this release only serves to reaffirm how deserving the film is of its legacy (Part 3 though? Not so much).
One aspect of this release that is disappointing, however, is that there is no discernible difference between this and the film's original 2011 Blu-ray release, aside from a small paper band added to the packaging highlighting the film's 30th anniversary, so for fans who already own that release this re-issue offers nothing new to entice them to double dip.
Coupled with a majority of the special features being sourced from the 2001 DVD release, this Blu-ray seems to be a bit of a missed opportunity for Paramount to truly capitalise on the film's anniversary and to celebrate its place as a permanent part of the pop culture lexicon.
Nonetheless, Beverly Hills Cop is still as charmingly entertaining as when it was released and both fans and newcomers will have a great time with this Blu-ray release.
Recommended.