Comics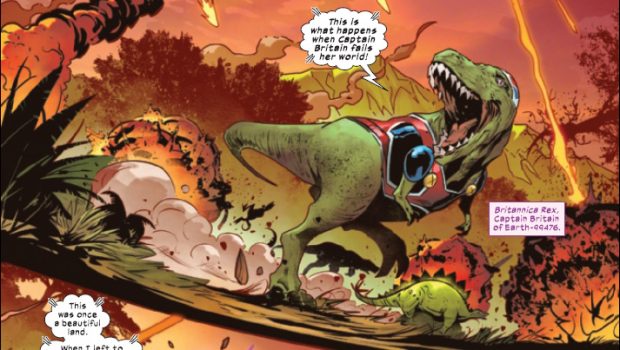 Published on February 27th, 2023 | by Tim Chuma
Betsy Braddock: Captain Britain #1 Review (2023)
Summary: Seems to be a character who has a history but this refreshes things so you can pick it up from here if you want.
Starting seemingly in the pre-historic era when Captain Britain was a T-Rex this story follows Betsy Braddock and her still trying to come to terms with being Captain Britain when people do not want a mutant to have the role. It does jump around a bit seeing it is the first one but does settle down if you can call it that when all the Captain Britains turn up at once.
Supposedly this is a new story along the Excalibur storyline but it did not seem you need to have read that one to get what was going on as they do explain things as they go. I did enjoy Betsy Braddock going directly to the universe where the threat was coming from and asking what was up. That worked out about as well as you expect it would but still at least she tried.
Supposedly this is the Marvel debut of this artist so if you are a fan of the artist then I recommend it.
There are so many of these series now but I am sure this character will turn up in your favourite one if you wait long enough depending on the storyline.
Comic details:
Writer: Tini Howard
Penciler: Vasco Georgiev
Cover Artist: Erica D'URSO
Publisher: Marvel
Published: February 22, 2023