Games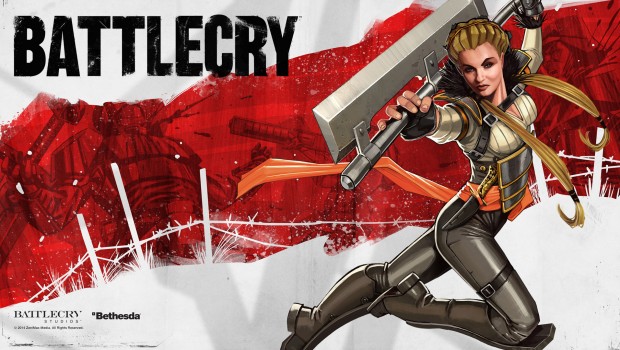 Published on October 31st, 2014 | by admin
BETHESDA SOFTWORKS ANNOUNCES BATTLECRY BETA TO DEBUT IN AUSTRALIA AND NEW ZEALAND IN 2015
Sign Up for Beta Now for BattleCry Studios' Free-to-Play Online Team Action Game
October 31, 2014 (Melbourne, Australia) — Bethesda Softworks®, a ZeniMax® Media company, today announced that the first beta tests for BATTLECRY™, the all-new online multiplayer action combat game from BattleCry Studios, will begin exclusively in Australia and New Zealand starting in early 2015. Featuring 32-player battles, BATTLECRY's team-based combat combines visceral brutality and competitive multiplayer action to create a new gameplay experience that's free to play.
Led by long-time industry veteran Rich Vogel (Star Wars: The Old Republic, Ultima Online), the team at BattleCry Studios is comprised of seasoned developers with decades of experience working on critically-acclaimed action and competitive multiplayer franchises. BATTLECRY is the first project for the Austin-based studio since it was formed in 2012 with one goal: to create fun, high-quality online experiences for a connected world.
In BATTLECRY, step into a bold, expressive world envisioned by Viktor Antonov (Half-Life 2, Dishonored) where gun powder has been banned following a cataclysmic world war at the dawn of the 20th century. Traditional warfare is now a relic of the past and all conflicts are settled head-on by elite teams of chosen warriors in sanctioned WarZones. Choose your warrior – each with a meaningfully distinct suite of attacks and abilities – from one of several factions from diverse parts of the world. With strategy, brutal attacks, and unique weapons, fight for power and glory across the WarZones.
"It will be extremely exciting to see people from Australia and New Zealand jump in and play the game when beta begins in 2015," said Rich Vogel, president and executive producer at BattleCry Studios. "Everyone at the studio is looking forward to working with players in these two countries as we begin testing the game. They are paving the way for the rest of the world and will have a hand in helping us shape the future of BATTLECRY."
Australians will have the chance to experience BATTLECRY for the very first time during PAX Aus 2014 at the Melbourne Convention and Exhibition Centre from October 31 to November 2.
Players in Australia and New Zealand can now sign up for beta at: www.battlecrythegame.com.au.
For more information on the game or to view the first gameplay video, visit the official BATTLECRY website: www.battlecrythegame.com.au.
About ZeniMax Media Inc.
ZeniMax Media is a privately owned media organization headquartered outside Washington, DC with international publishing offices in London, Paris, Frankfurt, Eindhoven, Sydney, Hong Kong, and Tokyo. Through its subsidiaries, ZeniMax Media creates and publishes original interactive entertainment content for consoles, the PC, and handheld/wireless devices.  ZeniMax Media divisions include Bethesda Softworks, Bethesda Game Studios, id Software, Arkane Studios, Tango Gameworks, MachineGames, BattleCry Studios, ZeniMax Europe Ltd., ZeniMax Asia K.K., ZeniMax Asia Pacific Limited and ZeniMax Online Studios.   For more information on ZeniMax Media, visit www.zenimax.com.
About Bethesda Softworks
Bethesda Softworks, part of the ZeniMax Media Inc. family of companies, is a worldwide publisher of interactive entertainment software. Titles featured under the Bethesda label include such blockbuster franchises as The Elder Scrolls®, DOOM®, QUAKE®, Fallout®, Wolfenstein®, Dishonored®, Prey® and RAGE®.   For more information on Bethesda Softworks' products, visit www.bethsoft.com.
About BattleCry Studios
BattleCry Studios, located in Austin, TX, brings together a group of seasoned developers with one goal: to create fun, AAA online global experiences for the connected world. Drawing on decades of experience from places like BioWare, Valve, 343 Studios, Treyarch, and more, BattleCry isn't just a place where great games are created. It's where designers, engineers, and artists work side by side to redefine a genre.
BATTLECRY, BattleCry Studios, The Elder Scrolls, Bethesda Game Studios, Dishonored, Arkane, The Evil Within, PsychoBreak, Tango, Tango Gameworks, MachineGames, Prey, Bethesda Softworks, Bethesda, ZeniMax and their related logos are registered trademarks or trademarks of ZeniMax Media Inc. in the United States and/or in other countries. Fallout is a registered trademark or trademark of Bethesda Softworks LLC in the United States and/or in other countries.  id, id Software, id Tech, DOOM, QUAKE, Wolfenstein and RAGE are registered trademarks or trademarks of id Software LLC in the United States and/or in other countries.  Other product and company names referenced herein may be trademarks of their respective owners. All Rights Reserved.