Games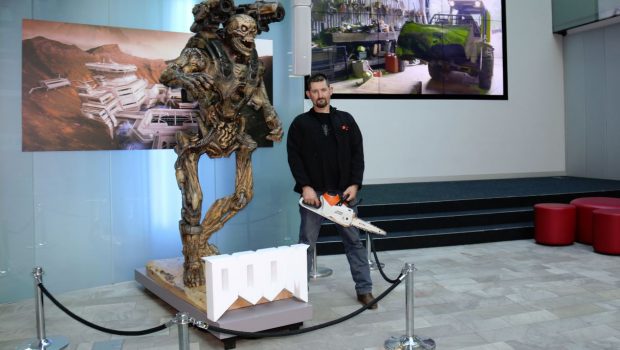 Published on May 16th, 2016 | by admin
Bethesda and ACMI to hold exclusive Q&A event with Marty Stratton in Melbourne!
Bethesda and ACMI, the Australian Centre for the Moving Image, are pleased to announce a very special DOOM Q&A event featuring Marty Stratton, Executive Producer at id Software, on the 28th May.
ACMI are offering audiences the chance to explore the game's development and the challenges around maintaining the legacy of DOOM, in addition to Marty's career highlights and tips for breaking into the industry. There will also be a discussion around AAA development in the modern age. You can find more information about the event and reserve your free seat via the following link: https://www.acmi.net.au/doom.
At ACMI you can also view an 8ft chainsaw sculpture of the Revenant, one of DOOM's most iconic demons, which is now on exhibition. The amazing journey of this piece, which took almost 150 hours to create, can be viewed here: https://youtu.be/UYwamjfisNA.  Images of the sculpture, currently residing in the ACMI Lightwell, are below and attached.
ACMI is a unique institution, based in Melbourne, Australia, which champions the moving image in all its forms. With over 1.4 million visitors annually, ACMI is the world's most visited moving image or film cultural centre. ACMI exists to celebrate, support and explore the past, present and future of the moving image through a vibrant calendar of exhibitions, screenings, installations and commissions, festivals, conferences, workshops, as well as public and educational programs, in Australia and beyond.
DOOM is under development at id Software, the studio that pioneered the first-person shooter genre and invented multiplayer Deathmatch. Relentless demons, impossibly destructive guns, and fast, fluid movement provide the foundation for intense, first-person combat – whether you're obliterating demon hordes through the depths of Hell in the single-player campaign, or competing against your friends in numerous multiplayer modes. Expand your gameplay experience using DOOM SnapMap game editor to easily create, play, and share your content with the world. DOOM is available now on PS4, Xbox One and PC.
For more information on DOOM visit DOOM.com.
For more information on ACMI visit https://www.acmi.net.au/.