Comics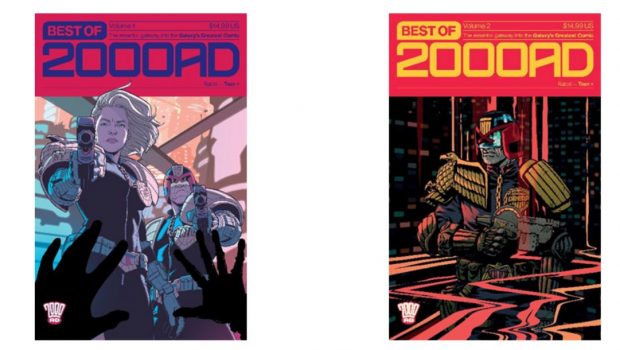 Published on October 29th, 2022 | by Adrian Gunning
Best-selling Best of 2000 AD reprint arrives at distributors
It's one of the UK's best-selling graphic novels – and a brand new print run of Best of 2000 AD Vol.1 is now available.
The smash hit of the summer and backed by an international influencer campaign on Tiktok and Instagram, Best of 2000 AD Vol.1 hit number three in the UK's top-selling graphic novels at launch in September – with copies in the UK running out a full two weeks before the official publication date and stock in the US running low, even after a restock.
A new print run has just arrived with distributors in the UK, and comic book retailers and book stores are being urged to grab fresh copies of Best of 2000 AD Vol.1 while they can to meet demand.
Never before has a 2000 AD graphic novel sold out before it publication date, reflecting the excitement for what Wired called 'a near-perfect primer for what makes 2000 AD so special', while comicbook.com said it is 'hard to imagine a better entry point into that world than Best of 2000 AD'.
Owen Johnson, editor on Best of 2000 AD, said: 'I'm ecstatic but not surprised that Best of 2000 AD has proven a hit, we worked hard to make it one – and thanks to all the new faces and loyal fans, our distributors, and crucially the comic and book stores hand-selling it; they're all responsible for this success.
'Best of 2000 AD's popularity is validating, and proof that not only is there hunger for this timeless comic after 45 years, but a whole new audience is waiting to connect if we evolve. 2000 AD, like all comics, should be for everyone.'
Best of 2000 AD is a six-volume landmark quarterly graphic novel series from the cult comic. The second volume is now available for pre-order and will go on sale in January 2023, with a cover by Becky Cloonan (Batman) and stories by Al Ewing, Colin Wilson, Alan Moore, Steve Dillon, Kevin O'Neill and many more.
With design by industry legend Tom Muller (X-Men), each volume includes 200 pages bursting with hand-curated stories old and new from the legendary comic book and, with no knowledge of continuity required, this is a series absolutely tailor-made to bring in new readers.
The first volume in this landmark series includes a cover by superstar artist Jamie McKelvie (The Wicked & The Divine), the first part of Alan Moore and Ian Gibson's feminist space opera The Ballad of Halo Jones, the first part of Dan Abnett and INJ Culbard's modern sci-fi noir Brink, two complete Judge Dredd stories by John Wagner, Kev Walker, Brendan McCarthy and Jamie Hewlett, alien delinquents D.R. & Quinch causing mayhem courtesy of Jamie Delano and Alan Davis, John Wagner and Carlos Ezquerra's mutant bounty hunters Strontium Dog, and Alan Grant and Arthur Ranson's stunning Judge Anderson: Shamballa with an essay by comics critic Adam Karenina Sherif.