Comics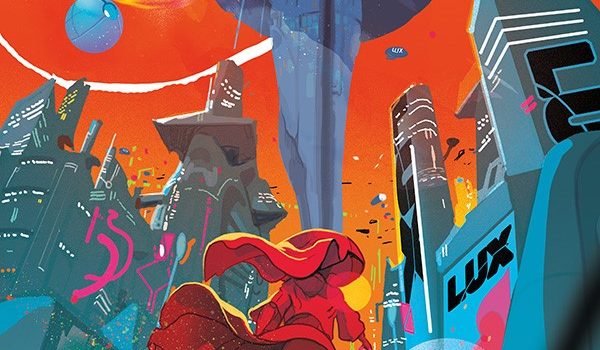 Published on November 5th, 2022 | by Adrian Gunning
BERGER BOOKS AND DARK HORSE PRESENT THE ULTIMATE INVISIBLE KINGDOM COLLECTION
Berger Books and Dark Horse transport readers back to the extraordinary universe of Grix and Vess in the Invisible Kingdom Library Edition. This oversized hardcover collection features all three volumes of the Invisible Kingdom saga including every cover and extensive process art. The Invisible Kingdom series is written by acclaimed author G. Willow Wilson (Ms Marvel, The Bird King) and illustrated by visionary artist Christian Ward  (Black Bolt, Blood Stained Teeth).
In a distant galaxy, acolyte Vess and hardened freighter pilot Grix join forces to expose an inconceivable conspiracy between the most dominant religion and an all-powerful megacorporation. Suddenly, prey in an interstellar chase through the dreaded Junk Rings to the Point of No Return, this unexpected pair is faced with a grave decision: reveal the truth or plunge the world into anarchy.
"This ultra-large edition is the perfect showpiece for this sweeping, award-winning saga," said editor Karen Berger. "Willow's epic story resonates even further and Christian's glorious art is a total immersive experience. What a treat! And a perfect holiday present, too."
The Invisible Kingdom Library Edition hardcover will be available in comic shops November 2, 2022 and bookstores December 6, 2022. It is available for pre-order now on Amazon, Barnes & Noble and your local comic shop  and will retail for $49.99.
Praise for Invisible Kingdom:
"Sharp, funny, and utterly breathtaking, Wilson and Ward's Invisible Kingdom is a world you won't want to leave." –Kelly Sue DeConnick (Pretty Deadly, Captain Marvel)
"Invisible Kingdom is the comic I didn't know I wanted and now can't live without. It's a vitamin boost for the eyes and mind, full of great vistas of ideas. Two master creators doing a barrel roll just outside our atmosphere. You want this book." –Gail Simone (Birds of Prey, Batgirl)
"G. Willow Wilson and Christian Ward are two of contemporary comics' most visionary creators, and in Invisible Kingdom they are working together at the height of their powers to tell a stunningly relevant story with rip-roaring wisdom and mind-bending visuals. Highly recommended." –Saladin Ahmed (Ms Marvel, Black Bolt)
"Invisible Kingdom isn't just for science fiction fans; it's for readers who enjoy a fast-paced narrative that also pushes boundaries. Simultaneously up close and personal yet vast in scope. It's my kind of space opera." –Nnedi Okorafor (LaGuardia, The Binti Trilogy, Who Fears Death)
"A smart pop-art feminist Star Wars. Fans of science fiction epics… will want to strap in for the longer ride." –Publishers Weekly
"One of the most unique sci-fi comics since Saga… resonates in the present day." – Bleeding Cool
"A stunning and immersive world." –Sequential Planet
"Invisible Kingdom delivers spiritual sci-fi with spectacular visual style." –The A.V. Club