Hardware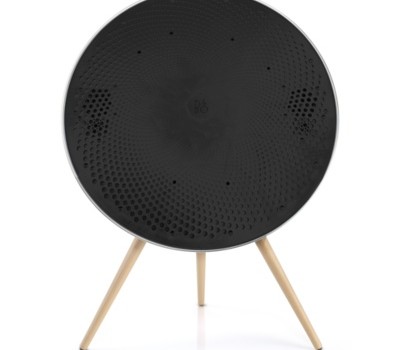 Published on September 9th, 2013 | by Admin
BeoPlay A9 Review
Summary: The BeoPlay A9 gets our highest recommendation that produces some of the most impressive sound quality that we have heard outside an IMAX cinema.
I'm old enough to remember when speakers were a status symbol and big was always better. However since then, technology has advanced considerably and smaller is now considered the new big. This is all about to change thanks to Bang & Olufsen with their new BeoPlay A9 wireless speaker that looks like something you would find in an art gallery but more importantly produces crystal clear and amazing sound quality.
The BeoPlay A9 is such an impressive designed piece of technology that it actually looks like it's part of your furniture. It's quite a bold fashion statement but all these amazing features do come at a cost. But can you put a price of quality? That's for you to decide and the price of the BeoPlay A9 is $2,699AUD (September 2013). As a result, this technology produces powerfully rich sound that is quite unparalleled with other products. But if you can afford it, we would highly recommend the BeoPlay.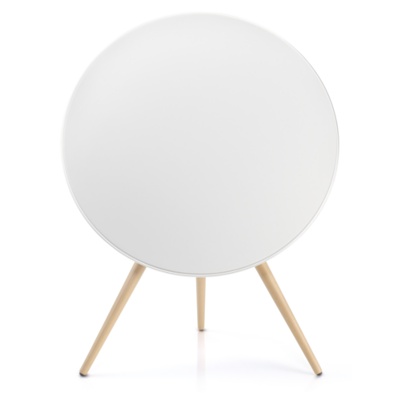 Contents

• Bang & Olufsen BeoPlay A9 AirPlay Sound System
• Main cable
• 3 x legs
• Instructions
The three legged design of the BeoPlay A9 looks similar to an artist easel but probably more like a satellite dish due to the large disc shaped speaker attached to it. The BeoPlay A9 comes in a variety of colours that include white, silver, red, green, brown, black and blue. Even the legs come in an assortment of colours that include beech, oak and teak.
The product can also be wall mounted which is included in the purchase of the item. It should be noted that the BeoPlay was designed by Øivind Alexander Slaatto and measures at 70.1 x 90.8 x 41.1 cm with a weight of 14.7 kilograms. Another great aspect about the BeoPlay is that everything is included in the purchase for great audio. There is an option to connect two BeoPlay units together but just remember that this will double the cost.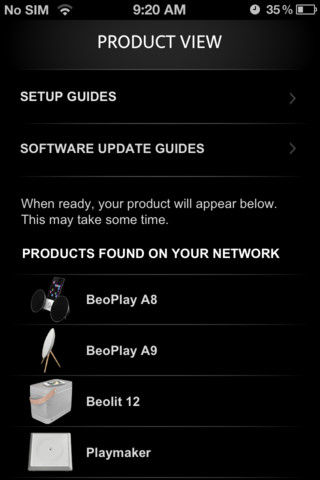 Setting up the BeoPlay A9 is a breeze and took around 10 or so minutes to unpack, put the unit together (screw in the legs, power the unit) and then start streaming our music to this beautiful piece of technology. The BeoPlay is definitely aimed more at the Apple market with the inclusion of AirPlay. However setting up AirPlay is quite easy as are DLNA devices. The first step is to download the free BeoSetup App. Once downloaded you simply select the BeoPlay A9 device and connect it to your wireless network and presto… you have wireless sound.
Depending on where you want the BeoPlay to be situated, there is a switch on the device to give the user the best possible setup which includes free (open placement), wall (against a wall or attached to a wall) and Corner. Even though we tested all three modes, they do make a difference to where the BeoPlay is located. There is even a Bang & Olufsen app available as well which does make things a little easier.
The first thing that I did notice about the BeoPlay was the audio quality. This product is definitely on the higher end of the audio spectrum and successfully streamlined a variety of music genres. I was pleasantly surprised at the quality of the bass on the BeoPlay that did not distort my music whatsoever. Of course this is due to the powerful 5 drivers and 160 watt 8″bass drive. Add in two 80 watt 3″ midrange drivers, two 80-watt 3/4 inch tweeters and it's stuff of Nordic myth my friends as the quality is superb!
We tested a variety of music genres that included Pink, Veruca Salt, the Les Misérables Soundtrack, Julia Fischer Violin Concertos and Foo Fighters to name a new. As mentioned, the levels are perfect and the bass does not distort whatsoever. In terms of the music, you could hear every instrument such as percussions and with songs such as Eric Clapton's Unplugged CD, even the guitar pick could be heard which was like being at an unplugged concert. We also thoroughly enjoyed how the speaker produced full deep classical music and when we had the BeoPlay set up in the corner of our room and by closing your eyes, it was like you were in a theatre.
Audio Specifications
Power amplifiers
• 1 x 160 watt class D for bass
•  2 x 80 watt class D for midrange
•  2 x 80 watt class D for treble
Driver units
• 1 x 8″ woofer
• 2 x 3" midrange
• 2 x ¾" tweeters
You can connect other devices to the BeoPlay via the USB connector which not only allows you to charge the device but play music directly to it or you can use the audio line-in. However where this device did shine is through its wireless capabilities that supports both Ethernet or wirelessly such as Apple AirPlay or DLNA wireless streaming. I love the hand swiping gesture of the BeoPlay which allows you to move your hand to increase or decrease the volume. By just keeping your hand still over the sensor, it mutes the music.
Final Thoughts?
The BeoPlay A9 gets our highest recommendation that produces some of the most impressive sound quality that we have heard outside an IMAX cinema. We believe that the cost actually justifies the quality of this sound system and if we could make two recommendations, this would include a remote control and also Bluetooth connectivity. However given that you can control the unit via your iPhone or iPad, the remote control is almost a moot point. Nonetheless the BeoPlay is the ultimate sound system that is a piece of art that happens to play beautiful music.
Highly Recommended
Technical Specifications
• Frequency Response: 33.1 Hz – 25,000 Hz
• Input Type: 3.5mm Stereo Jack,USB
• Other Features: AirPlay
• Connections: AirPlay,USB
• Speaker Configurations: 2.1
• Drivers: 1 x 8-inch woofer, 2 x 3-inch midrange, 2 x 3/4-inch tweeters
• Power Source: AC
• Height: 701 mm/27.6 in. (908 mm/35.75 in. with legs)
• Width: 213 mm/8.4 in.
• Weight: 14.0 kg (14.7 kg with legs)
• Length: 701 mm/27.6 in.