Interviews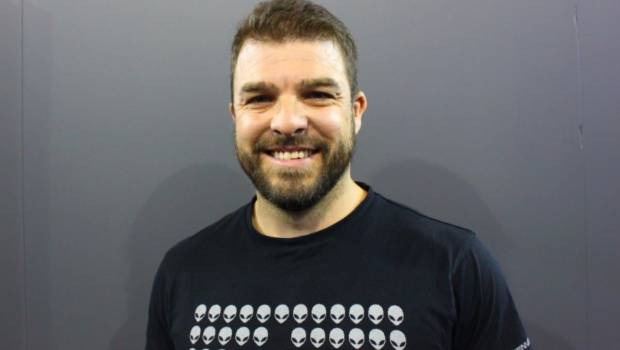 Published on April 4th, 2018 | by Admin
Ben Jackson Interview (Dell ANZ General Manager for Consumer and Small Business)
We interview Ben Jackson who is Dell's ANZ General Manager for Consumer and Small Business about their partnership with Gfinity!
Tell us how you became involved with Alienware?
I crossed paths with Alienware when I was working as a retail marketeer running Europe, Middle-Eastern Africa for Dell. I've always loved gaming and the great escape and fun that it represented, and Alienware was a pinnacle brand in that space. In the earlier years, one of my biggest jobs was to make sure Alienware was seen and enjoyed by as many people as possible, predominantly through retail. Today, I'm proud that we have established a large community of like-minded players behind the brand.
What's your all-time favourite game? 
I don't have as much time to play games as I used to (although I would very much like to!), so these days I tend to jump into games that are easier to pick up for a few minutes, like Rocket League or Street Fighter. I do, however, have a big soft spot for old-school strategy games like Command and Conquer, Warcraft and StarCraft.
It takes a lot of time and patience to be good at games these days and I admire how skilled professional esports players are. That is why we are happy to provide a platform where pro players can earn doing what they are passionate about – gaming.
Why do you think esports have taken off?
Esports has taken off because of our natural love for competition. Competition and sports has always been an important aspect of Australian culture, and esports is the natural progression of this as the digital world continues to expand. A big draw card of professional sports is that spectatorship; watching a game's best of the best player facing off against one another.
Esports is nothing without its players and supporters, and Alienware wanted to be part of something that helps provide Australian esports fans with an avenue to begin their own professional esports careers or visit a physical location to watch their favourite players compete on a world stage.
Organisations like Gfinity have helped create professional esports arenas and broadcasts which do a terrific job at showcasing the best players competing at the highest levels, and we look forward to seeing this over the coming months as the Gfinity Esports Australia Elite Series kicks off.
Tell us about Gfinity?
Gfinity Esports Australia is an esports entertainment provider that now offers both online and live event platforms for ANZ gamers, from amateur to pro.
The series kicked off this year with the Gfinity Challenger Series which involved players of all levels competing in weekly tournaments to accumulate points and increase their rank. This becomes the first step in starting their journey towards the chance at beginning their professional esports career.
The top performing players of the Challenger Series are now eligible for the Elite Series esports tournament, held in the Gfinity arena at Hoyts Entertainment Quarter before a live studio and broadcast audience. Six professional teams including the recently announced Sydney Chiefs and Melbourne Avant, will be made up of draftees and existing pros compete over seven weeks for championship titles and prize money.
The Gfinity Elite Series is going to be a great tournament for players, spectators and the entire gaming community in Australia. We'll see some of Australia's best esports players competing, so you know the gameplay is going to be exciting.
When we first heard about Gfinity's plans to bring its tournament format to Australia, we loved the idea of the gaming community being able to watch their favourite games being played by the best players in Australia from a physical location.
What are you most looking forward to with this amalgamation?
We're most looking forward to working with Gfinity Esports Australia to create an event that brings the gaming community together. Gaming has traditionally been seen as something done only behind closed doors. With the Gfinity Elite Series, gaming fans will be able to watch their favourite games being played by their favourite players, in the flesh.
The partnership with Gfinity Esports Australia further cements our vision of giving gamers in the ANZ region the option and ability to play professionally on the world stage. We believe the support of professional teams will excite and inspire the future generation of esports players in ANZ.
Where do you think this partnership will take Alienware?
Alienware has long recognised the importance of esports for the Australian gaming community. As we've been watching the esports scene in Australia continue to thrive, we've been looking for the right partner to help bring it to the forefront. The partnership with Gfinity Esports Australia serves as a platform to further connect, grow and evolve the gaming and esports community in Australia. Community has always been a big focus for Alienware, and this partnership allows us to help the gaming and esports community unite and continue to grow.
Got any gaming rig recommendations?
If you to emulate the pros from the Gfinity Elite Series, they will be using Alienware's powerful Aurora R7 desktops. Alienware is known for its high performance machines, like the Aurora R7. The desktops feature the latest 8th Generation Intel Core i7 processors and stunning NVIDIA GeForce GTX graphics and are highly customisable to suit whatever your gaming needs are.
If you want to see how the pros will be seeing, they will be using our 25" Alienware monitors which feature AMD FreeSync technology to minimise graphic distortions like screen tearing.
The Aurora R7 and 25" Alienware Monitor will provide Australia's best players with the smooth and responsive gameplay they need.
Last but not least, how do you think the esports landscape will change in the future?
As we're seeing with the Gfinity Elite Series, I think the esports landscape will shift closer towards a traditional sports model. We're already seeing this with tournaments that run weekly, and the increasing adoption of franchise-based leagues.
The next step for esports in Australia is to place a greater emphasis on physical arenas for spectators to watch events. The physical aspect of the Gfinity Elite Series was one of the reasons why we at Alienware saw this partnership as a great opportunity to continue the evolution of esports in Australia.