Hardware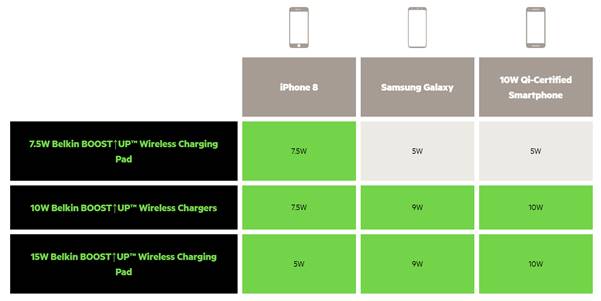 Published on March 4th, 2019 | by Admin
BELKIN'S TOP THREE WIRELESS CHARGING TIPS!
Belkin is a leading brand in technology accessories and is the number one third-party maker of wireless charging accessories. Offering a range of different sizes, variations and capabilities in wireless charging for different mobile devices. You can have one on your nightstand, on your desk or even in your car. Wireless charging will keep even your hardest working device charged all day long.
A faster and more convenient way to charge your devices that eliminates unsightly cable clutter, wireless charging is one of the hottest technologies right now but can also seem overwhelming when you are faced with so many options. Here are 3 tips to consider when purchasing your Belkin wireless charger.
TIP ONE: COMPATIBILITY
To use wireless chargers, you first need to know whether your device is compatible, and this is as simple as confirming Qi certification. Qi is an established evolving wireless charging standard that is backed by over 200 leading companies including Apple, Philips and Belkin. Some standard Qi products include the iPhone X, iPhone 8 Plus, iPhone 8, Samsung Galaxy S8 and Samsung Galaxy Note8. Look for the logo Qi logo on your packaging to check compatibility with your Qi phone before you purchase your charger.
TIP TWO:  SPEED AND WATTAGE
Wattage and speed are important when considering what charger to purchase, as specific phones are most efficiently charged by a particular wattage. For example, iPhones best charge at 7.5W, but this doesn't mean that they won't charge on a 10W charger. It's about finding out what is the most efficient for your device. Furthermore, opting for a 15W charger might be a good purchase decision to future-proof, so that when you purchase your next new device your wireless charger can handle it.
Belkin wireless charging pads are fine-tuned to ensure your iPhone or Samsung device charges optimally. For example, the Belkin BOOST↑UP 7.5W Wireless Charging Pad has been specially designed for the iPhone X, iPhone 8 Plus and iPhone 8 to minimise the amount of electromagnetic interference that other chargers aren't engineered to handle. The significant amount of shielding, precision resistors, premium materials and components inside of the charging pad provide maximum charging efficiency. The Belkin BOOST↑UP Wireless Charger is optimised to deliver up to 7.5W fast charging speeds while maintaining full device functionality including use of WiFi, GPS, Bluetooth, LTE and other forms of data consumption.
The new Boost Up Wireless Charging Pad 5W is the most affordable yet still fast and reliable way to charge your mobile device. It is a good starter charger if you were after something convenient and affordable.
TIP THREE: KEEP IT SAFE!
Safety is always an important factor when it comes to purchasing any mobile accessory, so it's important to look for Qi-certification on the packaging. If you don't use a certified charger, you may experience issues such as:
Your device could become damaged
There may not be any foreign object detection
Your device may overheat, shut down or stop charging before it reaches 100%
You may not be able to use your device while its charging
The charger may be more prone to malfunction
An AC adaptor may not be included with the charger
As a full-member of the Wireless Power Consortium (WPC), Belkin works closely with the WPC to provide Qi-compatible chargers that are totally safe and exceptionally reliable. In addition, Belkin works closely with device manufacturers like Apple to ensure that wireless chargers meet all required and preferred standards, ensuring your safety and power needs are met.
More information on Belkin's Wireless Charger range is added below.
Further information regarding wireless charging can be found here: https://www.belkin.com/au/resource-center/wireless-charging/why-wireless/
BOOST↑UP™ Qi™ Wireless Charging Pad (5W, AC adapter not included) | Belkin.com/au | RRP $39.95
A great introduction to wireless charging! Simplify your space with this Wireless Charging Pad. This 5W charger uses Qi-certified transmitting coils to deliver charge to your phone wirelessly. Using electromagnetic fields to power up compatible devices on contact, there is no need to plug in when it's time to power up, just lay your phone or other Qi enabled device onto the charging pad. When the LED indicator lights up, your device is charging optimally. This charger is compatible with:
iPhone Xs/Xs Max
iPhone Xr
iPhone X
iPhone 8 Plus
Galaxy Note8
Galaxy S9/S9+
Galaxy S8/S8+
Other Qi- enabled devices
Belkin BOOST↑UP™ Wireless Charging Pad for iPhone X, iPhone 8 Plus, iPhone 8 | Belkin.com/au | RRP $99.95
Unclutter your space and simplify charging with the Boost Up Wireless Charging Pad. Belkin worked closely with Apple to engineer an efficient and high-speed charging pad for iPhone X, iPhone 8 Plus and iPhone 8—just lay your phone onto the charging pad and go. Supporting up to 7.5W charging, there's no need to remove your iPhone X, iPhone 8 Plus or iPhone 8 from the case when powering up, the Boost Up Wireless Charging Pad can charge through most lightweight cases. This charger is compatible with:
iPhone X
iPhone 8 Plus
iPhone 8
Belkin BOOST↑UP Wireless Charging Stand 10W for Apple, Samsung, LG and Sony | Pad: $99.95 Stand: $109.95 | Stockists: Belkin.com.au and other leading retailers
From browsing a webpage or recipe, sitting by your bedside, or even watching a movie, the Boost Up Wireless Charging Stand has an original, thoughtful design making it easy to align your device for optimised wireless charging in either portrait or landscape mode. A soft LED light indicates when your Qi-enabled device has been correctly aligned on the pad and charging, so you won't need to worry about waking up to a flat battery. This charger is compatible with:
iPhone X
iPhone 8/8 Plus
Samsung
LG
Sony
Other Q1-enabled devices
BOOST↑UP™ Wireless Charging Pad 15W for Samsung | Belkin.com/au | RRP $99.95
The Wireless Charging Pad offers charging with ultimate freedom – no cables and no delay. The Qi-certified charging pad works with all the latest Samsung wireless charging smartphones and is compatible with any other Qi-certified smartphones, tablets, and accessories. No need to remove your case because this charger is able to charge through most cases under 3mm thick. This charger is compatible with:
Galaxy Note5
Galaxy Note8
Galaxy S6
Galaxy S6 Edge
Galaxy S7
Galaxy S7 Edge
Galaxy S8
Galaxy S9
iPhone 8
iPhone 8 Plus
iPhone X
iPhone XR
iPhone XS
iPhone XS Max