Hardware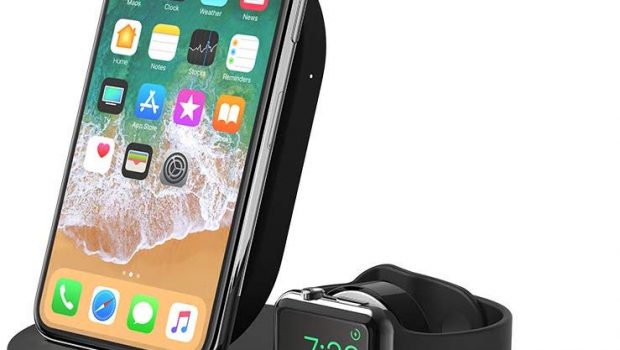 Published on June 3rd, 2019 | by Admin
Belkin BOOST↑UP Special Edition Wireless Charging Dock for iPhone + Apple Watch Review
Out of all the smartphones on the market, the Apple iPhone is easily one of the most stylish and supporting your phone's aesthetics is this complimentary wireless charging device from Belkin. The BOOST↑UP Special Edition Wireless Charging Pad has been dubbed by Belkin as a premium chrome wireless charging pad that has been optimised for the iPhone specifically and needless to say, it does look snazzy with its high-end design. It also comes in two different colours that include white (reviewed) or black.
As new iPhones (Models 8 and later, including the XS, XS Max and XR) come with innate wireless charging of up to 7.5 watts, this wireless charging pad ensures that your Apple phone is well protected with this technology that will prevent overheating and potential damage your phone. To setup the pad, you simply connect it into your mains connection via the included AC adapter and no tweaking of your iPhone is required, you simply place it on the pad and watch modern day witchcraft do its magic.
As positioning is the key for wireless chargers, Belkin have added a non-slip silicone surface that provides your iPhone with additional surface grip which ensures that it doesn't slide around on the pad and makes placement easier. Adding to where your iPhone is placed on the device is an LED that turns green when your device is in the right place and after using the BOOST↑UP Special Edition Wireless Charging Pad for the past two weeks, placement does become second nature.
Furthermore, the BOOST↑UP Special Edition Wireless Charging Pad comes with copper shielding that still gives your iPhone full functionality, including wireless data such as Wi-Fi, GPS and Bluetooth. Another clever feature is that the device will alert you to objects that may be too close to the charging pad such as a wallet as the cards inside it may be affected by the heat produced that could lead them to become demagnetize and thanks to the warning light, this should not occur.
In terms of warranty, the BOOST↑UP Special Edition Wireless Charging Pad comes with the Belkin's Connected Equipment 3-year Warranty (registration required for third year) that if a device connected to it is damaged from an electrical charge, they will either repair or replace it with a value of up to $2,500
Final Thoughts?
If you're looking for a safe and stylish wireless charging option for your iPhone 8 and greater, check out the Belkin BOOST↑UP Special Edition Wireless Charging Pad which is simplicity at its best.
Features & Specifications
Non-slip silicone secures device to charging pad
Available in a stylish black or white finish
7.5W transmitter coil optimized for iOS
Tin-plated copper shield minimizes interference
Intelligent wireless charging chipset and circuit board
Enhanced foreign object detection circuit for increased efficiency
Thermal detection sensor prevents overheating
Tin-plated steel shielding further reduces interference
LED charging indicator light
Sturdy stainless steel base with elegant chrome finish
Silicone padding prevents base of charger from slipping
AC Adapter with 5-foot cable
Qi Wireless Technology
QI™ COMPATIBILITY
#: Qi is a wireless technology that uses inductive charging. The BOOST↑UP Special Edition Wireless Charging Pad has been engineered to power Qi devices up to 7.5W.