Films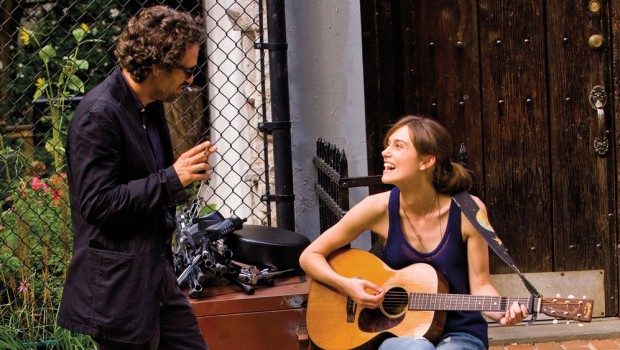 Published on August 6th, 2014 | by Tim Cooper
Begin Again – Film Review
Reviewed by Tim Cooper on July 31st, 2014
Roadshow Films presents a film by John Carney
Produced by Judd Apatow, Tobin Armbrust and Anthony Bergmen
Written by John Carney
Starring: Mark Ruffalo, Keira Knightley, Catherine Keener, Hailee Steinfeld and Adam Levine
Music by: Gregg Alexander
Cinematography: Yaron Orbach
Editing by: Andrew Marcus
Running Time: 104 mins
Rating: M
Release Date: August 7th, 2014
Dan (Mark Ruffalo) is a record label executive wrestling his emotional demons from the bottom of the whiskey bottle. The relationships he shares with his daughter Violet (Hailee Steinfeld) and ex-wife Mirian (Catherine Keener) are fractured at best and his professional career could be accurately described as "on the rocks". With his personal and professional lives both on the downward spiral Dan heads to a local the bar to drown his sorrows. It is here at the open mic night Dan first lays eyes on Greta (Keira Knightley). Singing quietly on stage with her guitar Dan sees not the performer she is but the artist she could be. Having recently broken up from her pop star boyfriend Dave (Adam Levine), Greta somewhat reluctantly takes the opportunity to record an album with Dan and their friendship and creative bond is formed.
Irish born director John Carney is well known for his music based film Once (2006). Featuring the music of Glen Hansard and Marketa Irglova the film pulled on the heartstrings of its viewers and managed to sell many soundtracks in the process (the pair also won the Oscar for Best Original Song). With Begin Again, Carney has delivered a much larger scale American picture. This is evident not only with the high profile cast but in the style of this film as well. Begin Again plays like a stereotypical American record; over polished with too much production in places it doesn't need. Upon becoming friends and colleagues after a drunken night out Dan has a concept for Greta's folk album. The idea is to record her tracks live on location around the beautiful city of New York. Assembling the indie band equivalent of Motley Crue they set about recording Greta's developed songs while performing in alleys; on boats, in parks and on trains. While the concept behind this guerilla style recording is beautifully romantic, most people know this type of recording is nigh on impossible to achieve. Much to her credit Knightley sings on all her tracks throughout the film, however when the band records their songs in crowded urban areas the music still has perfect studio quality playback. This promptly strips away all believability from the acting performances and actually makes these important scenes slightly laughable. Much more work was needed in audio post production to really make these moments feel realistic. There's more miming going on here than a Britney Spears show and it distracts from the actor's energy and performances, not to mention the film's believability.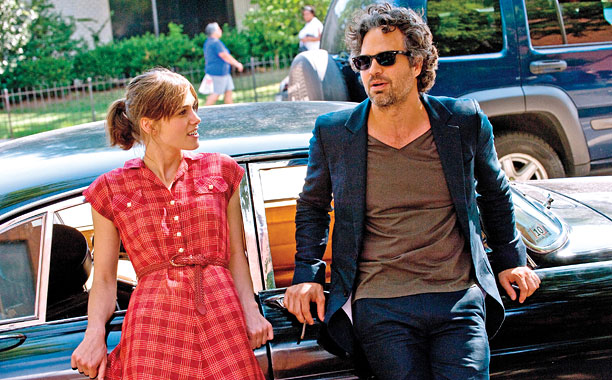 It is disappointing for viewers to be taken out of the film's reality by these moments as the rest of the film is filled with (mostly) likeable characters and relationships that people will find relatable. When the sing-a-longs stop most of the cast do well with the dialogue and the pace of the film progresses well under Carney's hands. Catherine Keener adds credit to any film she is in and this film continues the trend. Knightley is a divisive actor even in her best roles so she probably won't gain any new fans here. Her voice is capable and sweet despite the middle of the road lyrics her character sings. Much to her credit she holds together the scenes with the deplorable Adam Levine as good as anyone could be expected to. The "singer" who was voted the "Worlds sexiest man" in 2013 by some kind of record company bribery or computer error, and now he's back to offend actors worldwide by taking a role in a major motion picture. Levine performs his role with the efficiency and flare of a blind postman delivering mail. Doing his best to ruin the film with what someone must have told him was acting; his work is comparable only to Nicki Minaj's recent Shakespearean turn in the blonde haired, literal disaster film that was The Other Woman (2014).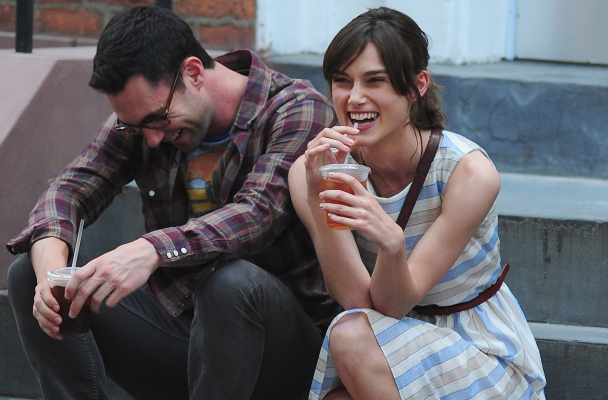 Despite the competition from these music land thespians Begin Again remains a good vehicle for the ever watchable Mark Ruffalo. One particular scene that wouldn't have been out of place in Mary Poppins (seriously) should never have made the cut, but the actor remains a charismatic talent on screen and a very capable leading man. Drawing the best out of the dramatic scenes with his family including; some great moments with his daughter (convincingly played by Hailee Steinfeld), the conflict with his wife and the close connection Dan has with Greta, Ruffalo also perfectly exudes the tragic comedy that is his characters personal life. This spot on casting helps elevate this film beyond its over produced and manicured American roots to a film more universal in emotional scope.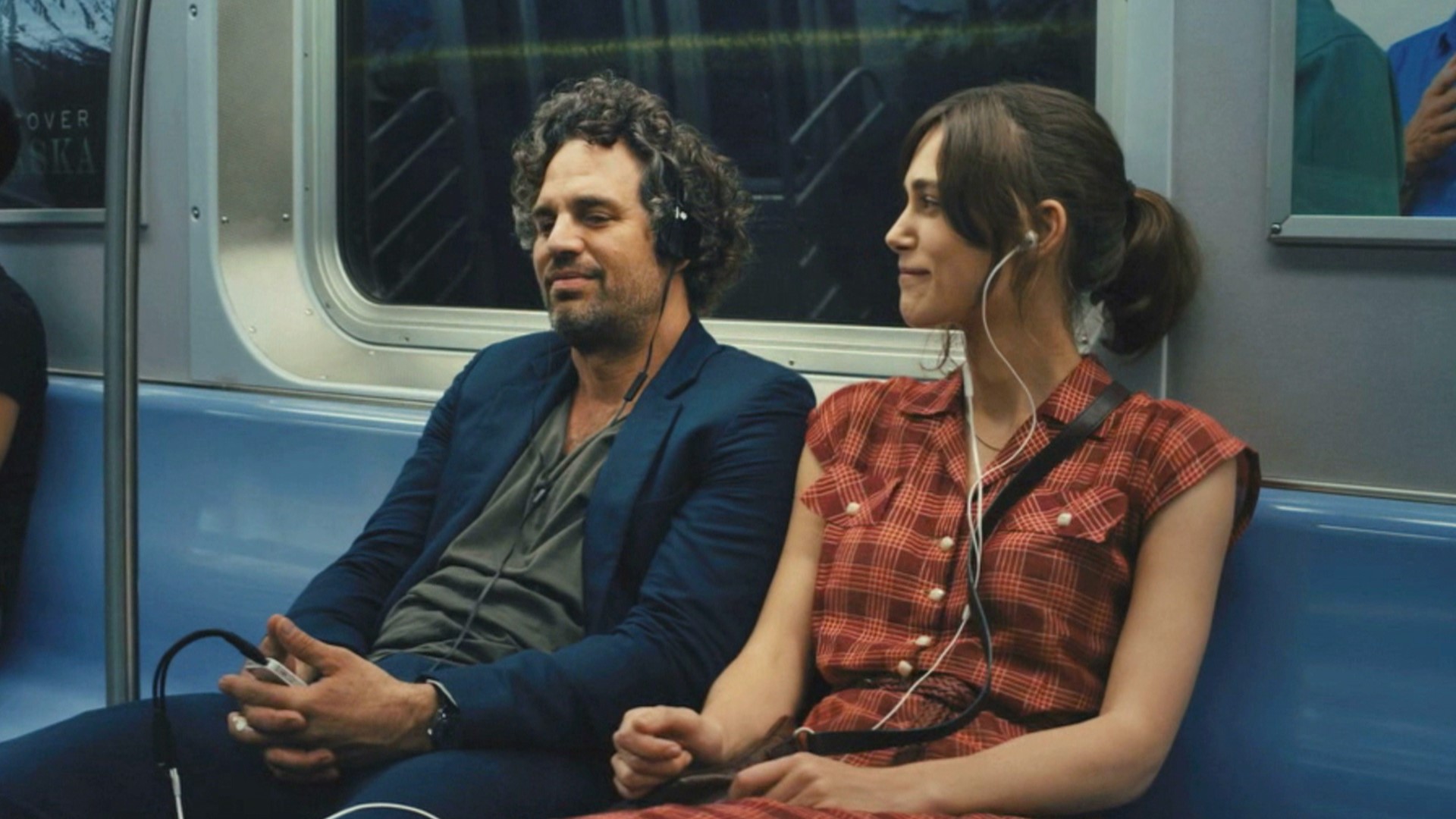 Begin Again is like a great record with tracks that you always skip; there is a lot to love here but what you don't like is glaringly obvious. Ultimately this is a feel-good film for the family and the themes of commitment, creativity and compassion are held together in unison by the mostly strong cast. If Carney continues his marriage of music and film hopefully next time we get a more balanced and realistic approach to the music side of things.
Summary: There is a lot to love here but what you don't like is glaringly obvious.