Games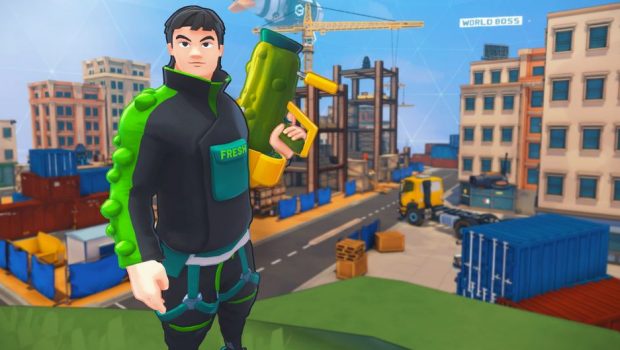 Published on October 20th, 2022 | by Adrian Gunning
Become unstoppable! World Boss launches into Early Access
World Boss, the highly-anticipated casual free-to-play first person shooter from PlaySide Studios, Lannan 'LazarBeam' Eacott and Harley 'Fresh' Fresh, has today launched into Early Access on Steam.
In order to become the World Boss, players will need to delete their enemies, unlock powerful perks and weapons, and use their wits and skills to rise to the top – and stay there.
Alongside the launch, PlaySide Studios has announced details for World Boss' Early Access Battle Pass and the limited-edition 'Fresh' Founder's Pack.
The inaugural Early Access Season will feature 90 tiers of content, including dozens of free tiers, and bespoke items like character skins, weapon skins, character banner customisation options, titles, stat trackers, Boss Bucks, Battle Pass XP boosts and more. The Premium Battle Pass can be purchased in the in-game store for 750 Boss Bucks.
Boss Bucks are available in the following bundles: 500 BB: $4.99 USD, 1,100 BB: $9.99 USD, 2,500 BB: $19.99 USD, 6,500 BB: $49.99 USD and 15,000 BB: $99.99 USD.
The Founder's Packs allow players to show their support to their favourite content creators, rep exclusive cosmetics and give themselves a jump start at the Battle Pass. The first Founder's Pack, designed in partnership with Fresh, includes exclusive Legendary character and weapon skins, Battle Pass, and 5x Battle Pass XP boosts – for just $14.99 USD. Stay tuned for further Founder's Packs announcements in the future.
Gerry Sakkas, CEO of PlaySide Studios, said the World Boss story is just beginning.
'With World Boss, we took the quick drop-in and drop-out nature of .io games, the customisation of roguelites, and the strategy and mechanical finesse of a first person shooter, to create a familiar-yet-unique FPS for everyone,' said Sakkas.
'One of our goals with World Boss has been to bring our community closer to the development process. Throughout the beta period, we've been listening to player feedback and suggestions, and we've already rolled out a range of fixes, improvements and optimisations. We're looking forward to bringing further content to players in the foreseeable future.'
Join the Official World Boss Discord Server now.
Watch the launch trailer here.