Events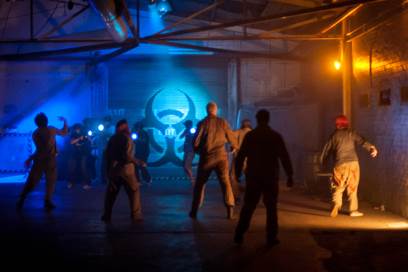 Published on February 3rd, 2014 | by admin
BECOME "THE INFECTED": IRL SHOOTER OFFERS NEW ZOMBIE-PLAYER TEAMS
Sydney, Australia – February 3, 2014 – As the Sydney event fundraising campaign kicks into high-gear, IRL Shooter (In Real-Life Shooter) is listening to fans and adding fantastic new ticket options, rewards and bonuses. Now players can become zombies – complete with "bites" that will damage players and earn experience points. Live out your zombie fantasy!
As part of a Pozible fundraising campaign, IRL Shooter must achieve its target to bring the game to Sydney. Anyone interested in playing should pledge support now and invite their friends to do the same, or risk missing out completely. In order to bring IRL Shooter to the masses, three new promotions have been announced, offering new price points and incredible opportunities:
$50 "The Infected" Ticket – Become a zombie! For just $50, zombie enthusiasts will get the chance to be one of evil Dr. Klaas's faithful undead horde with the aim of chasing players inside the game venue. Their infrared 'bites' will damage the players & earn the zombie points & XP for their character. Get your undead friends together now!
Free Paintball – everyone who buys a full-priced ticket for IRL will get 10 free passes plus 100 free paintballs each (1000 for the whole group) – valued at over $500, courtesy of Ultimate Paintball. With two sites in Sydney, Ultimate Paintball are the biggest and best paintball fields in NSW. This deal gets you over $500 worth of FREE paintball for you and your squad. It's the perfect way to train for IRL and it saves you money.
The Vixen Gamer – everyone who buys a ticket in February will get the chance to play on a team with The Vixen Gamer (Clare Costigan). Clare is a writer, presenter and gamer; she recently signed to represent IRL Shooter online. Order your ticket this month and team up with Clare! 
In order to take advantage of these new offers, players should head to the Pozible page and preorder their ticket today. 
Tickets:
Tickets are on sale now as part of a new AU$1M Pozible campaign – nearly 90% of tickets already sold have gone to returning Melbourne players planning to make the trip to Sydney.
A range of different ticket options (starting at just $50 per person) are available through http://www.pozible.com/project/176333.